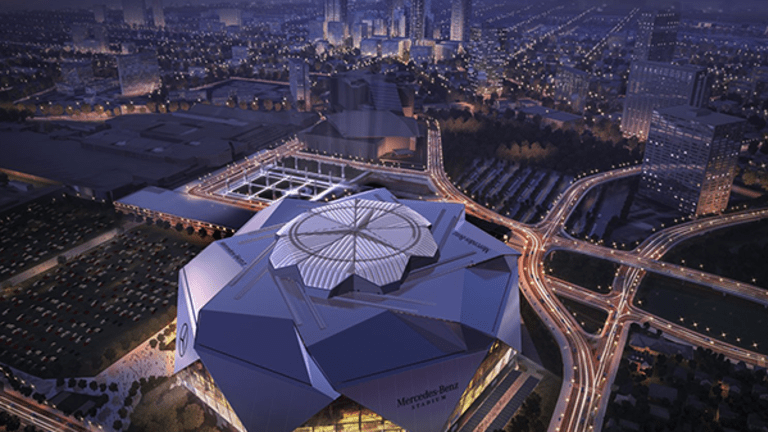 10 of the Most Expensive NFL Stadiums Your Precious Tax Dollars Paid For
Taxpayers paid more for the No. 1 stadium than the cost of any stadium built before 2009.
This season, as always, taxpayers are giving NFL owners money whether they watch football or not.
If you live in a National Football League market that isn't New York -- where the owners of the Giants and Jets and their investors covered all of MetLife Stadium's $1.6 billion cost -- your tax dollars are likely paying for the home team's facilities. It isn't just a minor contribution, either.
Back in 1998, taxpayers in Tampa parted with $194 million to build Raymond James Stadium for the Buccaneers. The cost of the Oakland Raiders' new home in Las Vegas will be ten times that once it's complete. The amount of tax money that Las Vegas and Clark County taxpayers are parting with to build that facility outweighs the cost of any NFL stadium built before 2009.
But that's the issue: it isn't 2009 anymore. The NFL and its owners have realized that schlepping to the stadium, paying for parking, sitting in seats exposed to the elements far from the action and being gouged for concessions isn't anyone's idea of a good time. When you have high-definition games on enormous screens at home and the league has so graciously televised every game through DirecTV's Sunday Ticket package (or at least the RedZone channel on other cable and satellite providers), it takes a wonder of the world surrounded by a city of entertainment options just to pry fans out of their homes.
That assumes they're even watching the games at home. Last year, NFL viewership dropped 8% after nearly a decade's worth of steady gains. Broadcasters blamed the presidential election, your angry uncle blamed Colin Kaepernick taking a knee during the National Anthem and various others speculated that the rise of e-sports, the proliferation of Sling TV and other live streaming options and the wide variety of other things to do might have caused the exodus.
But maybe people just felt helpless and acted out. After all, according to Georgia State University's Sport and Urban Policy Initiative, taxpayers have only been allowed to vote on stadium construction or renovations six times since 2000. There have been 19 stadiums either built, renovated or planned with taxpayer money since that time.
With the NFL preseason begun and the regular season right around the corner, we took a look at stadiums built within the last 20 years and found the ten most expensive stadiums that taxpayer money could help buy. You may never see a down of football played there, but you'll pay for it anyway.
Don't miss these galleries on TheStreet:
10 of the Most Worthless And Expensive Olympic Venues of All Time
15 Killer Fall Travel Deals
10 Absolutely Worthless Pieces of Sports Memorabilia
The 30 Nastiest Storms in Recent U.S. History Have Caused Mind-Blowing Damage
15 Beers That Are Worth a Bundle on the Black Market