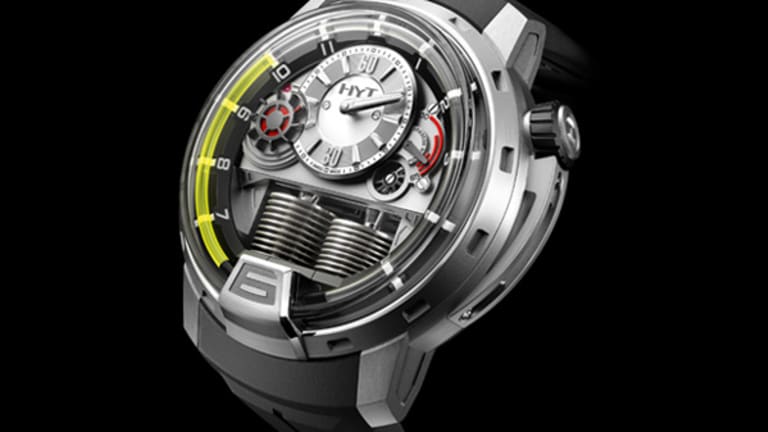 10 Best Luxury Watches for 2012
Your smartphone may keep time, but these luxury watches speak with authority. Presenting the 10 best luxury watches for holiday 2012.
Your smartphone may keep time, but these luxury watches speak with authority. Presenting the 10 best luxury watches for holiday 2012.
NEW YORK (
) -- What happened to the art of telling time?
Have you noticed? Everything in this noisy digital age seems to tell time: the phone. The car. The stove. Each proffers up a cheesy, numeric rubric that does nothing but cheapen the seconds it counts.
But even these time-worn eyes are seeing a glimmer of hope for time staging a comeback. Better watches, mostly with analog faces and old-school mechanical movements, are finding new customers. According to the Federation of the Swiss Watch Industry, last year broke records for watch exports.
"Leaving aside 2010, which followed a major downturn," said
, "growth surpassed anything seen in the past 20 years."
Which makes this holiday season the perfect time to celebrate the return of watches. So I offer my top timepieces for 2012. Put any of these on your wrist, or on the wrist of those you love, and you will give the greatest gift of all: not merely telling time, but exquisitely keeping it:
Price:
$350
Old-school, high-end mechanical watchmakers are cringing at what League City, Texas-based Kent Wang is offering in terms of automatic wristwatches. The Bauhaus is a well-made, no battery, power-it-yourself timepiece -- your movement powers the watch -- for just $350, which makes this a throwback to mechanical watches at a reasonable cost. Wang deserves real props for making a non-digital watch more people can afford. I liked the clean, easy-to-read face and the surprisingly good quality for the price. You will find some discussion among watch snobs as to just how much of a knockoff this Asian-made movement is. But at these prices, this watch geek is not complaining.
Even better, you can reliably order one online and it comes in a nice gift box, which makes this the impulse timepiece for the year.
Price:
$1,520
I don't know at what it is about Montblanc, but 99 out of 100 of the pieces from this brand are so boring they put me to sleep. In spite of that, the Star Large works. The face design is legitimately first rate; I could look at it for a lifetime and not be disappointed. The reasonably sized case is done in a fine stainless steel. And though the watch is driven by a boring quartz movement, the black-grained calfskin band matches nicely with dressier leather shoes and belts. Even better, the usually blaring Montblanc logo is well under control with the Star, engraved tastefully on the side of the unit.
Montblanc typically pumps out plenty of units into the market, so it's likely there will be good deals to be had. That makes this the leather-band watch that goes with anything you own.
It's remarkably flattering as a lady's piece as well.
Price:
About $1,717
If you held me down and forced me to choose, I'd say the single best watch of the year is the Nomos Orion. This understated, classic piece is the brainchild of the first-rate German makers from the watch-mad town of Glashutte. Nomos specializes in thin, discreetly elegant wristers that whisper style and elegance. The face is so easy to read, the case is so thin and the unit so light on your wrist that you will never want to take it off. Even better, Nomos has broken the Orion line down into several subtle sub-units that allow anybody to choose exactly the look they want. Between the anthracite black model, the off-red rose unit or the traditional white steel pieces, a set of Orions could be all the watches you ever own.
Watch geeks will be impressed at the mechanical so-called Alpha movement, which is factory-calibrated -- and visible from the back of the watch. I have heard that some purists dis this watch because Nomos is not making what is considered an originally designed mechanism. And the minimalist look is either in your blood or not. But for a legit, top-end manual winder at a comparatively reasonable price, the Orion is value watch of the moment.
Price:
Starts at $2,250
I feel for the ladies when it comes to scoring a better watch. Because -- let's be honest -- time is a sexist business. Watches for woman usually err on the trophy-wife side of things, bedazzled in a way that drives up the price and ugly. Smart women usually wind up cribbing a unit from men's lines, which is a bore. So I have to hand it to Raymond Weil for treating women right with its new Lady Maestro series. Rolled out for the holidays, these watches are the more feminine riff of the popular Maestro line, which features a decent automatic movement, a reasonably delicate 9.13-mm watch and, most importantly, a full range of colored leather bands. (You will definitely want to buy this watch from a living person in a store, because choosing the right colored band is the whole point and will be hard online.) Weil has added in a nice ring of 74 itty-bitty diamonds that add a surprisingly subtle and attractive bling factor.
I liked the mechanical movement discreetly visible in the main face, and even tired eyes can still read the thing. Overall, the Lady Maestro is a rare thing in women's watches: reasonably priced for a luxury mechanical watch and step-for-step as good as any man's.
Brava.
Price:
$2,995
We watch nerds throw up our hands in frustration when shopping
Movado
(MOV) - Get Report
. This once-storied maker now shamelessly associates itself with such dead-end brands as
Juicy Couture
,
Tommy Hilfiger
and
Lacoste
. But if you dig and dig and dig -- and dig some more -- you can still unearth some of the old Movado glory.
Right now, I like what Movado is doing with this particular version of its classic Fiero watch. Sure, it's a quartz movement running off a boring battery. But there is no denying the jazzy museum gray face and overall look. Particularly for women who want a piece with some bulk, this is a darn nice watch. The case is in tungsten carbide, making it quite tough. And you can wear it in the shower. Plus, there are lots of Fieros out there, so some good old-fashioned dickering should net a nice street price.
If you simply must have a battery-powered watch that still packs some real style, the Fiero is a good bet.
Zenith Pilot Big Date Special
Street
Price:
$5,400 in leather
Remember that nut Felix Baumgartner, who got his 15 minutes of fame by
to Earth from space with nothing more than a parachute? Well, he was sponsored by watchmaker Zenith. And don't you know it, the marketing stunt paid off. It certainly helped sell me on its latest riff on the Pilot line: the Big Date Special.
Do not go for the pricier metal band with this model. Stick with the throwback, stitched, aged brown-leather bracelet for a traditional chronograph look you can wear anywhere with style. Keep in mind, this manual-wind watch steps into some serious tech territory, beating away at 36,000 vibrations per hour (which is really fast). And let me tell you something, this is a nice little watch: It has an attractive face, an elegant chronograph layout and well-done brushed steel hands.
The facing and some band details could be better engineered, but overall the Pilot Big Date Special gives off a big, rugged tech-watch feel that still works with casual clothing.
Ball Watch, Trainmaster One Hundred Twenty
Price:
$5,999
I admit, the Ball Watch's 19th Century American railroad brand can be a bore. After all, I am buying a watch, not a steam engine. But this rebooted Swiss brand, retailed online via Tourneau, does a timely job with entry-level luxe pieces. In particular, I liked the Trainmaster One Hundred Twenty.
The unit boasts a surprisingly masculine reddish rose gold case and glow-in-the-dark hour and minute hands that make it super easy to read the time at night. Factor in the nothing-to-be-ashamed-of automatic movement and, overall, this pieces takes jeans and a jacket and turns it into a make-a-statement outfit.
Price:
Starts at $12,200
The hardcore watch geek action finally begins. German-based luxe watch giant Glashutte, yet another maker in that watch-mad town I mentioned earlier, continues to set the bar for manual wind watches with its PanoInverse XL. Released, heavens, what, five years ago, the PanoInverse became an instant classic for the hardcore, high-end manual watch market. This thing has top-end German manufacturing, the most glorious showrooms in the world filled with salespeople who are even watch-nerdier than you and every conceivable, non-digital bell and whistle on a wearable, analog timepiece. It's fabulous. Glashutte also invented its own manual winding movement for this watch that features a two-position fine adjustment feature that I loved.
Keep in mind, $12K is midpriced for Glashutte. You can spend what you'd spend on a Mercedes with these watches. But when you do, you will magically step into a unique world that cherishes time as it goes by.
And what is worth more than that?
Price:
Starts at a reported $19,800
Chopard is a high-end luxury watchmaker that claims it makes the fastest-beating mechanical watch on the market. Considering it is running at 57,600 vibrations per hour, that's probably correct. What that all means: The L.U.C 8HF can slice time into ever thinner slices, a wonderfully elegant trick, and Chopard has done a nice job of bringing out the hardcore engineering of this watch in its design. It is fabulous looking as well as fabulously well engineered. It has a 60-hour run time on a single wind of the barrel, and I liked the machine screws that hold the watch together. Elegant indeed.
For sure, this is a watch for geeks, by geeks. Only 100 will be made, and $19,800 is a lot of money. But for making the ultimate timekeeping statement with a traditional, mechanically powered watch, the 8HF is the watch of the moment.
HYT H1 Titanium
Price:
Starts at a reported $45,000
Clearly, this is not the ultimate watch in terms of design for 2012. Let's be honest, this sucker is downright bizarre to look at. But for pure technological watch innovation, there is no question Swiss-based HYT wins the prize with its H1. In fact,
it won
watchmaker Vincent Perriard the prize for this year's Innovation Watch category from the Fondation du Grand Prix d'Horlogerie de Geneve.
I will spare you the deep geek on the H1, other than to say the unit is essentially fluid-powered: Two small reservoirs are filled with separate liquids that react to the world in different ways, expanding and contracting and driving a small membrane separating the two pools. That moving membrane drives the watch's movement. And time is told. Yes, it's all wild, but it all works. It's worth taking
on its inner workings
on the company site
.
Now be warned, all these fluid dynamics give the unit an overbearing feel. I find the face hard to read. But the H1 is far from the oddest-looking watch on the market. And if you want to make the ultimate statement in tech watches, show up with this thing on your wrist and you will be up to the second in terms of telling time.
This commentary comes from an independent investor or market observer as part of TheStreet guest contributor program. The views expressed are those of the author and do not necessarily represent the views of TheStreet or its management.