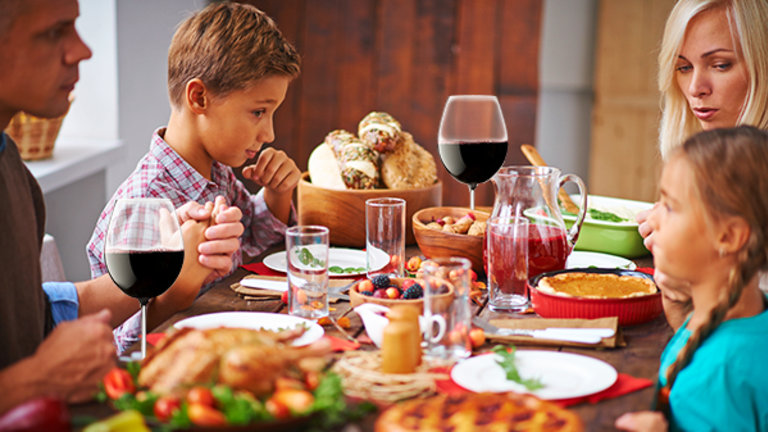 Thanksgiving Wines to Ease Post-Election Tension
Even though the election season is over, there's still plenty of strain in the air. It's time to find the right vintage to pair with your turkey and family argument.
Editors' pick: Originally published Nov. 18.
Even though the election season is over, there is still a lot of strain in the air. And while our only choice as a country is to come together and support our future president, some people just aren't there yet.
So why not have a little fun with it this Thanksgiving?
Winemakers have notoriously had a sense of humor when naming their wines (e.g. Fat Bastard and Mommy's Time Out). So it's no surprise that there are a ton of apropos labels for your post-election holiday. 
But first, two quick tips: There's often a lot of drinking on a holiday. So pick a reasonably priced wine so you have enough for the whole day. And no offense to your non-wine-loving family members, but you don't waste the good stuff on them anyway.
And unless you're having a formal wine-pairing meal, pick a red wine and a white option. No need to go nuts with more offerings. Just try to select wines that will work with the whole meal in case your guests don't want to switch.
Most importantly, drink what you like - especially if you're hosting - because it could be a long day. 
Offer a Bubbly to Start
It's always nice to have your guests greeted with glass of bubbly. And regardless of your budget, Champagne, Prosecco or Cava will all work great. 
Depending on your crowd, you might want to try the Trump Winery Sparkling Blanc de Blanc. It's made from 100% Chardonnay grapes and it's actually pretty good. You'll have to order it from the winery, which The Donald's son Eric runs, but for $34 a bottle, you won't be disappointed and your guests may (or may not) get a kick out of it.
Pick a White
If your crowd sits on both sides of the political fence, there may be some tension in the room, so why not lighten the mood and serve it in a glass.
Otherwise celebrate the broken boundaries of a woman running for the highest office and a business man actually getting it with Boundary Breaks 2014 Dry Riesling.
It's $20, from the Finger Lakes in New York and has a tons of flavor but enough acidity to cut through that whole meal. 
The $17 stainless-steel fermented Liberated Sauvignon Blanc might be a great option, too. It's fun and, well, liberating. It's a bright, citrusy wine that your vegetarians especially, will love.
The Tenshən White 2014, from Santa Barbara, Calif. is a Rhone-style blend that's really easy to drink. And if you're worried about negative changes to your finances under the next regime, you can rest easy: you can find this bottle at Costco for around $30. It has 14.7% alcohol, which is on the higher side for a white wine, but you may need it.
Pick a Red
Along with the tension, comes the dueling issues. So have fun with that and serve The Federalist Dueling Pistols.
While the name comes refers to Alexander Hamilton, the original federalist, we respect "dueling" opinions. At $35, this wine is 50% Zinfandel and 50% Syrah and has a slightly higher alcohol level at just over 15%, which again, you may need. And if you're serving roast pork, it'll make everyone happy.
For those feeling, uh, besieged by the Right-leaning shift of power, Ravenswood Besieged 2014 Red Blend from Sonoma County, Calif. at $22 will make them feel better. It's made from seven different grapes and while it's typically paired with barbecue, the aromas of dark berries and spice will work great with those Thanksgiving Day flavors.
And finally, if you're looking to make a statement, consider the Fisher Vineyards Unity Pinot Noir. Pinot Noir is often considered the ideal match for a "complicated" holiday meal. So in an effort to "unite" everything, this $38 bottle might be the perfect choice. It's really well-balanced, has a great finish and a savory component.
So pick something that makes you happy. And be sure to raise your glass to family, friends and our great country.