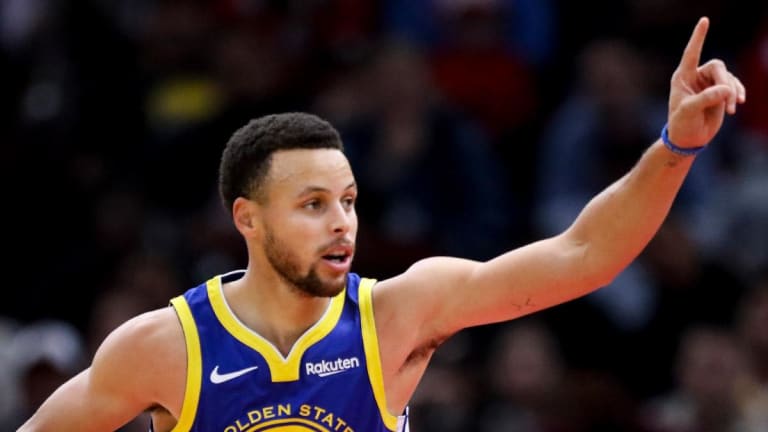 What Is Stephen Curry's Net Worth?
Stephen Curry is estimated to have a net worth as much as $130 million. How did the Warriors superstar get there, and how much is he set to make for the rest of his contract?
The latest dynasty in the NBA is the Golden State Warriors, having been to four consecutive NBA Finals and winning three championships in that span.
Every dynasty needs a figurehead, the star player at the forefront, and for the Warriors it's Steph Curry. A two-time MVP, Curry has spent the past five years as one of the game's most elite players, perhaps second only to LeBron James. He's the most renowned 3-point shooter in the game, breaking NBA records while developing that reputation.
As a generational talent and three-time Finals champ, Curry has made a fortune at just 31 years old. How much is he worth?
Stephen Curry's Net Worth
Steph Curry's net worth is estimated to be in the range of about $130 million, at least according to Celebrity Net Worth. If that number is anywhere close to true, it's a remarkable number - not just for anyone or any athlete, but one preparing to play in his 11th season in the NBA.
Stephen Curry's Career
Curry's career in the NBA seems somewhat inevitable. He is, after all, the son of Dell Curry. Dell played 16 seasons in the NBA, 10 of which were spent on the Charlotte Hornets. He retired as the Hornets' all-time leading scorer. Steph started playing basketball early, ready to follow in his father's footsteps.
Stephen Curry in College 
After high school, Curry made the decision to attend Davidson College. He made an immediate impression on the team and the fans, one of the best freshmen in all of college basketball for the 06-07 season. With his help, that team made it to the NCAA tournament as a 13 seed, but lost the first game of the tournament to Maryland despite a great game from Curry.
Curry and his Wildcats were both even better in his sophomore year, moving up to a 10 seed in the tournament. This time they made some noise in the tournament, reaching the Elite 8 as one of the 2 teams left standing in the Midwest Regional Conference. They upset Gonzaga, Georgetown and Wisconsin before falling to top-seeded Kansas.
Curry was a top player in college and could have easily declared for the NBA Draft after 2 years but chose instead to return to Davidson for his junior year. He was one of the best players in all of the NCAA that year, but the team failed to reach the NCAA tournament for the first time in Curry's tenure. After the season, Curry declared for the draft.
Stephen Curry and the Warriors
The Golden State Warriors selected Curry with the seventh overall pick in the 2009 NBA Draft. He signed a two-year contract with options for third and fourth years.
Curry showed incredible promise in his first two years. He played in 80 and 74 games, respectively, and worked his way up from 17.5 points per game in his rookie year to 18.6 points per game in year two. However, these were struggling Warriors teams, and neither one came even remotely close to the playoffs. Still, Curry's third year option was picked up after his rookie season, and his fourth year option was picked up after his sophomore season.
2011-12 was a lost season for Curry. In addition to the lockout that led to a shortened season, he only appeared in 26 games due to injuries that led to ankle surgery.
Still, the Warriors believed in Curry even after the injury, and signed him to a four-year contract extension just as the 2012-13 season was set to begin. Curry rewarded the team greatly, breaking the NBA record for the most amount of 3-point shots (272) and 3-point attempts (600) in a single season. He would go on to break his own shot record two more times, and the attempt record three more times.
More importantly, it was Curry's first NBA playoff appearance, as the Warriors finished the season as the 6th seed in the Western Conference. They defeated the Denver Nuggets in the first round before falling to the San Antonio Spurs. In those 12 playoff games, Steph attempted 106 more three-pointers, making 42.
Curry reached a new high in points per game in 2013-14 with 24, making another 261 three-pointers and leading the Warriors to another playoff appearance as the 6th seed. Curry made his first of five straight (so far) NBA All-Star Game appearances, but the Warriors lost to the Clippers in seven games in the first round.
The Warriors in 2014, with new coach Steve Kerr, were recognized as a good team. But few expected them to win 67 games and coast to the top of the Western Conference. But they did just that, thanks in large part to Curry emerging as an elite player and leader amongst other young players like Klay Thompson and Draymond Green. He broke his own record for 3-pointers with 286, and his performance, in tandem with the Warriors' dominance, led Curry to win his first ever NBA MVP award.
The surprising Warriors never let a playoff series that year get to more than 6 games, and after a victory in the NBA Finals against the LeBron's Cleveland Cavaliers, the Warriors were NBA champions for the first time since 1975. Andre Iguodala was Finals MVP, and Steph was a champion for the first time in his NBA career.
2015-16 was supposed to be an even bigger year for the Warriors and Curry, and in many ways it was. The team wasn't just better, they broke the record for regular season wins by going 73-9. Curry didn't just improve over the previous year, he averaged 30 points a game and demolished his 3-pointer record by making 402. He was unanimously voted league MVP.
Yet this team couldn't do what the previous year's Warriors had: win a championship. After having to come back from a 3 games to 1 deficit against the Thunder to make the Finals, they let the Cavaliers do just that against them in the Finals. The record-breaking Warriors team collapsed and finished the season without a title.
Not content with that disappointing finish, an already stacked Warriors team got even more stacked in their chase for a title. They signed another elite player, Kevin Durant, and expected big things. They may not have broken another record, but the team won 67 games and Curry averaged 25 points a game and made 324 3-pointers. Unlike the 2015-16 team, this Warriors team did what they were expected to and coasted to a championship. In four playoff series, they only lost a single game - Game 4 of the NBA Finals. The Warriors won 15 straight playoff games before losing one, and then proceeded to immediately win the 16th and clinch the championship.
For Curry's efforts, he was rewarded with a monster contract after: Five years, $201 million. It was the first $200 million contract in NBA history.
How did Curry respond to it? Well, when he was on the court (he only played 51 games in the 2017-18 season due to injury) he averaged 26.4 points per game. His injuries kept him out of the first round of the playoffs, but he returned in the second round to help them beat the Pelicans before leading the team to a tough Conference Finals victory in seven games over the Rockets before a much easier sweep of, you guessed it, the Cavaliers. Curry's Warriors had won three NBA Finals in four years.
Steph missed a few games with injury again in the 2018-19 season but still started 69 games and excelled, with 27.3 points per game and tying his career best with 5.1 3-pointers a game. The Warriors finished the regular season as the #1 seed in the Western Conference, and Curry opened the playoffs with a 38 point performance in a win against the Clippers. They defeated the Clippers in 6 games and did the same to James Harden and the Rockets in the next round before sweeping the Trail Blazers to make their fifth consecutive NBA Finals. This time, they faced the Toronto Raptors, led by Kawhi Leonard. The Warriors, who were mostly without Durant due to injury, were stifled by the Raptors defense. Curry did his best to lead the team to a championship by himself with a 47 point performance in Game 3, but Golden State lost the game, and lost the series 3 games later.
Stephen Curry's Contract: How Much Does He Have Left?
Currently, Steph Curry is preparing to play in the third year of his latest contract, and will be making over $40 million. According to Spotrac, this year's contract will push his career cash earnings over $168 million.
Spotrac also estimates that he will be making over $40 million in each of the final two years of his contrac as wellt: $43 million in 2020-21 and $45.78 million in 2012-22. That would put his earnings in 2022 up to an astonishing $257 million.
Stephen Curry's Endorsements and Commercials
If you thought Curry made a lot of money from basketball, you'd be very correct, but you also wouldn't have taken into account how much Steph also makes from his endorsement deals.
Curry is one of the most immediately recognizable names and faces in professional sports. Forbes estimates that Curry makes $42 million a year in his various endorsement deals. Most athletes of his caliber are signed to Nike (NKE) - Get NIKE, Inc. Class B Report deals, but Curry got more money from Under Armour.  (UAA) - Get Under Armour, Inc. Class A Report  He signed with them prior to his MVP seasons and now is a big enough deal that he can have a collection of sneakers with the brand.
In addition, Steph Curry has endorsement deals with Chase, (JPM) - Get JPMorgan Chase & Co. Report Nissan (NSANY) and electronics outlet JBL.