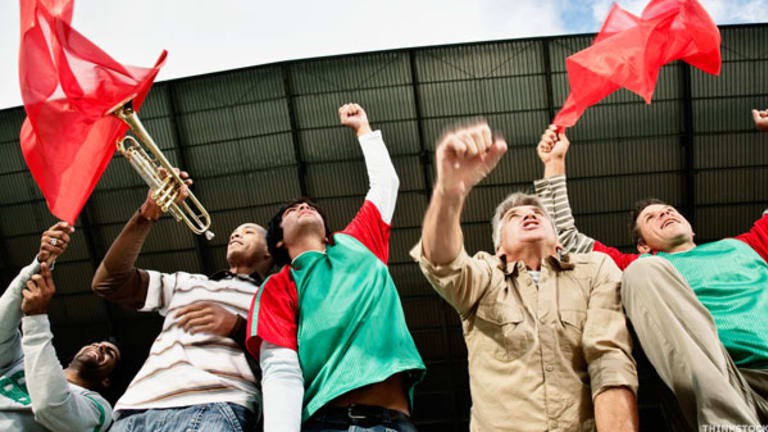 Publish date:
World Cup's Ad Policy Lacks Fair Play
World Cup ambush marketing leads to arrests for Dutch women, applause for Nike and Pepsi.
World Cup ambush marketing leads to arrests for Dutch women, applause for Nike and Pepsi.
JOHANNESBURG (TheStreet) -- World Cup organizer FIFA is sending a strong message to unsanctioned advertisers this year: Multimillion-dollar marketing campaigns by official sponsors' biggest competitors are clever, but guerilla marketing by a small, regional competitor demands jail time.
Throughout the tournament, official sponsors such as
Adidas
,
Coca-Cola
(KO) - Get Coca-Cola Company Report
and
Sony
(SNE) - Get SONY GROUP CORPORATION SPONSORED ADR Report
have had to grin and bear it as
Nike
(NKE) - Get NIKE, Inc. (NKE) Report
,
Pepsi
(PEP) - Get PepsiCo, Inc. Report
and
Samsung
have run competing, soccer-style ad campaigns with star players and South African locales. Since the competitors' ads don't mention the World Cup in any way, FIFA apparently considers it "fair play."
However, 36 Dutch women were thrown out of Monday's Netherlands-Denmark matchup in Johannesburg for being a little too aesthetically pleasant in
orange minidresses
paid for by Dutch brewery
.
Two of the women were detained for allegedly organizing the stunt at the expense of World Cup sponsor
Budweiser
(BUD) - Get Anheuser-Busch InBev SA/NV Sponsored ADR Report
and were released on bond today. "FIFA has filed charges against the organizer of the ambush-marketing stunt pulled between the Netherlands-Denmark match at Soccer City two days ago," spokesman Nicolas Maingot said at FIFA's daily news briefing.
Meanwhile, the man who provided the women's tickets out of his 100-ticket allocation -- former Jamaican national team player and British station ITV's soccer pundit Robbie Earle -- lost his broadcasting job as a result.
FIFA has denied taking action against any of the accused, but couldn't really be blamed for doing so. Bavaria had advertized its "Dutch Dress WK" campaign on its Web site and in commercials well before the match and had burned FIFA once at the 2006 World Cup in Germany when it prompted Dutch fans to wear company-sponsored orange lederhosen, which spurred
to give the offending parties free, brand-neutral orange shorts to change into.
Considering that 30% of FIFA's $3.2 billion in revenue from 2007 to 2010 came from commercial rights and the cost of organizing a World Cup can be upwards of $1.5 billion, as it was in 2006, FIFA is well within its rights to secure sponsors with some stingy defense. Competition for global audience and revenue is keeping FIFA on its toes, as FIFA says commercial infringement jumped from 258 cases in 38 countries during the 1994 World Cup to 3,300 cases in 84 countries for the 2006 event.
However, if FIFA and its national partners are going to lay down the law on ambush marketing, it should be done so as broadly and evenly as possible. For example, in South Africa, article 9 paragraph D of the Trade Practice Act of 1976 and article 15A of the Merchandise Marks Act number 17 of 1941 outlaw the misuse of registered marks and "unfair competition."
This was enforced on billboards in South Africa, where South African-based low-cost airline Kulula portrayed itself as the unofficial carrier of the "You-know-what" amid soccer balls, vuvuzela trumpets and players before a letter from FIFA forced the billboards' withdrawal.
Yet Pepsi, the direct and largest competitor of event sponsor Coca-Cola, is allowed to freely and openly air commercials featuring France's Thierry Henry, Brazil's Kaka, Argentina's Lionel Messi and others playing soccer in South Africa as Akon sings about Africa in the background:
Apparently, that adds up to a funny coincidence in the FIFA's eyes, which also, apparently, are blind to the worldly implications of Nike's massive multimedia money grab featuring England's Wayne Rooney, Portugal's Cristiano Ronaldo and Ivory Coast's Didier Drogba playing in some sort of unspecified international competition:
FIFA shouldn't let little guys like Bavaria and Kulula lift from the till, but allowing the big boys at Pepsi and Nike to go spikes-up into its sponsors while not lifting a finger to stop it makes FIFA look not only sad and ineffective in its practices, but also terribly unfair. As an international sporting authority and governing body, that perceived bias can be more damning than any misstep on the pitch.
-- Written by Jason Notte in Boston.
RELATED STORIES:
>>World Cup Highlights to Watch Off the Pitch
>>World Cup ETFs
>>Coke, Visa Make Push For World Cup Bonanza
>>Three Ways to Play the World Cup
Follow TheStreet.com on
and become a fan on
Jason Notte is a reporter for TheStreet.com. His writing has appeared in The New York Times, The Huffington Post, Esquire.com, Time Out New York, The Boston Herald, The Boston Phoenix, Metro newspaper and the Colorado Springs Independent.