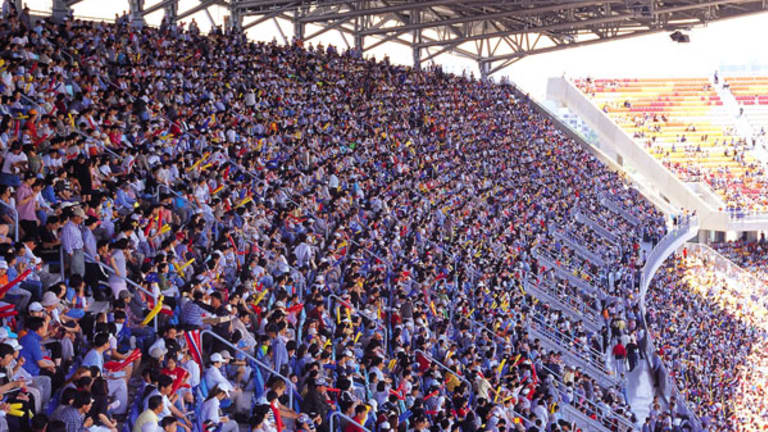 NEW YORK (
) - The
served up its biggest shock so far on Sunday, when minnows New Zealand held world champions Italy to a 1-1 draw.
The Kiwis, making just their second World Cup appearance, stunned the much-fancied Italians in the seventh minute, when Shane Smeltz touched home a free-kick. The Azzurri, however, grabbed an equalizer just before the half hour though Vincenzo Iaquinta's penalty.
Despite an onslaught of Italian pressure, the New Zealanders held on for their second World Cup point, and even came within inches of a clinching an astounding victory when 18-year substitute Chris Wood shot just wide of Federico Marchetti's goal.
In other Sunday action, Brazil clinched a place in the knockout stage of the tournament with a 3-1 win over the Ivory Coast. Luis Fabiano scored two goals to send the South Americans on their way to victory, although the bad-tempered match will be remembered for the harsh sending off of Brazilian star Kaka. The playmaker, who had already received a yellow card, got his marching orders late in the game when Ivorian midfielder Abdelkader Keita collided innocuously with him and fell to the ground holding his face.
Earlier in the day, Paraguay went top of World Cup group F with a stylish 2-0 victory over Slovakia courtesy of goals from Enrique Vera and Cristian Riveros.
On Saturday, Holland qualified for the second round of the World Cup when they defeated Japan 1-0. Also yesterday, Ghana tied Australia 1-1 and Denmark beat Cameroon 2-1.
The biggest controversy of the weekend, though, centers on the misfiring French team.
Chelsea striker Nicolas Anelka was sent home from the tournament on Saturday, reportedly after rowing with coach Raymond Domenech during the team's 2-0 defeat by Mexico last week. Finalists in the 2006 tournament, the French team now appears to be imploding.
The French players refused to practice on Sunday, following Anelka's expulsion, and captain Patrice Evra became embroiled in a heated public argument with fitness coach Robert Duverne. Domenech was forced to separate the two during the practice-pitch row, which was filmed by TV cameras.
The
BBC
reports that French Football Federation managing director Jean-Louis Valentin resigned on Sunday, with the official
at the players' unwillingness to train.
Tomorrow Portugal face North Korea at 7.30 ET. Later in the day, Chile take on Switzerland at 10AM ET, while favourites Spain meet Honduras at 2.30 in the afternoon.
The U.S., which was denied victory against Slovenia by a bad refereeing call last week, plays its final round-robin game against Algeria on Wednesday.
-- Reported by James Rogers in New York
Follow James Rogers on
and become a fan of
TheStreet
on