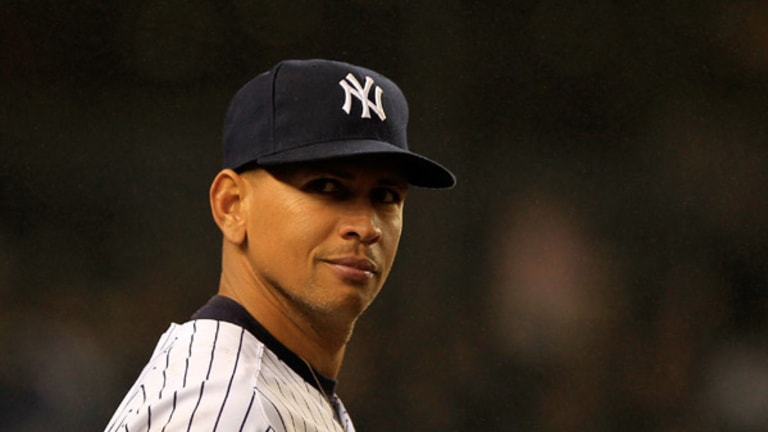 What Wall Street Thinks of A-Rod: The Price of Hasty Investments
With rumors swirling about a possible suspension for Alex Rodriguez, people are wondering whether his pricey contract was a worthy investment.
NEW YORK (
)--As New York Yankee 3B Alex Rodriguez closes in on the start of his rehab assignment, rumors still swirl about a potential 100-game suspension for the 3-time MVP.
If the speculations about Rodriguez's involvement with an anti-aging clinic are true, the Yankee 3rd baseman could be a part of the biggest suspension in Major League Baseball history, which would force to miss almost two-thirds of the 2013 MLB season. This could leave people like General Manager Brian Cashman, wondering whether A-Rod is really worth his record-breaking 10-year $275 million contract. Considering the average MLB salary is just over $3.4 million, maybe the Pinstripe Powerhouse could have spent its money elsewhere.
I wanted to find out whether people saw A-Rod as a fruitful investment--naturally, I took to Wall Street. I found some part-time sports enthusiasts who were happy to share opinions through the haze of their smoke-breaks. Responses were mixed, although there was a clear trend; A-Rod didn't live up to the stack of cash he is "worth."
"I think A-Rod has been over-hyped as a player for years, and I think he probably deserves being banned if he's found guilty of using performance enhancing drugs," said David Roemer, a Wall St. attorney. If Rodriguez were found guilty, it may be a serious liability to keep him on the team; his iffy reputation could tarnish the Yankee image. This would be a big blow to the organization, and may simply not be a sufficient return on investment.
From a performance perspective, Rodriguez is clearly talented. A 14-time All-Star, 10-time Silver Slugger, 2-time Gold Glove award winner--the accolades speak for themselves. But has his contribution to the Yanks' really been that invaluable? In 2009, the veteran brought the Steinbrenner dynasty to its 27th World Series title. Then again, this was the only World Series title won with A-Rod on the team. In fact, he was notoriously absent in last years' post-season, hitting a woeful .111 in the American League Championship Series.
It's hard to argue that this is worth $27 million per year.
Adam Glass, who was visiting a Wall St. client, said, "I don't think much of A-Rod, I think he's a major disappointment. He's cost the team a lot of money, and a lot of potential players that we could have gotten."
To put it simply, the Yankees should be getting a much greater return considering the hefty chunk they are losing from their payroll.
It helps to put things into perspective. Take Babe Ruth--a 2-time All-Star, 7-time World Series champion, and possibly the greatest baseball player to ever live. He's a member of the all-time team and ranks in the top-10 for numerous statistics. Ruth, who retired in 1937, received a salary that peaked at $80,000. Adjusted with inflation, this salary would come out to $1.39 million in 2013, just above 5% of A-Rod's annual salary. Meanwhile, Babe Ruth's .342 career batting average is well above A-Rod's current career average of .300.
But there has to be some upside--some return of investment--with the signing of Alex Rodriguez. You could look at the issue from a marketing perspective. "Obviously his production has been down, but if we're talking about media purposes and generating interest in the Yankees, there's nothign better than A-Rod. They have probably seen a good return from a bottom line perspective," said Shlomo Farkas of Equity Trading Capital.
--
Written by David Webster in New York
>Contact by
.
Follow @thedavidwebster