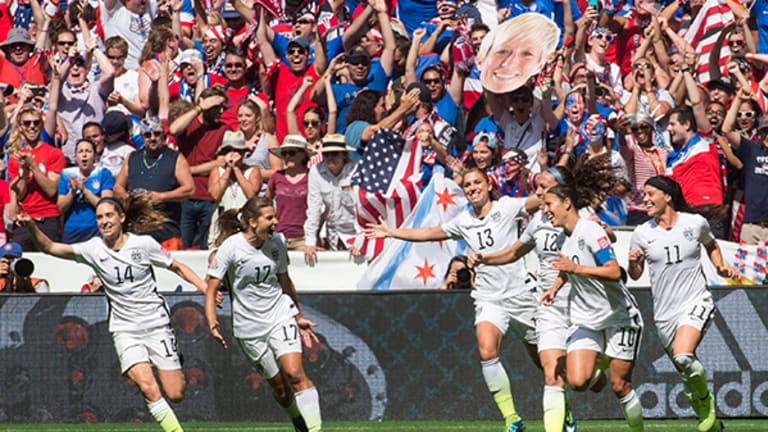 Publish date:
U.S. Women's Soccer Team Parade Struggles for Funding
Despite U.S. women's soccer team's big win at the World Cup, sponsors have only contributed a quarter of the money needed for Friday's ticker-tape celebration in NYC. That's not unusual.
Despite U.S. women's soccer team's big win at the World Cup, sponsors have only contributed a quarter of the money needed for Friday's ticker-tape celebration in NYC. That's not unusual.
Updated with new information from the NYC Mayor's office.
NEW YORK (TheStreet) -- There's been no shortage of interest in the U.S. women's soccer team this week, but pulling together the funds to help celebrate the World Cup champions hasn't been easy.
Major League Soccer, Nike (NKE) - Get NIKE, Inc. (NKE) Report, Mondelez International (MDLZ) - Get Mondelez International, Inc. Class A (MDLZ) Report, Electronic Arts (EA) - Get Electronic Arts Inc. Report and Coca-Cola (KO) - Get Coca-Cola Company Report chipped in $450,000 to fund the parade celebrating the World Cup champs -- less than a quarter of the parade's estimated $2 million price tag, a spokesperson from the New York City Mayor's Fund said.
But it's not unusual for the Mayor's Fund to pay for the bulk of parade costs, police and sanitation services, and to raise additional money from sponsors for floats and other entertainment expenses. According to the Mayor's Fund spokesperson, for the Giants Super Bowl championship in 2012, the city raised about $331,000 from sponsors and paid an additional $1.4 million in city-related costs.
In addition, organizers haven't exactly had a lot of time to raise money for the parade.
"It's hard, with [an event] less than a week away, to go to corporate America and say, 'Hey, do you have a couple hundred thousand dollars lying around?'" said Steve Goodman, who teaches in Georgetown University's Sports Industry Management program.
"I don't think [corporate sponsors] are turning their back on them and I certainly don't think it's a gender issue," he added.
New York City has said it will foot as much as $1.5 million of the bill and that its fundraising efforts were successful given the short time frame.
"In a very, very short period of time, we were able to pull together the appropriate funds for this to happen," said Dan Gross, a City Hall events spokesman, to The New York Post.
In many cases, hometown teams coming off a championship tap existing team sponsors or use some of their prize money to fund parade expenses, Goodman noted. But brands should be jumping at the chance to attach their names to the World Cup-winning team.
"It's not so much the return on investment [for brands] here, it's just associating with a great team, with a great story and doing the right thing over time," said Goodman.
Nielsen now estimates that Sunday's World Cup-winning match drew 26.7 million viewers in total, combining English-language and Spanish-language airings. That's more than every NBA Finals basketball game since 2010 and every MLB World Series baseball game since 2004, as Vanity Fair pointed out.
Broken out by channel, 25.4 million tuned into Fox (FOXA) - Get Fox Corporation Class A Report and 1.3 million watched on Telemundo, which is owned by Comcast's (CMCSA) - Get Comcast Corporation Class A Report NBC Universal.
But brands might still see women's soccer players, much like many Olympic athletes, as having a short expiration date for audience attention since international tournaments only happen once every two years, said Darren Heitner, a sports entertainment attorney and owner of Heitner Legal.
"Who knows how long Carli Lloyd will continue to have name recognition?" said Heitner. "Right now she's the biggest athlete in the country, male or female, but it'll become increasingly hard for her and her representatives to command big dollar deals."
The last national athletes invited to march along the so-called Canyon of Heroes in Manhattan were Olympic medalists in 1984. More recent parades have featured local sports teams able to round up a mix of New York City-based sponsors and their regular season sponsors to chip in last-minute dollars to defray parade costs.
The 2012 Super Bowl champion New York Giants were the the most recent team to parade down Broadway, and 6 sponsors out of 13 were businesses based in the New York metropolitan area, with an additional 6 were the team's existing sponsors. Nike and Mondelez, two of this year's parade sponsors, already sponsor U.S. Soccer.
Allstate Insurance (ALL) - Get Allstate Corporation Report is sponsoring the men's 2015 Concacaf tournament, the top regional FIFA contest in North America, Central America and the Caribbean, which kicked off this week.
Privately-held Liberty Mutual Agency is currently the official insurance sponsor of U.S. Soccer, the governing body of both the men's and women's national teams.