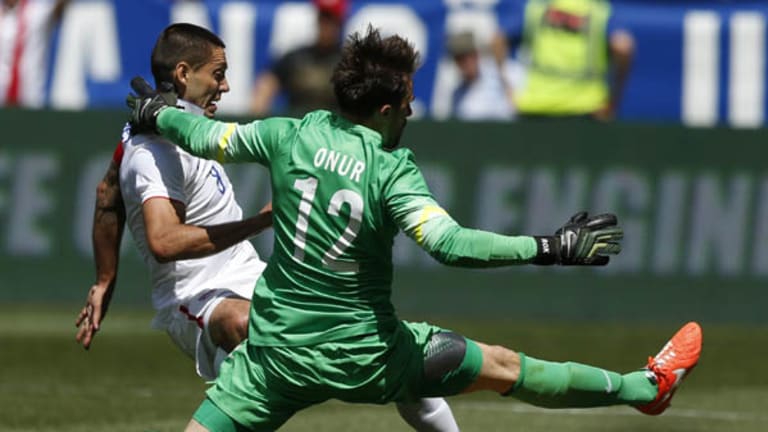 U.S. Soccer Is Way Bigger Than You Think
World Cup and the U.S. men's team tell only part of the story. Youth soccer academies, robust Major League Soccer and growing soccer TV presence and ratings cover the rest.
PORTLAND, Ore. (TheStreet) -- Americans don't watch soccer and never will. Nobody in this country cares about soccer. Call me when it's football/baseball/basketball season.
These sentences and more will be scrawled by retrograde trolls who've not only lived in a vacuum for the past few decades or so, but who are willing to leave millions of dollar of soccer fan spending on the table as the sport grows here. Networks, sponsors and even youth soccer -- which is changing vastly from the cluster-chasing, orange-slicing, participation-trophy-awarding stereotype its critics on all sides have formed -- are all invested in soccer's future here and are making soccer worth the nation's attention well beyond the World Cup.
We could fill a few pages on soccer's U.S. resurgence, as many have, but in the context of business it behooves us to break it down to the numbers:
3.02 million: That's how many kids participated in U.S. Youth Soccer alone in 2012. That's a giant leap from the 1.6 million that took part in 1990, and it doesn't include the hundreds of thousands who play in other organizations such as the 650,000-strong American Youth Soccer Organization.
That said, it's a number that hasn't really grown all that much since 2000 and has actually fallen from its pre-recession peak of 3.15 million in 2008. Then again, all of youth sports have seen a decline in the U.S. during that period. According to the Sports and Fitness Industry Association Trade Group, participation in baseball, football, soccer and basketball fell a combined 4% between 2008 and 2012. Tackle football lost 5.4% of its participants during that span, while baseball and basketball participation dropped 7% to 8%. So why is soccer's 3 million still a good thing?
79: That's the number of U.S. Soccer Development Academy facilities that have sprung up since the organization was founded in 2007 -- just a year after the U.S. Men's National Team's three-and-out performance at the 2006 World Cup.
The dedicated academy system is spread out over three divisions -- U-13/14, U-15/16 and U-17/18 -- and operates on a 10-month schedule that starts in September and ends in June or July. Instead of leaving young players in youth, high school or college programs, the academies acclimate them to professional soccer conditions and teach them the realities of the global game. Many are attached to Major League Soccer teams, but others have affiliations with professional squads around the world. Andromeda FC in Plano, Texas, is partnered with Tottenham Hotspur of the English Premier League, while Crossfire Premier in Redmond, Wash., has ties to Italian Serie A club Inter Milan. While critics feel the academies are killing high school and college soccer, that may not be such a bad thing. When U.S. Men's National Team Coach Jurgen Klinsmann selected this year's roster for the U.S. men's U18 team, 14 players were products of the academy system. It's creating not only better players, but more competitive U.S. soccer.

18,608: That was Major League Soccer's average attendance last year. It's down 1% from its all-time high in 2012, but it's still impressive when you consider it's up from 14,898 just a decade ago.
MLS has never been on incredibly firm footing, but it's in the best shape of its life right now. In 2002, MLS had 10 franchises run by a total of three ownership groups. It had just folded franchises in Miami and Tampa and was relying on Lamar Hunt and the Anschutz group to keep it afloat while all but one of its teams played in buildings specifically designed for soccer. By 2012, MLS had 19 franchises, 17 ownership groups and 14 soccer-specific facilities.
There are still issues, including the recent league takeover of sparsely attended Chivas U.S.A. in Los Angeles, its near-nonexistent television ratings and its controversial stance on the allocation of high-profile members of the U.S. Men's National Team, but the league's story is largely one of growth. New franchises are coming to New York, Atlanta, Orlando and Miami. Stars such as Spain's David Villa and England's Frank Lampard are making the jump across the pond and home-grown talent is succeeding in small, thriving markets including Kansas City, Salt Lake City and Portland.
Average MLA attendance still doesn't look like much compared with Germany's Bundesliga (more than 45,000 per game), the EPL (36,000), Spain's La Liga (29,400) or even neighboring Mexico's Liga MX (25,400). Still, it's far closer to France's Ligue 1 (19,300) or the Dutch Eredivisie (19,500) than even its most fervent supporters thought it could be a decade ago. It's also not only higher average attendance than either the National Basketball Association or National Hockey League (both below 17,500) can manage, but it's also regularly higher than Major League Baseball attendance in several cities -- including some where baseball is outdrawn by MLS. It's that kind of potential that leads to ...
$600 million: Considering the National Football League gets $1 billion from ESPN each season just for Monday Night Football, $600 million for MLS coverage from 2015-22 doesn't look like much. Compared to the $200 million a year that NBC is paying for the National Hockey League, it's not a whole lot.
But the $70 million a year MLS will be getting from ESPN and Fox as part of its new package deal with the men's national team is all about what could be. Let's make this clear: Televised MLS has been a tough sell. Fox and ESPN get a league that saw ratings decline 29% during its time on ESPN and ESPN2 and saw them drop 8% on NBC Sports last year. Last year, a playoff semifinal between the Portland Timbers and Real Salt Lake drew so few viewers that it was not only the lowest-rated broadcast among the 139 programs ESPN aired that week, but it was beaten by a rerun of Everybody Loves Raymond. That last bit isn't a joke: It was defeated by an episode of a sitcom that aired its last original episode almost a decade ago.
It should be noted, though, that the first jump from ESPN and Fox Soccer to NBC helped increase MLS' average audience 62% in 2012 and boosted its ratings 12% from 2011. It's a small gain, but it's one that helps the MLS generate $100 million a year in revenue for its partners. It also made NBC's soccer coverage good enough to lead to this:
$250 million: That's what NBC paid to air 40 matches a year of the English Premier League in the U.S. in 2013-14 and 2014-15.
It's getting increasingly tough to measure the popularity of soccer in the U.S. based on MLS alone. U.S. soccer viewers have a lot more access to the world's top-tier soccer leagues than they ever have, thanks largely to deals such as NBC's that bring Wayne Rooney, Yaya Toure and Luis Suarez into their homes through something other than a satellite channel. With the EPL generating $83 million a year in revenue for NBC and Liga MX matches from Mexico bringing in $50 million a year for ESPN through 2015, it's little surprise that U.S. soccer interest is generating buy in prices like this:
$400 million: That's what Fox paid for the U.S. English-language rights to the 2018 and 2022 FIFA World Cup back in 2011. That's also four times what ESPN and ABC paid for the rights to the 2010 and 2014 installments.
How does that happen? Simple: The U.S. started watching soccer. The 2013 World Cup qualifier between the U.S. and Mexico drew 7 million viewers, which is a larger audience than the 5.8 million the NHL averaged for last year's Stanley Cup Finals. Before that, Euro 2012 tournament coverage on ESPN and ABC drew an average of 4 million viewers and marked a 51% increase from Euro 2008 -- with nary a U.S. player in sight.
But what about the World Cup, you ask? Well, in terms of ratings share, it never got better than the 9.5 share drawn by the Brazil-Italy final at the end of the U.S.-hosted World Cup in 1994. But the 17 million U.S. viewers who watched Italy defeat France in 2006 constituted a bigger audience than the average 16 million who watched the St. Louis Cardinals defeat the Detroit Tigers in baseball's World Series that year.
Go back to 2010, however, and the World Cup gets even more powerful. The 24.3 million who watched Spain defeat the Netherlands in the World Cup Final on ABC was a larger audience than that network drew for an Ohio State/Oregon Rose Bowl (24.04 million) that year. It also outdrew the 2010 men's college basketball national championship game between Duke and Butler (23.99 million) on CBS, the Winter Olympics closing ceremony on NBC (21.4 million) and a whole lot of prime-time Winter Olympics coverage.
The 19.1 million viewers who watched the men's national team's second-round match against Ghana -- the largest USMNT television audience of all time -- was a bigger audience than all but Game 7 of that year's NBA Finals on ABC and outdrew the U.S./Canada men's hockey gold medal game on NBC (18.3 million).
That's the full measure of soccer's growth here, and networks, sponsors and a growing number of supporters have already taken notice. It's one thing to simply not enjoy the game -- that's understandable. To dismiss it outright, however, is just bad business.
-- Written by Jason Notte in Portland, Ore.
>To contact the writer of this article, click here: Jason Notte.
>To follow the writer on Twitter, go to http://twitter.com/notteham.
>To submit a news tip, send an email to: tips@thestreet.com.
RELATED STORIES:
>>The World Cup Is An Absolute Money Pit
>>Cutting Landon Donovan Lost Sponsors For World Cup
>>How O.J. Simpson Created A Wider World Of Sports
Jason Notte is a reporter for TheStreet. His writing has appeared in The New York Times, The Huffington Post, Esquire.com, Time Out New York, the Boston Herald, the Boston Phoenix, the Metro newspaper and the Colorado Springs Independent. He previously served as the political and global affairs editor for Metro U.S., layout editor for Boston Now, assistant news editor for the Herald News of West Paterson, N.J., editor of Go Out! Magazine in Hoboken, N.J., and copy editor and lifestyle editor at the Jersey Journal in Jersey City, N.J.