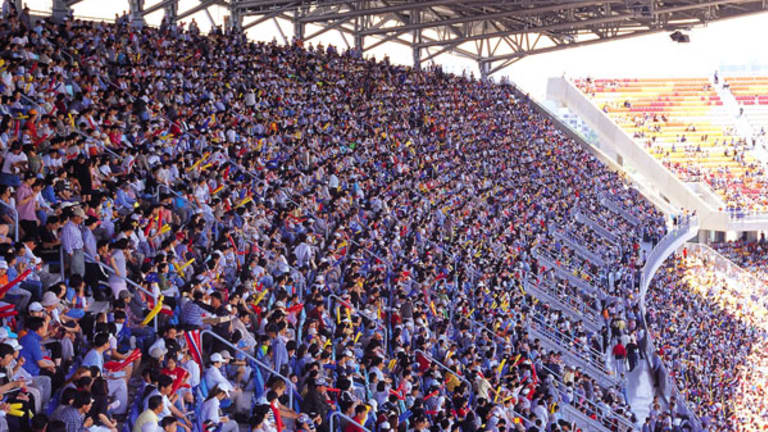 Triple Play Rescues Rays; BCS May Reconsider 2-Team Limit
A triple play may have saved the Tampa Bay Rays from entering a dreary off-season.
NEW YORK (
) -- A triple play may have saved the Tampa Bay Rays Tuesday night from a dreary off-season as the team rallied in the seventh inning to beat the New York Yankees 5-3 to stay tied with the Boston Red Sox in the American League wild-card race.
In the top of the sixth, the Yankees, leading by a run, had bases loaded and no outs. Catcher Russell Martin hit the ball down the third-base line to Rays third-baseman Evan Longoria, the infielder tagged the bag, turned and threw to infielder Ben Zobrist at second, who then completed the triple-play by throwing a dart to Sean Rodriguez at first for the final out.
The Boston Red Sox and Tampa Bay Rays are tied for the AL wild-card race with one game apiece remaining.
"What I was hoping for was maybe a double play and giving up one run," Rays manager Joe Maddon said. "But my God, how do you even envision a triple play?"
The Atlanta Braves lost Tuesday night to the Phillies while the St. Louis Cardinals topped the Astros to pull the teams even in the National League wild-card race. One game remains for all four Major League Baseball clubs that are duking it out for the final spots in the playoffs.
The Bowl Championship Series might reconsider its policy that conferences may only receive two bids in the five BCS bowl games for college football.
Television negotiations are approaching and Southeastern Conference Commissioner Mike Slive has said that it is likely the two-team limit will be deliberated during those discussions, according to
The Associated Press
.
"I think there are going to be several issues that are important enough to have serious discussion about, and that would be one of them," Slive said, according to the
AP
.
-- Written by Joe Deaux