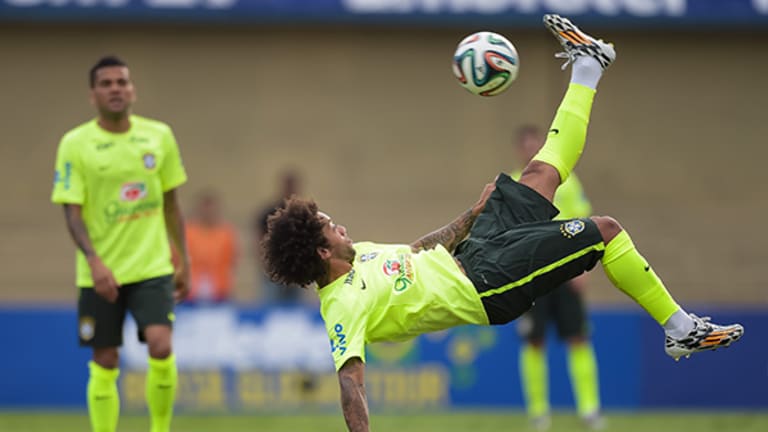 The World Cup Is an Absolute Money Pit
How is Brazil supposed to avoid taking a multibillion-dollar hit on hosting the 2014 World Cup when even the U.S. lost money on soccer's biggest event 20 years ago?
PORTLAND, Ore. (TheStreet) -- It's been 20 years since the United States hosted its first and only World Cup, and the benefits of that year's event are still a point of debate.
It won't take nearly as long to determine the impact of this year's $15 billion World Cup in Brazil. The Nation and Edge of Sports writer Dave Zirin has already published his book about what the displacement of Brazilian citizens by construction, the cost of defending World Cup venues from growing contingents of protesters and the overwhelming debt that this World Cup and the 2016 Summer Olympics will have on Brazil. All of it points to the same conclusion: There is no way the purported economic benefits of the World Cup will prevent it from being the absolute money pit it's always been.
Professor Dennis Coates from the University of Maryland Baltimore County notes that even richer countries such as the United States tend to take a huge hit from hosting a World Cup. In a paper written around the time of the failed U.S. World Cup bids for the 2018 and 2022 installments, he notes that initial projections for the 1994 U.S. World Cup hosting gig put economic benefits at $4 billion. After the event, though, analysts reached the conclusion that the average host city lost $712 million in income relative to predictions. That's an overall loss of $9.26 billion for the entire 1994 World Cup and a $13 billion difference between expectation and reality.
How can that be? Well, it's simple. The $100 million a pop paid by official World Cup partners including Coca-Cola, Sony, Visa, Adidas, Hyundai and Emirates goes right to soccer's governing body, FIFA. Same with the $20 million apiece from World Cup sponsors including McDonald's, Anheuser-Busch InBev, Johnson & Johnson and BP's Castrol. Nations get only a small, predetermined cut of that, as well as the nearly $4 billion FIFA is expected to take in from television deals with Disney's ESPN and ABC and other global outlets. Considering that Brazil is expected to pay $1 billion, minimum, for security alone, that $4 billion would come in handy for a host country.
Just don't expect FIFA to give away a bigger cut. In 2010, FIFA paid South Africa $483 million to host the World Cup, which certainly would have covered its projection of $431 million for the costs of the event. But stadium costs alone jumped to $2.1 billion as the overall cost of the event soared to nearly $5.2 billion. FIFA didn't offer another dime and, quite frankly, has seen more expensive events. The Japan/Korea joint World Cup in 2002 reportedly cost a whopping $7.5 billion thanks to costly facility construction.

Even when everything goes right, the impact can be nominal. The 2006 World Cup in Germany is still considered the ideal and created $194 million in net revenue for its organizing committee. As an overall economic driver, however, it sputtered. Germany took in $1.5 billion from foreign tourists that year, but got only a small portion of the $2 billion in licensed World Cup merchandise -- much of which went right back to FIFA. In fact, retail sales in Germany during the World Cup months of 2006 were actually lower than a year before thanks to most Germans leaving the area to avoid the World Cup throngs.
Even as Brazil does its own soul searching about the cost of its World Cup bid, other nations are suddenly being forced to consider how much a bid would mean to them. Following allegations that its host committee bribed FIFA officials and are exploiting foreign labor, there's a chance FIFA may revote its successful bid to host the 2022 World Cup. That's made England a probable successor, though that nation just coughed up $14 billion for the 2012 Summer Olympics -- which came in $10 billion over initial estimates.
Which brings up another issue: The world's running out of suckers to host these events. The 2022 Winter Olympics still doesn't have a host country and nobody seems to want to burden themselves with hosting it. Stockholm, Sweden, backed out because it's too expensive. Munich, Germany, voted against hosting it, calling the International Olympic Committee "greedy" in the same stroke. A joint bid by Davos and St. Moritz was also rejected by voters, as was a Poland/Slovakia bid. That leaves Oslo, Norway -- which is already getting pushback from voters -- Kazakhstan, China and politically unstable Ukraine. Only one of those nations has proven capable of taking on such a challenge and only two seem like serious contenders. The "winner" gets an event that cost Sochi, Russia, $51 billion this year.
With much of the world still emerging from the recent economic downturn, super events such as the World Cup and Olympics don't have quite the same allure as they did in headier times. When nations aren't flush with cash, they're loath to flush it away on FIFA's global party on the pitch.
-- Written by Jason Notte in Portland, Ore.
>To contact the writer of this article, click here: Jason Notte.
>To follow the writer on Twitter, go to http://twitter.com/notteham.
>To submit a news tip, send an email to: tips@thestreet.com.
RELATED STORIES:
>>Why Craft Beer At The Ballgame Is A Big Deal
>>7 Sports Teams and Venues That Pay You To Watch Games
>>10 Cheapest Major League Baseball Tickets In 2014
Jason Notte is a reporter for TheStreet. His writing has appeared in The New York Times, The Huffington Post, Esquire.com, Time Out New York, the Boston Herald, the Boston Phoenix, the Metro newspaper and the Colorado Springs Independent. He previously served as the political and global affairs editor for Metro U.S., layout editor for Boston Now, assistant news editor for the Herald News of West Paterson, N.J., editor of Go Out! Magazine in Hoboken, N.J., and copy editor and lifestyle editor at the Jersey Journal in Jersey City, N.J.