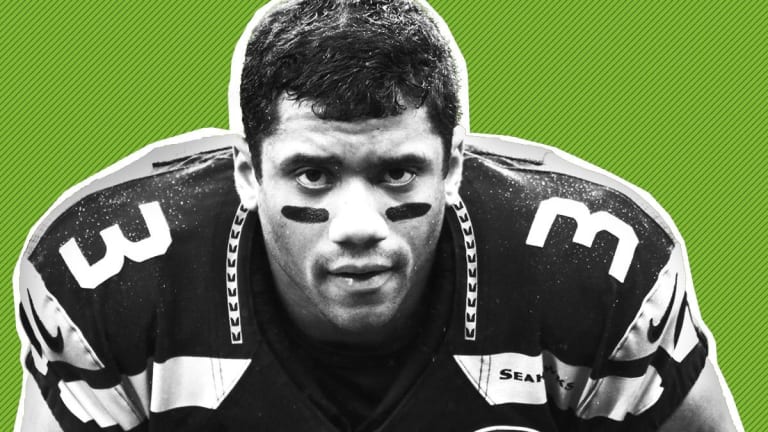 What Is Russell Wilson's Net Worth?
Russell Wilson's net worth has been estimated at as much as $115 million. How did he get this wealth, and how much is he set to make in the future?
Russell Wilson was discounted by many NFL scouts prior to the 2012 Draft simply because of his height; he's approximately 5'11". Other scouts, though, believed whichever team drafted him was getting a star.
Two years later, Wilson was the starting quarterback for a Seattle Seahawks team that destroyed the Broncos in a decisive Super Bowl victory. He was a household name who has become one of the biggest stars and best quarterbacks in the NFL. One of the most dynamic players in the NFL, Wilson was signed to a hefty extension by the Seahawks as soon as they could, ensuring he would lead the team for years to come. Since then, he has signed another extension with Seattle - this one, the biggest in NFL history.
As Wilson continues a playoff run after an MVP-caliber season, how much is the Seahawks QB worth?
Russell Wilson Net Worth
Currently, Celebrity Net Worth estimates that the Seahawks quarterback is worth $115 million. That's an astonishing amount of money, especially for someone who has only played seven seasons in the NFL; but he's still in the prime of his career, and when he starts playing on his record-setting contract extension in 2020, expect that worth to skyrocket drastically.
Russell Wilson Career
After an impressive high school career, Wilson began his college play at North Carolina State. He didn't play as a redshirt freshman in 2007, but the next year he showed incredible promise, starting most of the season and throwing 17 touchdowns to just 1 interception.
As a result, Wilson started the next two seasons for NC State. The Wolfpacks failed to qualify for a bowl game in 2009, but in 2010 led them to a defeat over West Virginia in the Champs Sports Bowl.
However, that was an abrupt ending to his NC State tenure. Different stories have emerged as to why Wilson decided to transfer (wanting to keep playing baseball against the NC State coach's wishes, getting benched for new QB Mike Glennon, etc.), but in 2011 he played for the University of Wisconsin. His senior year with the Badgers was the best of his collegiate career, throwing 33 touchdowns against just 4 interceptions, winning the Big Ten Championship Game against Michigan and having 3 touchdowns against Oregon in the Rose Bowl, though Wisconsin would lose the game.
Russell Wilson and the Seahawks
Despite some fantastic college stats, scouts remained hesitant due to Wilson's height. That he was not drafted until the middle rounds of the 2012 NFL Draft cost him millions, but the Seahawks drafted him in the 3rd round, and one month later signed his rookie contract with them - 4 years, $2.99 million.
The expectation was that Wilson would be on the bench at first, as the Seahawks had also signed quarterback Matt Flynn that offseason to be its starter. But Wilson easily outplayed Flynn in the preseason, and before the start of the regular season in 2012, he was announced as the official starting QB.
Wilson impressed in his rookie year, showing the potential to be a dual threat QB with his arm and his legs. Wilson, along with a stacked Seattle defense, took the Seahawks to the playoffs in his first year, defeating Washington in the first round before falling to the Atlanta Falcons.
Big things were expected of the team the next year, and they more than lived up to them. The Seahawks had the best record of any team in their conference and made it to the Super Bowl against Peyton Manning and the Denver Broncos. Manning's record-breaking season led many to predict a Broncos win, but an incredible game from their defense led to an upset, as Seattle thrashed the Broncos 43-8. In just his second season, Wilson was a Super Bowl champion.
The next year, Wilson improved not as a quarterback but a runner, rushing for more than 800 yards as the Seahawks returned to the Super Bowl after an incredible comeback in the NFC Championship Game against Aaron Rodgers and the Packers. This time the Seahawks faced Tom Brady and his New England Patriots. Super Bowl XLIX is seen as one of the best, most intense Super Bowl endings of all time. After the Patriots overcame a 10-point deficit to take a 28-24 lead, the Seahawks attempted to mount their own comeback, but Wilson threw an interception at the goal line to seal the win for the Patriots.
Despite this rough ending, after 3 seasons in the NFL Russell Wilson had 72 touchdowns against just 26 interceptions, as well as 1,877 rushing yards and 11 rushing touchdowns - all with a bow on top of one Super Bowl victory and two appearances. He was the Seahawks quarterback of the present and future, and the team wanted to keep him around long-term. On July 31, 2015, it was announced that the Seahawks were signing Wilson, then just 26, to a 4-year contract extension worth $87.6 million.
Playing with quite a bit of added financial comfort ($31 million signing bonus sounds nice, doesn't it) Wilson had his best passing season yet, hitting a career-best with 34 touchdowns thrown and breaking 4,000 yards passing for the first time. The Seahawks made the playoffs again but failed to make another Super Bowl, falling to the Carolina Panthers in the second round.
Wilson played well in 2016, but injuries to his ankle and knees hampered his running game. However, he threw for a career-high in yards and made the playoffs for the 5th straight season, falling to the Falcons en route to Matt Ryan's Super Bowl appearance. 2017, however, broke that playoff streak. Despite Wilson's best efforts and usual high level of play, injuries elsewhere on the team led to struggles, a 9-7 record, and the Seahawks on the outside looking in for the playoffs.
Though the Seahawks were not seen as very likely to make the playoffs in 2018 after the departures of several key players, Wilson was still seen as one of the best quarterbacks in football. And in large part due to his outstanding play, Seattle surprised the league to go 10-6 and clinch a Wild Card spot. Wilson established a new high in touchdown passes (35) and passer rating (110.9), but in the first game of the playoffs Seattle fell to the Cowboys 24-22.
At this point, Russell Wilson had firmly established himself as one of the game's elite quarterbacks. Yet he continued to improve, starting every game for Seattle for the 8th straight year and throwing a career-low five interceptions. Add to that another 4,000-yard passing season as well as his third consecutive season with over 30 touchdown passes, and Wilson put a depleted Seahawks team on his back. Seattle would finish the regular season 10-6, though a loss to the 49ers in the final game of the season meant they made the playoffs in the Wild Card. After defeating an injured Eagles team in the first round of the playoffs, they will be facing Aaron Rodgers and the Packers next.
Russell Wilson Contract: How Much Does He Make?
According to Spotrac, in these seven seasons Wilson played, he made more than $73 million in cash earnings. And he's just getting started.
Wilson has one year left on the contract extension he signed back in 2015. But Wilson is signed with the Seahawks through 2023 thanks to a record-breaking new contract extension he signed this past offseason, making him the latest in a string quarterbacks to break the record for highest-paid player in the NFL. The deal Wilson signed is 4 years at $140 million, with an NFL record $107 million in guarantees. This includes a $65 million signing bonus.
Per Spotrac, Wilson will be making $5 million in salary for 2019 - but is also getting $30 million of his signing bonus this year as well for $35 million in cash overall. He will get the other $35 million from his signing bonus in 2020, and is set to have a salary of $18 million to go with that. Spotrac also claims that if Wilson were to make the entirety of his new contract, at the end of the 2023 season he would have career cash earnings of nearly $231.4 million. That's more than 3 times what it is now.
Russell Wilson Endorsements
Wilson became the face of a franchise very quickly, and the endorsements began rolling in quickly, too. Forbes estimates that Wilson makes about $9 million a year off endorsement deals alone.
Like with so many other elite athletes, Wilson's most high-profile endorsement deal is with Nike. Earlier this year he debuted his new signature sneaker with the company, the Nike Dangeruss Wilson 1.
It's far from his only sponsorship. Other companies Wilson has endorsement deals with include Bose, Microsoft, Duracell and Alaska Airlines.
Russell Wilson's Wife: What Is Ciara's Net Worth?
Wilson is far from the only talented, successful celebrity in his home. In 2016, Russell Wilson got married to Ciara, 2000s R&B star known for several massively popular songs like #1 hit "Goodies." In 2017, Ciara gave birth to their first child, Sienna, in April 2017.
They make quite a successful household. In addition to Wilson's millions, Celebrity Net Worth estimates that Ciara has a net worth of about $20 million.