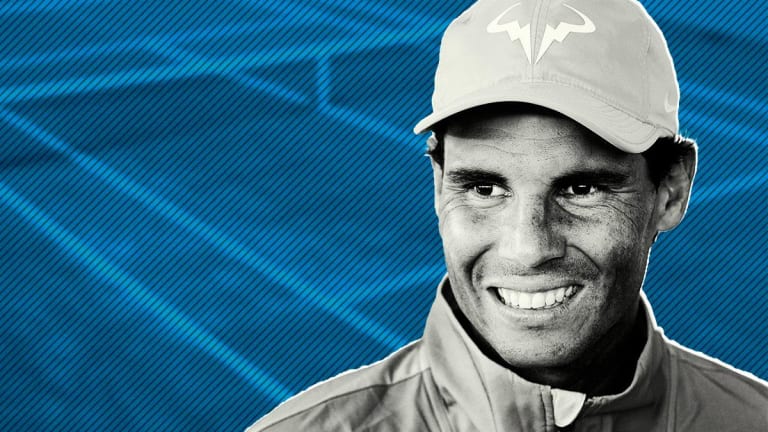 What Is Rafael Nadal's Net Worth?
The 32-year-old tennis legend is estimated to be worth as much as $180 million. How much has he won in his career?
Tennis fans over the past two decades have had the pleasure of watching some of the absolute best to ever play and dominate the game - and continue to do so to this day.
A look at the current singles rankings for the Association of Tennis Professionals (ATP) shows that the best players of the 2000s are still the best as we near the end of the 2010s. Novak Djokovic is ranked No. 1 as of this writing, and Roger Federer ranked No. 4. And in between them, ranked No. 2, is Rafael Nadal.
Nadal's decades-long rivalries with each of these players is important to the story of his career, but it's only part of it. After all, it's a career that has seen him turn pro at 15 (he's now 32 years old) and go on to 17 Grand Slams, with a chance for an 18th at the upcoming French Open (the tournament he's best known for winning). And in doing so, Nadal, who still lives in his hometown in Spain, has made exorbitant amounts of money. How much is he worth?
Rafael Nadal's Net Worth
It is estimated that through his many tennis winnings, endorsements and much more, Rafael Nadal is worth approximately $180 million, according to Celebrity Net Worth. It's an absurd amount of money for one person, and his wealth only grows. He is consistently ranked as one of the 100 highest-paid celebrities by Forbes.
Rafael Nadal's Career
Nadal hails from a family of athletes. His uncle, Toni Nadal, was himself a professional tennis player and introduced his nephew to the game. It didn't take long for the tennis world to realize Nadal's potential, and by 15 he had turned pro, making his first two appearances in ATP tournaments in 2001. His first win came in the first round of his second tournament, though he lost the next round.
2002 saw much more action for Nadal. Most notably, he played in his first Wimbledon in the boys' singles division. Seeded as a wild card in the tournament, he opened with a bang by upsetting No. 2 seed Brian Dabul in the first round. He would upset the No. 8 seed in the quarterfinals to reach the semifinals, where he lost to Lamine Ouahab.
Nadal returned to Wimbledon in 2003, this time in the men's singles tournament, making it to the third round. This was a remarkably impressive achievement for a player still not yet 18, though he failed to make that round at that year's U.S. Open. He lost in the second round again there in 2004, and in the third round of the Australian Open. However this was a big year for Nadal all the same, as he helped Spain take home the Davis Cup that year by beating American Andy Roddick in the final round.
Early in 2005, Nadal showed immediate strides, reaching a new high in the Grand Slam by getting to the fourth round of the Australian Open. From there, he exploded to tennis stardom. That 2004 Davis Cup with the Spain team was his first ATP title. In 2005 alone, he went on to win 11 more and end the year as ATP's No. 2 ranked player, up from No. 51 the year before. The highlight? His first ever Grand Slam title. At the 2005 French Open, fourth-seed Nadal made quick work of most of his opponents, taking down Roger Federer in the semifinals to make it to the finals, where he defeated Mariano Puerta. He was a Grand Slam champion, having only just turned 19.
That semifinals victory would not be his last against Federer. Overall, he's 23-15 in his career against him.
Though not quite hitting 11 titles like in 2005, '06 saw great success for Nadal and ended with five titles, including a repeat victory at the French Open, defeating Federer in the finals. This finals matchup occurred at Wimbledon as well, though Federer had the upper hand in that one. Nadal once again finished the year ranked second behind Federer. This all nearly repeated itself in 2007 as well; Nadal defeated Federer at the French Open for his third straight title, Federer got the upper hand at Wimbledon, and Nadal ended up ranked second to Federer's first.
2008 saw a change, though. Nadal lost in the semifinals for the Australian Open and US Open and once again defeated Federer at the French Open. When they faced off once again at Wimbledon, though, what happened was a match for the ages. An intense back-and-forth with rain delays to boot, Nadal came out on top hours after many thought the match would be over, with his first Wimbledon title. These victories, combined with a gold medal at the 2008 Beijing Olympics, led to his first year ending at the top of the ATP rankings.
Though 2009 saw more impressive accomplishments for Nadal (including his first Australian Open title, once again against Federer), there were some setbacks. Nadal was stunned in the fourth round of the French Open and upset by Robin Söderling, unable to win his fifth straight title. Söderling went on to the finals and lost to Federer, and Nadal ended the year returning to the No. 2 ranking of years past.
In 2010, Nadal returned to the No. 1 ranking after an incredible run that saw him win three of the four Grand Slam titles that year (an injury kept him from advancing too far in the Australian Open). Federer failed to make the finals in any of those three Grand Slams; Federer defeated Söderling at the French Open finals, Tomás Berdych at Wimbledon and Novak Djokovic at the US Open.
Djokovic would become a frequent foe of Nadal's for the foreseeable future, but Nadal hasn't had the consistent success he had against Federer; currently, Nadal's career record against Djokovic is 25-28. In 2011 Nadal fell to No. 2 in the rankings again, but this time behind Djokovic, losing to Djokovic at Wimbledon and the U.S. Open, and again in the 2012 Australian Open.
Where Nadal remained untouchable, though, was the French Open. Nadal won five straight from 2010-14, and dating back to 2005 that gave him nine of the last 10 French Open wins.
After 2014, Nadal began to struggle. He failed to win a Grand Slam in 2015, the first time that had happened since 2004. He was also unable to win one in 2016, plagued with injuries. But in 2017, he won his 10th French Open title and his second US Open title, returning to the No. 1 ranking. And in 2018, he won his second straight French Open, and 11th overall.
Rafael Nadal's Salary
For all of this, Nadal has been paid very handsomely, easily one of the highest-paid athletes in the world. Forbes claimed that his 2018 pay, via winnings and endorsements, was over $41 million. The ATP claims that Nadal's prize winnings for their tournaments over the years has totaled over $105 million.
Rafael Nadal's Endorsements
As one of the most notable faces in the game, Nadal is also rolling in endorsement money in addition to his many winnings. Like so many other A-list athletes, Nadal has had lucrative contracts with Nike (NKE) that included a line of tennis clothing. He also has deals with Kia Motors and Babolat, and in the past has had deals with Tommy Hilfiger.
How Does Rafael Nadal Spend His Money?
How does one even go about spending $180 million? Let's start with the big one: Nadal has a 77-foot yacht, an MCY6 called Beethoven.
Yacht aside, Nadal has also set out to try and do some good with his fortune. His foundation, Fundación RafaNadal, has done initiatives to help children with intellectual disabilities.
In addition, Nadal set up the Rafa Nadal Academy, an extremely expensive tennis academy, on his home island of Mallorca.
It's never too late - or too early - to plan and invest for the retirement you deserve. Get more information and a free trial subscription toTheStreet's Retirement Dailyto learn more about saving for and living in retirement. Got questions about money, retirement and/or investments? We've got answers.