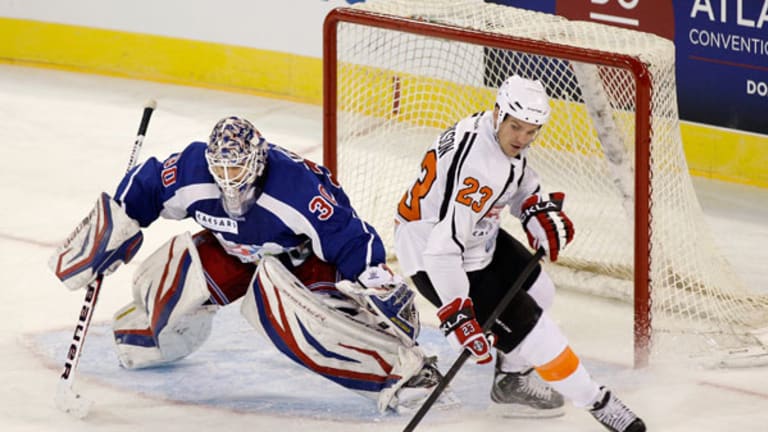 Power Play: Fans Return to NHL in Record Numbers
A four-month lockout didn't keep fans away this season. Plenty of sponsors benefited.
A four-month lockout didn't keep fans away this season. Plenty of sponsors benefited.
NEW YORK (TheStreet) -- Most companies don't like to see their names abused in public.
And yet Monday night's thrilling finale to the NHL Stanley Cup Playoffs saw some of the best hockey players in the world jostle, push, and slam each other into dasher board advertisements for brands such as
Honda
(HMC) - Get Report
,
McDonald's
(MCD) - Get Report
,
Coca-Cola
(KO) - Get Report
and
Verizon
(VZ) - Get Report
.
Players even smashed into dasher ads for
Tim Hortons
(THI)
, the coffee and donut joint that's not well known in the U.S. but is considered a national treasure in Canada. The logo of its cross-border rival,
Dunkin' Donuts
(DNKN) - Get Report
, was only a few feet away, ready for the next pummeling.
Why would sponsors pay good money for such apparent mistreatment?
Because sponsors go where the fans are. And after a lockout that cut the regular season almost in half, record numbers of National Hockey League fans made a beeline to hockey arenas and high-definition television sets across North America.
In other words, the NHL is on a breakaway with plenty of scoring opportunities over the next several years.
Also see: The Deal: Catch the Men's Wearhouse Sale Before its Board Does>>
According to SportsBusiness Daily, the
the average number of fans per regular-season NHL game
was 17,768 in 2013, up roughly 2% from the previous season and besting the previous high of 17,460 set in 2008-2009. Across the league, 17 of 30 teams averaged 100% capacity or higher (possible by selling standing-room-only tickets) and only five clubs experienced a drop in attendance.
Not only did hockey fans shrug off any hard feelings from missing nearly four months of their favorite sport, but they also proved willing to absorb yet another steep rise in average ticket prices.
ESPN reports that non-premium NHL tickets
rose 5.7% to $61.01 on top of a 4.8% increase a year ago.
That's two years in a row that the NHL instituted the largest percentage increase in ticket prices among the Big Four professional sports leagues. The only solace for NHL devotees might be that an NFL game still costs more, at an average price of $78.38 in 2012.
Television audiences for NHL games were also way up this season. Compared with 2011-2012, viewership on
Comcast
(CMCSA) - Get Report
-owned NBC and NBC Sports Network rose by 15% and 18% respectively, the latter marking
the NHL's highest tally for a national cable audience in 19 years.
The 2013 Stanley Cup Finals reached an average of 5.76 million viewers. The concluding Game 6 was watched by 8.16 million people, a 66% increase over 2012. Game 6 was the third-most watched NHL game since 1995 and a Game 7,
which seemed probable until a fateful 17-second span at the end of Game 6
, would likely have broken more records.
Next year, the NHL hopes to capitalize on higher fan interest by expanding the number of outdoor games from one to six. In addition to the Winter Classic, which has been a bonanza for television ratings and ticket sales, there will be a new, four-game Stadium Series sponsored by Coors Light, flagship brand of the
Molson Coors Brewing Co.
(TAP) - Get Report
as well as a Heritage Classic between two Canadian teams.
Also see: More Bank Accounts Means Less Savings>>
With more fans than ever donning oversized jerseys to support their teams, either at the rink or at home, NHL revenue has climbed accordingly. NHL revenue for 2013
is expected to be about $2.4 billion
, down from last year's $3.2 billion, but a significant number considering fewer than 60% of regular-season games were played.
Over the next three seasons,
the league expects to add another $1 billion
, thanks largely to the new outdoor games, renegotiated media rights deals, and increased sponsorships.
There once was a time when the NHL was considered a poor, distant cousin to the National Football League, Major League Baseball, and the National Basketball Association. Though it will be a while before the NHL comes close to generating annual revenue on par with the top moneymakers, the NFL ($9.5 billion) and MLB ($7.5 billion), the league is coming closer to the NBA ($5 billion). Clearly, "poor" and "distant" no longer apply.
And for that, the NHL has to thank its legions of devoted and deep-pocketed fans. Despite lengthy lockouts and jacked-up prices, hockey fans have shown they can take a significant amount of abuse.Just like those dasher boards.
At the time of publication, the author had no positions in stocks mentioned.
This article is commentary by an independent contributor, separate from TheStreet's regular news coverage.
Doug Mollenauer mixes writing, running and traveling with bouts of technology product marketing and consulting. An East Coast native, he now resides in Santa Cruz, Calif., where the surfboard by his front door is just for show. He holds an M.A. from The Johns Hopkins University School of Advanced International Studies and a B.A. from Amherst College.