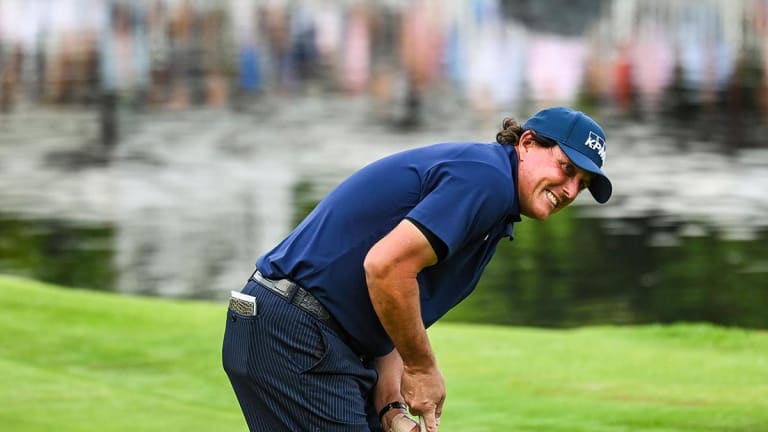 What Is Phil Mickelson's Net Worth?
Golf legend Phil Mickelson is said to be worth an estimated $400 million. How much is from his golfing and how much is from his endorsements?
To be one of the highest paid athletes in the world, you have to not just be one of the best in the game, but sustain that for a long time. Currently there are two golfers who best fit this description. One is 43-year-old Tiger Woods, perhaps the player with the best peak in the history of the sport. The other is his longtime rival - Phil Mickelson, 48.
Mickelson has been an integral part of golf for decades, and his career has seen both incredible highs and devastating lows. Throughout it all, he established himself as one of the greatest to ever play on the PGA Tour. He also made an absurd amount of money in the process. As he prepares to tee off at the Masters Tournament against foes like Woods, Justin Thomas and Jordan Spieth, how much is he worth?
Phil Mickelson's Net Worth
Phil Mickelson could be worth up to $400 million, according to Celebrity Net Worth. It's an incredible amount for someone who continues to make tens of millions a year - Forbes estimates that in addition to $4.3 million in salary over the last year, Mickelson also made an estimated $37 million in endorsement deals alone. This put him at No. 22 on their 2018 list of the world's highest-paid athletes.
Phil Mickelson's Career
Mickelson has been a golf pro since the early 90s, but spent years chasing a championship victory at a Major. Not that he wanted for overall victories on the PGA Tour. From 1993-2002, he played in 227 PGA tournaments and took first place in 20 of them. But none of them were a Major, and after going winless in all of his 23 tournaments in 2003, Mickelson was over a decade into his career without a Major victory.
Mickelson made a big leap in 2004. After opening the year with a victory at the Bob Hope Chrysler Classic in January that year, Mickelson played an intense Masters Tournament a few months later. Neck and neck with Ernie Els to the very end, Mickelson was able to secure his victory on the final hole of the final round. Mickelson had finally shaken the boogeyman of never winning a major, and later that year would place second in the U.S. Open and third in the Open Championship.
In 2005, it looked like Mickelson might have again struggled to capture a Major victory after failing to in his first three, the nadir being a paltry 60th at The Open. But he finished strong with another dramatic 18th-hole victory, this time taking home the championship at the PGA Championship in August.
Less than a year later in April of 2006, Mickelson won his second Masters tournament. After so many years of coming so close, he suddenly had three Major championships in three years. It could have been four, but at the U.S. Open that year the 18th-hole dramatics didn't go his way, and a double bogey in the final round saw him fall to second place in the tournament, a devastating collapse that shocked onlookers.
In 2007 he had three wins on the tour, but he struggled in the Major tournaments, failing to even make the cut at the U.S. Open and The Open. 2008 saw an improvement for Mickelson - he tied for fifth at the Masters, was seventh at the PGA Championship and top 20 at the U.S. Open and The Open - but still failed to take home a Major tournament championship. After putting up similar numbers in 2009, Mickelson was a bit of a strange entity in the world of golf - easily one of the elite athletes in the sport, but someone who hadn't won a Major in three years and at times failed to even come close.
Perhaps dissatisfied with this drought, when the 2010 Masters Tournament came around Mickelson utterly dominated the competition. He finished the tournament 16 under par to win his fourth Major and third Masters - and unlike the others, by the end of the final round there was no doubt who would be victorious. It would be his one PGA Tour victory that year, but he made sure to make it count. 2011, though, was a quieter year for Mickelson. He tied for second in the U.S. Open but won just one official PGA event.
In 2012 Mickelson won just one PGA event (the AT&T Pebble Beach National Pro-Am in February), but it marked a fantastic achievement for him all the same: it was his 40th career victory on the tour, an incredible feat that only someone who played at the high level Mickelson did for decades could achieve. 
2013 saw collapse and redemption for Mickelson - all in the span of about a month. In July, he finished second at the U.S. Open thanks to another collapse in the final round. It was a major blown opportunity, but in August at the Open, Mickelson flipped the script, with an outstanding final round that saw him finish 3 under par for the entire tournament, winning his fifth Major in the process.
After 2013, though, something peculiar occurred in Mickelson's career: he failed to win for several years. Not just Major tournaments, but all PGA tournaments. Inconsistency and injuries alike saw Mickelson fail to win any of the 84 PGA tournaments he participated in from 2014-17, the first time in his career he ever went consecutive years without a victory.
There were no majors to be won in 2018 for Mickelson; he failed to even make the cut at the PGA Championship. But in March, he finally broke his winless streak with a victory at the World Golf Championships-Mexico Championship, and in February of 2019 he won the AT&T Pebble Beach Pro-Am again, to put him at 44 PGA Tour victories for his career.
Phil Mickelson's Career Earnings
Over his two and a half decades as a pro on the PGA Tour, Mickelson has made over $90.3 million in official money from the tournaments.
Phil Mickelson's Sponsorships
Like many athletes, Mickelson actually manages to make more in a year through his endorsement deals than he does through his already-exorbitant salary and prize winnings as an athlete.
In addition to his work with the PGA Tour, Mickelson's website lists Rolex, Amgen (AMGN) - Get Amgen Inc. Report , Callaway Golf (ELY) - Get Callaway Golf Company Report , Workday (WDAY) - Get Workday Inc. Report , KPMG and Intrepid Financial Partners among some of his partnerships.