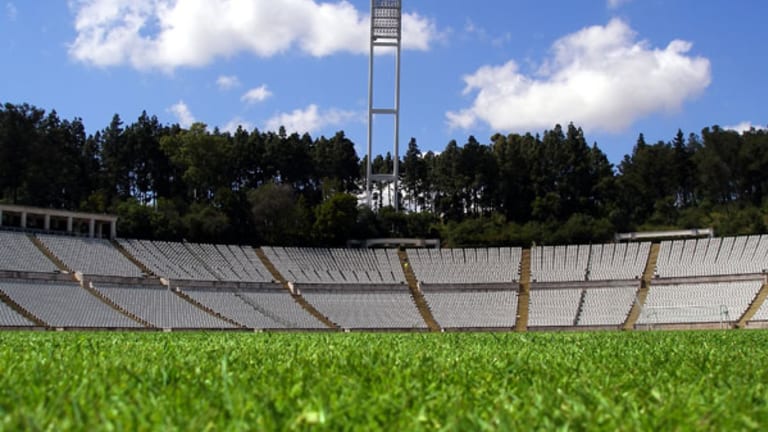 NEW YORK (
) -- The Indianapolis Colts don't expect quarterback Peyton Manning to return until the 2012 NFL season, owner Jim Irsay said on Monday.
Manning underwent neck surgery for the third time in 19 months before the football season started earlier this month.
Indianapolis Colts quarterback Peyton Manning
Irsay said it was possible that Manning could practice in December, but he counted out the possibility of the future Hall-of-Famer's return to regular season play in 2011.
Texas A&M was officially accepted into the Southeastern Conference on Sunday, and the College Station, Texas-based university will begin conference play for fall sports in 2012.
"Texas A&M is a nationally prominent institution on and off the field and a great fit for the SEC tradition of excellence -- athletically, academically and culturally," SEC Commissioner Mike Slive said in a statement.
The addition brings SEC membership to 13 teams, and rumors continue to swirl around the possibility of bringing on Big 12 member Missouri.
The Tampa Bay Rays inched within a game of the Boston Red Sox in the American League Wild-Card race on Sunday as the Rays beat the Toronto Blue Jays 5-2, and as the Red Sox dropped one of two games in a Sunday doubleheader with the New York Yankees.
The late-night, 14-inning win against the Yankees was only the sixth victory for Boston this month, but it helped the team maintain a full game lead on the Rays with only three games remaining for each team.
"It was a big win, but we've got to go down tomorrow and play well," Red Sox manager Terry Francona told the press after the second game on Sunday.
The Red Sox finish their season with a three-gamer series in Baltimore. The Rays plays three games against the Yankees in Tampa Bay.
-- Written by Joe Deaux in New York.
>To submit a news tip, send an email to: