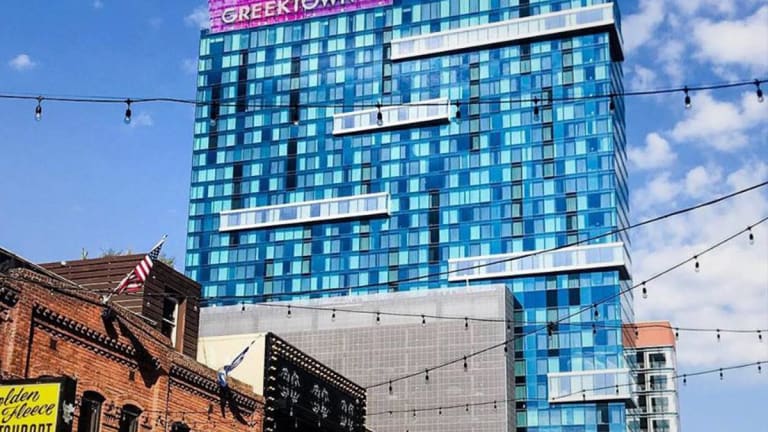 Penn National Stock Jumps 8% on $300 Million Deal for Detroit Casino
Gaming firm is buying Greektown Casino-Hotel's operations from Cleveland Cavaliers owner Dan Gilbert.
Gaming firm is buying Greektown Casino-Hotel's operations from Cleveland Cavaliers owner Dan Gilbert.
Penn National Gaming Inc. (PENN) - Get Report  rose nearly 8% Wednesday to close at $21.32 a share on news that the gambling company is buying Detroit's Greektown Casino-Hotel's operations for $300 million from Cleveland Cavaliers owner Dan Gilbert.
Gilbert, who founded Detroit-based Quicken Loans and has long worked on redeveloping his native Detroit, also agreed to sell the casino property itself to real estate investment trust VICI Properties Inc. (VICI) - Get Report  for $700 million. VICI's shares fell 0.1% to $21.44 on the news.
"The sale to to Penn National and VICI Properties will allow that strong trajectory to continue and provide additional capital to continue our strategic investments in our Detroit real estate and business initiatives," Gilbert said in a statement.
The Greektown Casino-Hotel features 100,000 square feet of casino space, including some 2,700 gaming machines and 60 table games, plus a poker room, several restaurants and a 400-room, luxury high-rise hotel. Gilbert's JACK Entertainment LLC bought the business nearly six years ago after it fell into bankruptcy and turned the resort into a "vibrant business," according to Gilbert.
Penn National, which is familiar to many gamblers for its Hollywood Casino brands, will lease the property from VICI for an initial $55.6 million a year for 15 years. The company will also have the right to renew the lease for up to 20 more years in five-year increments.
PENN chief Timothy Wilmott said in a statement that buying Greektown's operations will help expand his company's national footprint, as well as take advantage of Detroit's turnaround. "Detroit is undergoing an exciting renaissance as a result of billions of dollars of new investments in the city's residential, commercial, entertainment and cultural center -- all of which are driving new residents, businesses, tourists and employment to the downtown area," he said, noting that Greektown is the only casino in the center of the city's downtown.
Wednesday's announcement comes just about a month after Penn National completed its purchase of Pinnacle Entertainment. The company also plans soon close an acquisition of the operations of Lousiana's Margaritaville Resort Casino.
PENN expects to take over the Greektown site by mid-2019, giving the company 41 properties in 19 jurisdictions. The company posted $789.7 million in net revenues in its latest quarter, down from about $806 million from the same period last year.