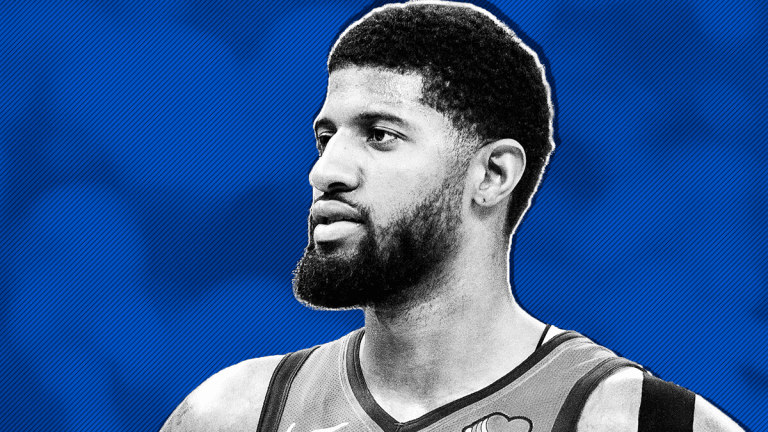 What Is Paul George's Net Worth?
Paul George has been estimated to be worth as much as $60 million. How much is left on his contract?
One of the biggest stories of the upcoming NBA season is which of the new dynamic duos in the NBA will have the most success. You have LeBron James and Anthony Davis on the Lakers, as well as the reunited James Harden and Russell Westbrook in Houston. Future seasons should see Kyrie Irving and Kevin Durant playing together on the Nets. But perhaps the duo most expected to make a deep playoff run this season is the one on the Clippers: Kawhi Leonard and Paul George.
Leonard got more of the media attention as the reigning NBA finals MVP. But Paul George is a superstar in his own right, and one of the highest-paid players in the league. George, a six-time NBA All-Star, is preparing to play on his third team in his NBA career. At just 29, he is still very much in the prime of his career.
He is also in the middle of a massive contract, and could easily get another one if he continues his fantastic play. How much is George worth?
Paul George's Net Worth
Paul George has been estimated by Celebrity Net Worth to be worth an estimated $60 million. While this is entirely unconfirmed, George's massive salary, tenure in the NBA (2019-20 will be his 10th season in the league) and lucrative endorsements ensure incredible wealth. And considering that he can be a free agent as early as 2021, he is set to become much wealthier quickly.
Paul George's Career
George, a solid high school recruit, ultimately landed on Fresno State as his college of choice. There, he was the most talented and captivating player on some underwhelming teams; his Fresno State teams never made the NCAA Tournament.
George's success on the team, however, was immediate. In his freshman season he was instantly a starter, averaging 34.6 minutes per game, along with 14.3 points and 6.2 rebounds per game, respectively. He improved to 16.8 and 7.2 rebounds per game in his sophomore season, and improved his assists per game from 1.9 to 3.
At the end of his sophomore season, George decided to declare for the NBA draft instead of playing his last two years.
Paul George and the Pacers
George became one of the most intriguing prospects in the 2010 NBA Draft, being drafted 10th overall by the Indiana Pacers. He made his NBA debut in the Pacers' first game of the season, playing over 22 minutes on the court in a loss to the Spurs. He scored just four points with three rebounds.
After missing a month he returned in late December of 2010 and put up an impressive New Year's Eve performance against the Wizards (13 points, seven rebounds, five steals). Toward the end of the season he put up another good performance in a different win against Washington, scoring a season-high 23 points. That Pacers team would make the playoffs, and George found himself in the starting rotation as a rookie in a series against the Bulls. They went on to lose the series in five games; George never scored more than nine points in a game, though he did have 12 rebounds in a close Game 3 loss. On the season, George averaged 7.8 points per game.
George's strike-shortened second NBA season showed immediate improvements, as he started every game and averaged 12.2 points. The highlight of George's season came in early February in a win against Dallas, where he put up his first career 30-point performance (along with nine rebounds, five assists and five steals). The Pacers once again made the playoffs, and George fared better than in his rookie season. Thanks in part to his 17 points in Game 2 and 12 points in Game 3, the Pacers advanced past the Magic in the first round of the playoffs to face the Miami Heat. The Pacers won two of the first three against the LeBron-led Heat as George had 10 points and 11 rebounds in Game 2, but they would lose their next three games.
After two years of displaying his potential, 2012-13 was a breakout year for George. He scored at least 11 points in the first 11 games of the season; the game after that streak was broken, he had a career-best 37 points against New Orleans. George continued his consistent scoring and was selected for his first career NBA All-Star Game. For the season, he established new highs in several categories, including points (17.9), rebounds (7.6), assists (4.1) and steals (1.8) per game.
Once again, the Pacers made the playoffs. In their first game against the Hawks, George dominated with 23 points, 11 rebounds and 12 assists. It was his second ever triple-double (his first occurring earlier in the season) and his first in the playoffs. Similarly dominant play helped Indiana defeat Atlanta in the first round and the Knicks in the second, as the Pacers would make the Eastern Conference Finals for another series against the Heat. George's outstanding play helped keep the Pacers alive, including 28 points in a Game 6 win to force a decisive Game 7. But they were eliminated in that Game 7, as George scored just 7 points.
Still, George had emerged as a force for the Pacers, and the team responded accordingly prior to the 2013-14 season by signing him to a five-year rookie max contract extension worth $91.57 million.
He rewarded the team with what was, at the time, the best season of his career. He started the season strong with 24, 32, 21 and 31 points, respectively, in his first 4 games and never looked back. George made another NBA All-Star Game thanks to his scorching first half of the season, including a new high of 43 points in a December 2013 loss to Portland.
George ended up starting 80 games for the Pacers and averaging 21.7 points per game and coming in ninth in MVP voting. Securing the top seed in the East that playoffs, the Pacers won a seven-game series against Atlanta (thanks to George's 30-point performance in the final game) and a six-game series against the Wizards (George had 39 points and 12 rebounds in a Game 4 victory). This set up yet another Pacers-Heat playoff series, determining the winner of the Eastern Conference for the second year in a row. But the Heat made fairly easy work of the Pacers. George's 39 points in Game 5 kept the team alive, but the series was over in six games with the Heat once again advancing over Indiana.
The hope was that George could capitalize on the success of his 2013-14 and become an even more dominant player the next season. But a fractured leg during a scrimmage while playing for the U.S. national team turned out to be a devastating injury. Without him, the Pacers struggled and ultimately failed to make the playoffs. George was, however, able to recover in time to see limited action in the team's final six games.
Despite the turmoil of the previous year, George was able to rebound strongly for Indiana in 2015-16. Between Nov. 18 and Dec. 8, 2015, George scored 30 or more points in six of nine games, the highlight of which was a 48-point game against the Jazz. He would also have a 45-point game much later in the season against the Thunder and would finish the season with a new high of 23.1 points per game. In the playoffs against the Raptors he put up 33 points in a Game 1 win and 39 in a Game 5 loss. Ultimately the team lost in seven games.
2016-17 saw George make strides in shooting accuracy and establish a new high with 23.7 points per game. He made his second consecutive All-Star Game and fourth in five years. Sneaking into the playoffs, the Pacers were given the unenviable task of facing LeBron's Cavaliers. They were handily swept by Cleveland despite George averaging 43 minutes on the court and 28 points in the series.
Paul George and the Thunder
George had one year left on his contract, and had made it clear he didn't plan on re-signing with Indiana. His goal had actually been to relocate closer to where he grew up by being traded to the Lakers. But the Pacers did not do that, instead trading him to the Oklahoma City Thunder in exchange for Victor Oladipo and Domantas Sabonis.
Now playing with reigning MVP Russell Westbrook, George began his Thunder career with a 28-point, six-rebound game against the Knicks. For the season, his statistics were par for the course: 21.7 points per game, 5.7 rebounds per game, 3.3 assists per game and two steals per game, the last being a new best for him. George once again found himself in the playoffs, this time in the West facing the Jazz in the first round. George opened the series with 36 points in Game 1, which the Thunder won. But the Jazz was ultimately victorious, winning in six games.
After this, George was a free agent with a ton of uncertainty. Would he return to OKC, where he had just had a successful season, or try to play in Los Angeles? He decided to stick around with the Thunder, signing a four-year contract worth $136.9 million that included a player option on the final year.
Just as with his last big contract, George would follow up the signing with a particularly outstanding year. Establishing a current career-best of 28 points per game, George never scored fewer than 11 at any point in the 2018-19 season. His 2.2 steals per game led the league, and his 8.2 rebounds per game were yet another career-best. George finished third in MVP voting behind winner Giannis Antetokounmpo and James Harden. He was named to the NBA All-Defensive First Team for the second time in his career, and First Team All-NBA for the first time.
Still, even a fantastic season from George wasn't enough to get the Thunder out of the first round of the playoffs. The team was defeated soundly by Portland in five games.
Paul George and the Clippers
In an effort to convince star free agent Kawhi Leonard to sign with them in the 2019 offseason, the Clippers made a massive move: they traded for Paul George, sending Shai Gilgeous-Alexander and Danilo Gallinari to the Thunder along with five first-round draft picks and two potential pick swaps.
Paul George Contract: How Much Does He Make?
According to Spotrac, Paul George's various contracts have netted him over $111.46 million to this point. For the 2019-20 season, he will be making a salary of $33 million.
After that, George is set to make about $35.45 million in the 2020-21 season, and if he picks up the player option on the fourth year of the contract he would make nearly $37.9 million. That would, through 2022, put his career cash earnings from the NBA at over $217.8 million.
That, however, is contingent on George picking up that option instead of opting out after 2021 and becoming a free agent. If George continues his stellar play and his partnership with Kawhi Leonard turns the Clippers into a major force in the West, he's way more likely to opt out and seek yet another mega-extension.
Paul George Endorsements
In addition to his exorbitant NBA salary, Forbes estimates that George made $8 million in the last year from endorsements as well.
Like so many NBA stars of his caliber, George's most notable endorsement deal is with Nike (NKE) - Get NIKE, Inc. Class B Report . His first line of shoes with the company, the PG1, was first released in 2017. His latest line, the PG3, launched earlier in 2019.
Other companies George has had sponsorship deals with and done commercials for include: