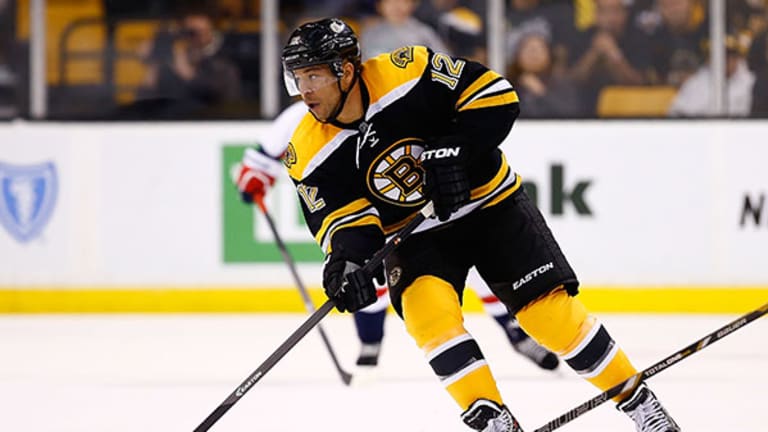 NHL Fans Are Wimps and Should Act More Like Philadelphia Crazies
Two NHL superstars not only get a pass, but happy sendoffs and standing ovations for deserting their franchises.
NEW YORK (TheStreet) -- Earlier this week, Lindy Ruff, former coach of the Buffalo Sabres, returned to First Niagara Center behind the Dallas Stars' bench. The Western New York crowd gave Ruff a standing ovation after a video chronicling not only his coaching career in Buffalo, but his days as a player.
A couple of seasons ago, Dallas Stars' fans said what they thought was goodbye to Mike Modano during one of the most emotional nights the National Hockey League has ever delivered:
And, of course, emotion spewed like water from a Bronx fire hydrant on that landmark day when Wayne Gretzky confirmed he would accept a trade from the Edmonton Oilers to the Los Angeles Kings:
In each of these instances, I would expect nothing other than raw emotion from coach, player and fan. Truly seminal times in the the player's personal and professional lives as well as the lives (even if lived somewhat vicariously) of their fans, franchises and league.
Ruff coached in Buffalo for 16 years. That's history-making tenure. Modano put hockey on the map in North Texas, roughly a couple of decades after Gretzky did it in Los Angeles and, really, across large swaths of the United States east and south of, say, Pittsburgh.
You can't blame Buffalo for firing Ruff, though you could argue ownership should have started with the general manager. But armchair stuff aside, it was probably time for a change. Modano ended up leaving Dallas to play for the Detroit Red Wings, but Stars fans can't feign anger; a green GM no longer wanted Mo.
In parts of Ontario, hockey fans still
. But the folks who would deface a statue of The Great One, in his hometown for goodness sake, are nothing but long-suffering losers. They're just pissed that he still resides in the U.S. and never put on a Toronto Maple Leafs sweater. Gretzky was a kid when he left Edmonton. The franchise was hurting financially and he was being asked to carry an entire league on his back. End of story.
But this goodwill and emotion, channeled through rousing national anthems, roaring applause, sticks tapping the boards and epic video tributes on jumbotrons, has to stop somewhere. I have two examples to present as verbal specimens. And I just can't get past the way fans have reacted and continue to react to these two guys.
Daniel Alfredsson
As a Leafs fan, I've never liked Alfie. But I don't think my bias influences my take here.
The other night, Alfredsson returned to Ottawa with the Red Wings. He left the Senators when, reportedly, contract talks went south. He opted to go to Detroit. Maybe Alfredsson felt personally slighted or something, but if he thinks he has a better chance of winning the Stanley Cup in Detroit, he's mistaken.
Things can shake out in any shape or form, but, on paper, I would take the Sens over the Wings this season. And that's coming from a Leafs fan! Ottawa is stacked. And, if Alfie wasn't such a (insert word you might hear in the blue seats here), he would have stayed the course with that team, rounding out a roster that could use a still-capable veteran.
Guys like Jason Spezza say all the right things about Alfredsson's departure in the media, but that's because a) they're classy and b) they really have no choice. As Spezza said recently, the Sens have been preparing for Alfie's departure for a while now, they just didn't expect him to retire elsewhere.
The Ottawa fans gave the guy a standing "O" when he came back the other night. That's crap. He should have been treated like the traitor he is. Just the way Leafs fans boo him every time he touches the puck at the ACC.
Jarome Iginla
This one's difficult for me because, like pretty much any sane person, I love Jarome Iginla. He appears to epitomize so much of what we love about hockey. He's a down to Earth guy, blah, blah, blah, blah ...
But he bolted Calgary for Pittsburgh, after everybody thought he was headed to Boston. It didn't work out with the Penguins so he decided to give the Bruins a chance this season.
My daughter, an Iginla fan, now has NHL merchandise from the Flames, Pens and Bruins. It's been painful watching her wear a Bruins' cap just because Iginla plays in Boston.
Yet, Flames' fans don't seem to care much about Iginla's defection.
The guy wants to win a Stanley Cup. That's not going to happen in Calgary so he's testing the
rent-a-player, sign-a-star, but the-chemistry-blows-so-you're-probably-not-going-to-end-up-winning-anyway
waters
. Abandon your teammates, many of whom will never have win a Cup either, but it's all good because you smile for the camera and give money to charity (just like your lesser-known teammates do).
Iginla should receive the same treatment at the Saddledome as Santa Claus experiences at Philadelphia's Veterans Stadium. Same goes for Alfredsson.
--
Written by Rocco Pendola in New York City
Rocco Pendola is a columnist and
TheStreet's
Director of Social Media. Pendola makes frequent appearances on national television networks such as
CNN
and
CNBC
as well as
TheStreet TV
. Whenever possible, Pendola uses hockey, Springsteen or Southern California references in his work. He lives in Santa Monica.