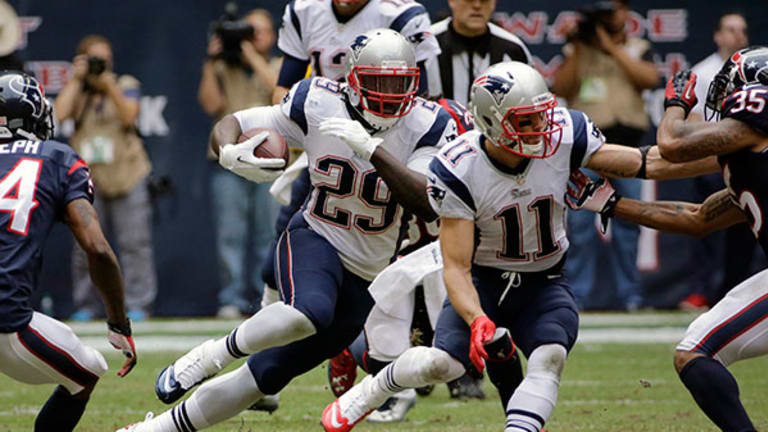 Publish date:
NFL Sponsorship Is a Thankless Trap
The National Football League's partners pay huge sums to reach an enormous audience, but the league's blackout policy makes them shell out even more to keep games on the air.
The National Football League's partners pay huge sums to reach an enormous audience, but the league's blackout policy makes them shell out even more to keep games on the air.
PORTLAND, Ore. (TheStreet) -- Every National Football League playoff game was televised this weekend. That shouldn't be a surprise in the second round of the playoffs, but this year it's a near miracle.
NFL fans are just a few weeks from Super Bowl XLVIII in East Rutherford, N.J. -- a Super Bowl that will be played in the only stadium in the league built without the use of taxpayer money. Yet why should MetLife, the company that bought the naming rights on the Jets and Giants' new home, be happy with its deal when NFL sponsorships are never quite what they seem?
Being an NFL sponsor during a time when the league has the ability to take a game off local television if it isn't sold out 72 hours before kickoff is akin to buying a new car without a warranty. You pay a whole lot up front, but then you just have to keep paying if the whole thing somehow breaks down.
Consider the league's television partners, for instance. Walt Disney's ESPN has a $1.9 billion annual deal for Monday Night Football, but had to kick in more money to buy up tickets and keep a game on the air in San Diego. Fox, CBS and Comcast's NBC agreed to pay the NFL $28 billion for broadcast rights through 2022 -- pushing TV revenue to $4.5 billion of the league's $9.5 billion in total revenue last season -- but Fox affiliates in Wisconsin had to join Associated Bank in buying up 1,000 remaining tickets in Green Bay just to keep a wild-card playoff game played in sub-zero temperatures on the air. Miami's CBS affiliate, meanwhile, has chipped in to buy up tickets and keep the Dolphins on the air during the past few seasons.
The league's sponsors are taking advantage of a loophole that allows teams and their sponsors to buy back tickets at a third of their price and give them away to charitable organizations, but that loophole is just another way for the NFL to punish its paying partners. Consider that the lowest-priced ticket to a first-round playoff game was roughly $90, which already exceeds the average price of a regular-season ticket and just makes them costlier to repurchase, even at a deep discount. Also consider that Anheuser-Busch InBev pays roughly $1 billion to be the NFL's official beer sponsor and even more for ads and Super Bowl exclusivity, yet has had to dip into its pockets to buy up tickets in Carolina, Jacksonville and elsewhere just to keep teams on the air. League sponsor Procter & Gamble, meanwhile, had to shell out to keep the Cincinnati Bengals' playoff game on the air.
At least they get some credit from the league for doing so. Midwest grocery chain Meijer shouldered the load of the Indianapolis Colts' potential playoff blackout on its own by paying for roughly 1,200 unsold tickets to that team's wild-card matchup. Another grocer, Kroger, had to lend Procter & Gamble a hand in Cincinnati to keep the Bengals on the air. The NFL does not recognize either as sponsors, but maybe it could consider them valued donors just for this postseason. Just take the PBS approach: "This NFL telecast is sponsored by Kroger, Meijer and viewers like you."
Maybe the league's backers are just like the rest of us: Sponsors, but reluctant ones. A full 30 of the NFL's 31 stadiums have had a portion of their costs paid for with tax dollars. It cost an average $525 million to cover each of 20 NFL stadiums built since 1997, according to a Minnesota study looking into the likely costs of a new stadium for the Vikings. It says that 56% of those stadium costs, or roughly $238 million per stadium, were paid for with public funds. That's nearly $4.8 billion in tax dollars spent on NFL stadiums alone, but Harvard professor Judith Grant Long estimates that continued costs including maintenance, infrastructure and renovations dip into more tax money and force the public to pay upward of 70% of a stadium's cost.
She also estimates that a dozen teams (the Buffalo Bills, Bengals, Cleveland Browns, Houston Texans, Colts, Jacksonville Jaguars, Kansas City Chiefs, New Orleans Saints, San Diego Chargers, St. Louis Rams, Tampa Bay Buccaneers and Tennesee Titans) have received more in stadium subsidies than they needed to build stadiums. Simply put: They profited on their fans' tax dollars. That includes the Bengals, who threatened to move in 1995, got surrounding Hamilton County to kick in $540 million for a new stadium and then blacked out games as the county dealt with $30 million budget deficits and $34 million stadium costs.
At least when organized crime extorts its victims, it promises some kind of protection. The NFL owners' racket requires no such thing. The Chargers are one of those teams in the taxpayer profit pool, but refused the league's offer of an optional 85% sellout threshold to prevent blackouts. Chargers ownership wants a new stadium and is willing to punish fans and partners including ESPN until it gets one. Naturally, one of the league's two blackouts this year happened in San Diego.
The other, more galling blackout took place near the end of the season in Buffalo. Not only did the Bills already gorge themselves on taxpayer dollars and refuse that 85% sellout ceiling, but they did so a year after taking $226 million from Erie County and New York State taxpayers to update Ralph Wilson Stadium. It's the second blackout the team has imposed on fans since announcing that deal, with the other taking place while the ink was drying on the agreement.
The NFL isn't a united army of greedy front offices, which the league made clear by offering its optional sellout threshold a few years back and shifting the blame for blackouts to teams and individual owners. But its more vindictive elements are inclined to take fans and sponsors' loyalty for granted.
The league has a long list of deep-pocketed sponsors. It's a stock ticker parade including McDonald's, General Motors, FedEx, Microsoft, Verizon and Visa. It's also a safety net owners know they can rely upon just in case financial conditions or public sentiment turn against them.
They should also realize that nobody's support is unwavering. In December, the Federal Communication's Commission voted to start dismantling its support of television blackouts. It wants to wash its hands of the whole business and let the NFL and its broadcast partners take the blame for pulling games off the air. Arizona Republican Sen. John McCain introduced legislation in May that would prevent the NFL from blacking out home games played in stadiums built with public money. He's received bipartisan support from Connecticut Democratic Sen. Richard Blumenthal, who's also no fan of the current blackout policy.
Republican Sen. Tom Coburn of Oklahoma, meanwhile, is trying to strip the NFL's status as a tax-exempt organization under Section 501(c) of the Internal Revenue Code. That exemption makes it possible to take a look at commissioner Roger Goodell's $30 million salary, which could buy back quite a few discounted tickets.
All of this should make sponsors and broadcast partners nervous, but it's all nullified by what's still the biggest argument for an NFL deal: There's no bigger game in town. A whopping 34 of the 35 most-watched fall television shows of 2013 were NFL games. The only other show among those 35 was NBC's coverage of the Macy's Thanksgiving Day Parade, which came in at No. 22.
According to the NFL, the average game this season drew 17.6 million viewers. Also, 205 million Americans watched at least one NFL game. That's 70% of all potential TV viewers in the U.S. But even those figures don't sufficiently explain how big of a draw football is. For that, you'd have to look to this year's late-afternoon Thanksgiving matchup between the Dallas Cowboys and Oakland Raiders. Despite matching up a 4-7 Oakland squad against somewhat less mediocre 6-5 Dallas and providing less excitement in Dallas' 31-24 win than Selena Gomez offered during the halftime show, the game still drew a season-high 31.7 million viewers. It did so for three big reasons: It was on, it was aired on a holiday right before or between dinner courses and it was football.
When the U.S. audience is splintered into niches and can't seem to agree on anything, football is the closest it comes to a consensus. Sponsors and broadcasters know it, and they realize there's no other annual television event in the U.S. they can count on to reach that number of impressionable viewers. The NFL is a high-priced, one-stop shop, but it's also a resource its sponsors depend on. They need what the NFL offers and can't afford to give it up and let a competitor swoop in.
Unless tastes or options change, sponsors have little choice but to pay for sponsorship rights and keep paying if they want to make sure they're getting the most audience for their money. Broadcast partners, meanwhile, don't want to lose the ratings and ad money the NFL brings or relinquish the rights of a cable, satellite or -- worse -- online competitor that can use it to build their own brand. They've already seen that the NFL has no qualms about switching games to Thursday nights, airing them on the league's own network and keeping the profits for itself. There's no reason to rock the boat and make them angry.
But they, and their fan customers, are going to have to realize that blackouts and other NFL restrictions are the price they pay for their allegiance and addiction. If you want to watch the games and want to sell to the fans, you're going to have to play by the owners' rules. As long as there's demand, that rulebook reserves the owners' right to pick up their ball and go home whenever they please.
Good luck convincing them otherwise.
-- Written by Jason Notte in Portland, Ore.
>To contact the writer of this article, click here: Jason Notte.
>To follow the writer on Twitter, go to http://twitter.com/notteham.
>To submit a news tip, send an email to: tips@thestreet.com.
RELATED STORIES:
>>Even The FCC Couldn't Stop NFL Blackouts
>>What A Season Full Of NFL Saturdays Would Look Like
>>What The NFL Owes Taxpaying Fans
Jason Notte is a reporter for TheStreet. His writing has appeared in The New York Times, The Huffington Post, Esquire.com, Time Out New York, the Boston Herald, the Boston Phoenix, the Metro newspaper and the Colorado Springs Independent. He previously served as the political and global affairs editor for Metro U.S., layout editor for Boston Now, assistant news editor for the Herald News of West Paterson, N.J., editor of Go Out! Magazine in Hoboken, N.J., and copy editor and lifestyle editor at the Jersey Journal in Jersey City, N.J.