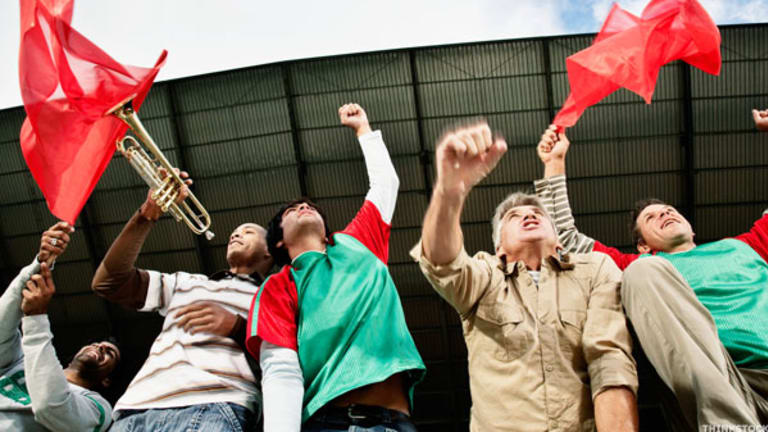 NFL Playoff TV Blackouts Loom
The Cincinnati Bengals, Indianapolis Colts and, yes, even the Green Bay Packers had trouble selling tickets to bad-weather playoff games just after the holidays. Fans will pay either way.
PORTLAND, Ore. (TheStreet) -- Sure, the National Football League looks very pretty on high-definition television and feels all warm and cozy from the comfort of a well-heated living room, but it's playoff time. Surely die-hard football fans will brave the cold to see their wild-card teams fight for a Super Bowl berth, right?
You'd think so. In a season the NFL kept only two home games off local television for lack of attendance -- compared with 15 games 2012, 16 in 2011 and 26 in 2010 -- the league's owners are perilously close to flushing all of that good will by keeping three of four playoff games off the air in their hometowns this weekend.
Fans in the Philadelphia metro area are the only homers ensured a spot on TV this weekend. The Eagles sold out their Wild Card matchup with the New Orleans Saints without much issue, but they're the only NFL team not scrambling to sell tickets today. The Indianapolis Colts have sold out 103 straight games, but still have roughly 5,000 tickets left for their matchup with the Kansas City Chiefs.
The Cincinnati Bengals, meanwhile, blacked out two games in 2012 and 10 games in the two years before, but didn't keep a single game off television en route to an AFC North title. While most teams would be ecstatic to not only win their division, but keep the hated Baltimore Ravens and Pittsburgh Steelers out of the playoffs altogether, the Bengals celebrated their feat by flirting with a blackout of their opening-round matchup with the San Diego Chargers -- a team the Bengals beat in early December. Even the suggestion that the game would be blacked out earned a sharp rebuke from Ohio's Democratic Sen. Sherrod Brown, who's opposed blacking out games at stadiums paid for with public money.
Most surprising of all is the announcement that the Green Bay Packers -- the community-owned, in-the-blood, Frozen Tundra Packers -- might black out their playoff game against the San Francisco 49ers. That's not only a rematch of a hard-fought playoff game from last year, but a playoff game in Green Bay. The last time one of those was blacked out, in 1983, it came after a strike-shortened season during the 16-team Super Bowl tournament that replaced the normal playoff.
There are myriad reasons behind all of it. The weather isn't supposed to be great in any of those locations this weekend, as a particularly unpleasant winter continues to freeze fans in northern climates. There's also the small matter of money, which is a big deal when Cincinnati is offering the cheapest starting ticket price of $86. These are three of the league's smallest markets and -- as football-mad as Indianapolis and Green Bay tend to be -- a combination of tough driving conditions, freezing game-day temperatures (less of a concern in the Colts' indoor facility) and triple-figure ticket prices is tough to take. That's especially true immediately after a spate of holiday travel and spending.
As embarrassing as blackouts are for the league, they're proving particularly infuriating for government officials who watch their constituents consistently denied access to a team subsidized by tax dollars, tax breaks and a federal antitrust exemption. The Federal Communications Commission voted Dec. 18 to end NFL blackouts, but their vote applies only to the government's role in enforcing television and cable blackouts. That meant it couldn't stop the Buffalo Bills from blacking out a home game against the Miami Dolphins a week after the vote was taken. It also isn't binding, as the FCC is still waiting for Congress' permission to take that minor step.
Even if the FCC ends its enforcement of cable and satellite blackouts of NFL games in home markets, there's nothing preventing the NFL from making blackouts a stipulation in its contracts with broadcast partners. If Walt Disney's  (DIS) - Get Walt Disney Company Report ESPN has a wants to keep its $1.9 billion annual deal for Monday Night Football or DirecTV (DTV)  seeks to maintain its $1 billion per season agreement for the NFL Sunday Ticket package that is set to expire in 2015, they may have to enforce the NFL's blackout wishes or do what ESPN did when a blackout threatened a broadcast of a game in San Diego -- shell out for leftover tickets and keep the game on the air themselves.
There are millions of reasons for broadcasters to bow to the NFL's wishes. NFL games are regularly the highest-rated shows on cable, but they are the overwhelming majority of the highest-rated shows of any kind this season. It's why Fox (FOXA) - Get Fox Corporation Class A ReportCBS (CBS) - Get CBS Corporation Class B Report and Comcast's (CMCSA) - Get Comcast Corporation Class A Report NBC agreed to pay the NFL $28 billion for broadcast rights through 2022 and why television revenue accounted for $4.5 billion of the league's $9.5 billion in revenue last season.
That might is secured by the NFL original television rule, which dates back to an act of Congress in 1961 and was more clearly defined in the early 1970s. Under that rule, home games couldn't be shown on TV stations that broadcast within a 75-mile radius of the stadium if non-premium tickets weren't completely sold out 72 hours before kickoff. Last year, the NFL allowed teams the option of calling games "sellouts" at 85% capacity and keeping them on local television.
Teams also have other loopholes they can exploit to keep games on air, if they choose to do so. They or their sponsors and broadcast partners can buy back tickets at a third of their cost and give them away to charities. Teams including the Miami Dolphins, Carolina Panthers and Tampa Bay Buccaneers -- who blacked out 25 of 29 home games between 2010 and 2012 -- used the sellout threshold and buyback loophole to keep games on air this season. For some, those options aren't good enough. Arizona Republican Sen. John McCain introduced legislation in May that would prevent the NFL from blacking out home games played in stadiums built with public money.
A full 30 of the NFL's 31 stadiums have had a portion of their costs paid for with tax dollars. It cost an average of $525 million to cover each of 20 NFL stadiums built since 1997, according to a Minnesota study looking into the likely costs of a new stadium for the Vikings. says that 56% of those stadium costs or roughly $238 million per stadium were paid for with public funds. That's nearly $4.8 billion in tax dollars spent on NFL stadiums alone, but economists estimate that continued costs including maintenance, infrastructure and renovations dip into more tax money and force the public to pay upwards of 70% of a stadium's cost.
It's part of the reason Republican Sen. Tom Coburn of Oklahoma is trying to strip the NFL's status as a tax-exempt organization under Section 501(c) of the Internal Revenue Code. That exemption makes it possible to take a look at commissioner Roger Goodell's $30 million salary, but also makes it very clear just how difficult it is to keep tabs on the cash coming into the league and how it is being disbursed to teams. Coburn estimates that the government could take in $91 million annually from all sports that are currently tax-exempt.
That puts pressure squarely on NFL team owners, who have increased average NFL ticket prices by nearly $20 to $81 since 2006 though the U.S. economy started slumping during that same span. They're the ones who are realizing -- albeit slowly -- that they've created a home viewing experience that trumps the discomfort and inconvenience of live games and cold, slushy, early round playoff matchups. Those televised games look a lot better when the stands are packed, but this year's drop in regular-season blackouts and increase in owner and sponsor concessions only confirm what sports economists have been saying for years: Bullying fans toward the box office just doesn't work anymore.
-- Written by Jason Notte in Portland, Ore.
>To contact the writer of this article, click here: Jason Notte.
>To follow the writer on Twitter, go to http://twitter.com/notteham.
>To submit a news tip, send an email to: tips@thestreet.com.
RELATED STORIES:
>>Why Nobody Will Miss College Football's BCS
>>It's Peak Season For NFL Blackouts
>>5 Odd College Bowl Game Sponsors
Jason Notte is a reporter for TheStreet. His writing has appeared in The New York Times, The Huffington Post, Esquire.com, Time Out New York, the Boston Herald, the Boston Phoenix, the Metro newspaper and the Colorado Springs Independent. He previously served as the political and global affairs editor for Metro U.S., layout editor for Boston Now, assistant news editor for the Herald News of West Paterson, N.J., editor of Go Out! Magazine in Hoboken, N.J., and copy editor and lifestyle editor at the Jersey Journal in Jersey City, N.J.