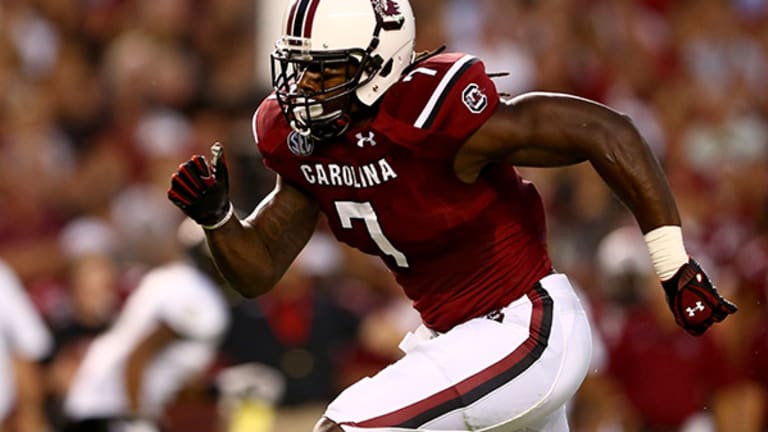 NFL Draft Can't Fix a Broken League
The 2014 NFL Draft can create a lot of buzz for Jadeveon Clowney, Johnny Manziel and the teams that draft them, but it can't keep games on the air or prevent owners from extorting cities.
The 2014 NFL Draft can create a lot of buzz for Jadeveon Clowney, Johnny Manziel and the teams that draft them, but it can't keep games on the air or prevent owners from extorting cities.
PORLAND, Ore. (TheStreet) -- The NFL Draft is a search for answers in a league facing too many questions.
Can Jadeveon Clowney or any defensive end fix a pathetic pass rush overnight? Has quarterback Johnny Manziel found a home and fan base 'Murican enough to buy into the Johnny Football brand that put Texas A&M on the map? Can any National Football League fan see through the smokescreen these questions create?
The National Football League has some very real problems on its slate in 2014, and freshly drafted players don't make any of them go away. A league with nearly $10 billion in revenue, a federal antitrust exemption and public money in the grout of 30 of its 31 stadiums shouldn't have to keep engaging in stadium politics, television blackout battles and public relations quagmires.
While fans and front offices watch the seconds tick by, names go up on the draft board and deals go down behind the scenes, here are a few things everyone should keep in mind before cheering the new talent on stage or the commissioner shaking their hands and handing them hats:
1. NFL fans still won't be allowed to watch some games in 2014: The NFL kept exactly two games off of television stations in their home markets last year, which is a dramatic decline from 26 blackouts in 2010.
The locations of those blacked-out fanbases, however, should give the league tremendous cause for concern. The first took place during Week 13 in San Diego, where the Spanos family of owners has been lobbying hard for a new building to replace the Chargers' aging Qualcomm Stadium. Not surprisingly, a fanbase that's been repeatedly blacked out by the Spanos clan during the last few seasons and has watched their team flirt with relevance since is unmoved. They need only point to last year's Chargers' playoff appearance as evidence that the team can compete in its current facilities, and that the Spanoses can put together a good thing when they're not begging for public dollars.
Chargers fans also know that the Spanos family would have blacked them out twice last year if ESPN didn't step in and buy up extra tickets for a Monday Night Football matchup that didn't meet the attendance threshold. However, Chargers fans still have a better deal than Bills fans in Buffalo, who had their last home game of the season blacked out in 2013 -- almost exactly a year after Erie County and New York State pledged more than $220 million in tax dollars to help refurbish Buffalo's Ralph Wilson Stadium.

The NFL's original television blackout rule dates back to an act of Congress in 1961 and was more clearly defined in the early 1970s. Under that rule, home games couldn't be shown on TV stations that broadcast within a 75-mile radius of the stadium if nonpremium tickets weren't completely sold out 72 hours before kickoff. In 2012, the NFL allowed teams the option of calling games "sellouts" at 85% capacity and keeping them on local television. That minor change successfully shifted blame for blackouts from the NFL to individual owners, but guess which two teams mentioned above didn't take that option?
Teams including the Tampa Bay Buccaneers, Miami Dolphins and Carolina Panthers all teamed with sponsors to exploit an NFL loophole allowing them to buy back tickets at a third of the price and give them away to charity to keep games on the air. They realized that fans hate blackout and are less inclined to help teams out with tax dollars when they can't watch games.
However, with the Spanos clan bent on a new stadium and the Bills' future in Buffalo in doubt after owner Ralph Wilson's death and the continuation of the Toronto Series -- which sacrifices one Bills home game a year to the Rogers Centre in Toronto -- owners and fans in both towns have had to face one of the NFL's most absolute truths.
2. Stadium politics still extorts big bucks: Never mind that the average price of an NFL ticket has jumped by $20 since 2006.
Taxpayers who live around 30 of the NFL's 31 stadiums have paid a much steeper price for their teams in tax dollars. It cost an average of $525 million to cover each of 20 NFL stadiums built since 1997, according to a Minnesota study looking into the likely costs of a new stadium for the Vikings. The study says that 56% of those stadium costs or roughly $238 million per stadium were paid for with public funds. That's nearly $4.8 billion in tax dollars spent on NFL stadiums alone, but economists estimate that continued costs including maintenance, infrastructure and renovations dip into more tax money and force the public to pay upwards of 70% of a stadium's cost.
That count isn't going down as stadiums go up, either. At least $115 million in public funds are going into the new San Francisco 49ers facility, Levi's Stadium, opening in Santa Clara this year. Minnesota is on the hook for about $500 million of the proposed $974 million Vikings stadium planned for 2016. In Atlanta, where the Falcons' Georgia Dome is a scant 21 years old, the city has already pledged $200 million toward a proposed $1 billion stadium.

What happens when a city refuses? Ask St. Louis, where Rams owner Stan Kroenke responded to that city's reluctance to pay for $700 million in upgrades to a stadium that local government is still paying debt on by buying up acreage in a Los Angeles-area sports complex. Kroenke didn't outright threaten to move the team, mind you: He just spent a few million to prove that he could if he had to.
Republican senator and former presidential nominee John McCain of Arizona introduced legislation a year ago that would prevent the NFL from blacking out home games played in stadiums built with public money However, he NFL has no interest in dissuading owners from seeking swankier digs and taxpayer dollars to build them, with Commissioner Roger Goodell openly lobbying those publicly funded buildings. He does so because those owners are basically the NFL's shareholders, and it helps to keep them happy because...
3. The NFL is still a tax-free, money-printing machine: Last year, Republican Sen. Tom Coburn of Oklahoma pointed out that the NFL is a tax-exempt organization under Section 501(c) of the Internal Revenue Code.
Its owners pay taxes on their own, but the umbrella league is still tax-exempt and Coburn argues that its current structure obscures just how much money is coming into the league and how much is disbursed to teams and their owners. Coburn is trying to strip that exemption and tax league revenue, which was reported as $9.5 billion last year. At the very least, it should help bring in roughly $91 million more in tax dollars. More ideally, losing that exemption would make it more accountable for everything from Goodell's $30 million salary to its $4.5 billion in television revenue from networks that give owners blackout control.
Fox, CBS and Comcast's NBC agreed to pay the NFL $28 billion for broadcast rights through 2022. Walt Disney's ESPN has a separate $1.9 billion annual deal for Monday Night Football, while CBS just paid $300 million for the right to air games on Thursday nights and Saturdays this season. Meanwhile, DirecTV has a $1 billion per season agreement for the NFL Sunday Ticket package that is set to become even more lucrative once the current contract expires next year.
All of the above broadcast images from 30 buildings constructed with public funds. All use airwaves that the Federal Communications Commission says it will no longer enforce blackout rules on. As the NFL experiments with games in Toronto and London, fan bases in the U.S. might welcome some newfound culpability from a league currently swimming in public money and shielded by the public trust.

That trust is continually undermined for fans, football players and former players alike when...
4. The NFL still won't address its concussion problem: When Steve Fainaru and Mark Fainaru-Wada's book League of Denial and its subsequent Frontline documentary were released last year, the biggest story wasn't about the league immediately rushing in to help current and former players, but how it squashed an investigation by broadcast partner ESPN.
That's a damned shame, as there was a whole lot of concussion story to tell last season. NFL players suffered 152 concussions last season alone. Former players including Brett Favre, Terry Bradshaw and Troy Aikman all discussed the debilitating side effects of their own concussions, with Aikman admitting he likely wouldn't let his own children play football.
That's no small sidenote. Pop Warner youth football participation is down 9.5% since 2010. A study by the Institute of Medicine found that high school football players are twice as likely to sustain a concussion as college players. On two separate occasions, President Obama expressed his wariness about allowing children to play football.
When the NFL finally did voice an opinion on concussions, in response to a lawsuit by former players, it offered a $765 million settlement that a judge flat-out rejected and that former players and their families (including those of the late Junior Seau) found insulting.
The NFL says concussions dropped 13% last year. Frontline says that the NFL only counts two thirds of all concussions. That's a huge gap and one that Goodell and his group of NFL owners should at least try to address instead of gladhanding themselves for having driven the awareness of this issue, as Goodell told folks at the 92nd Street Y in New York City earlier this year.
-- Written by Jason Notte in Portland, Ore.
>To contact the writer of this article, click here: Jason Notte.
>To follow the writer on Twitter, go to http://twitter.com/notteham.
>To submit a news tip, send an email to: tips@thestreet.com.
RELATED STORIES:
>>10 Highest Beer Prices In Major League Baseball
>>Centerplate Lets Major League Baseball Forget Peanuts and Cracker Jack
>>Budweiser's Baseball Opening Day Holiday Plan Is Brilliant
Jason Notte is a reporter for TheStreet. His writing has appeared in The New York Times, The Huffington Post, Esquire.com, Time Out New York, the Boston Herald, the Boston Phoenix, the Metro newspaper and the Colorado Springs Independent. He previously served as the political and global affairs editor for Metro U.S., layout editor for Boston Now, assistant news editor for the Herald News of West Paterson, N.J., editor of Go Out! Magazine in Hoboken, N.J., and copy editor and lifestyle editor at the Jersey Journal in Jersey City, N.J.