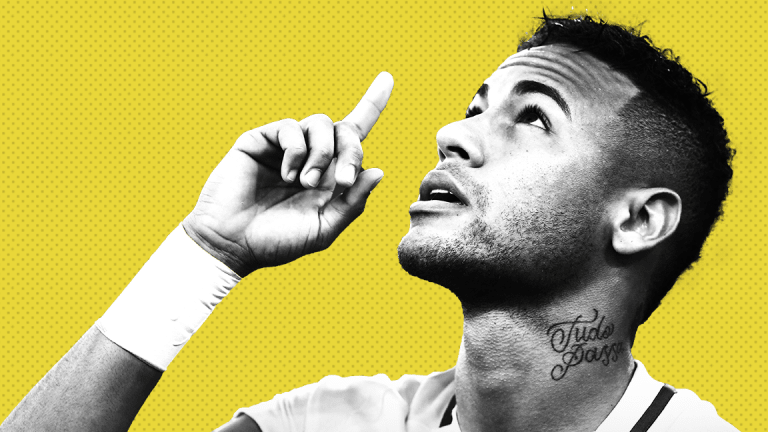 What Is Neymar's Net Worth?
It has been estimated that Neymar has a net worth of $185 million. Here's how his impressive career and big-name deals have netted him that money, and how the one-name player spends.
Who is the most impressive player in all of Soccer? The decades-long careers and massive endorsement deals Cristiano Ronaldo and Lionel Messi have may tempt you to pick them. But if you go about it in terms of the most impressive player in their prime, you may be more likely to pick the Brazilian forward simply known as Neymar, or Neymar Jr.
At just 27, Neymar has seen several years of great success across different teams and different leagues around the world. Proving himself to be an exceptionally versatile forward, he currently plays for Paris Saint-Germain in Ligue 1 and made an immediate impact on the team his first year, despite a season-ending injury. He has won dozens of individual awards, led his teams to several division championships, and has won both silver and gold medals as an Olympian.
Such impressive accomplishments at such a young age have, unsurprisingly, led to quite the payday for Neymar. He's already one of the highest-paid athletes in the world, and if he continues to play at an elite level, his salary is only going to go up.
What Is Neymar's Net Worth?
Celebrity Net Worth has estimated Neymar is worth as much as $185 million, thanks not only to his salary but his various endorsement deals with large-profile brands.
Neymar Salary
Neymar's most recent contract, when transferring from Barcelona to PSG, made him the highest-paid player in the game upon signing. He was soon overtaken by the aforementioned Ronaldo and Messi, but the value remains massive - PSG had to pay €222 million (at the time the equivalent of $263 million) to Barcelona just in transfer fees.
A five-year contract set to expire in 2022, the combined salary and bonuses of this contract are, according to Forbes, worth the equivalent of $350 million.
Forbes also estimated that over the past year, combined with his various football salaries and his many endorsement deals, Neymar made $105 million. That figure is good enough to place him 3rd on the list of the world's highest-paid athletes - just behind Messi and Ronaldo.
Neymar Santos
Neymar may be a star in the world of the UEFA, but his career actually started in his native country of Brazil. Like so many other greats of the sport, his potential was spotted from a very young age; born in 1992, he was signed by Santos FC in 2003 to join their youth academy.
By 2009 at just 17 he was playing for the professional Santos team, and quickly ascended to stardom. The face of South American football, he signed a contract extension in 2011 that paid him what a major European team would (reportedly $20.4 million a year), even rejecting offers from teams like Manchester United and Barcelona to stay with Santos.
Ultimately, though, the temptation to become an even bigger star won out, and though his contract was to expire after the 2014 FIFA World Cup, Neymar announced his intentions to leave for Europe in 2013.
Neymar Barcelona
Neymar Jr. was heavily sought after, but made the decision in mid-2013 to sign with Barcelona. Though the financial details were kept tight-lipped, the contract was to last through 2018.
His career playing with Messi in Barcelona got off to a slow start in the 2013-14 season, but Neymar quickly adapted to La Liga and broke out for a much-improved 2014-15 and 2015-16; Barcelona reached the top of La Liga and won the Copa del Ray competition each year.
In 2016, Neymar extended his contract through 2021. The new contract increased his release clause - €200 million in the first year, €222 million in the second year. That last figure ended up coming into play faster than Barcelona fans anticipated.
Neymar PSG
Paris Saint-Germain, or PSG, actually paid the €222 million in 2017. La Liga, stunned, rejected the payment. Neymar's legal representatives made the payment instead, and Neymar was no longer a member of Barcelona. Currently, he has played two years of his aforementioned 5-year deal with PSG.
Neymar's career with Paris Saint-Germain have been rocky as he has dealt with both injuries and suspensions throughout the first two seasons. However, each season also resulted in PSG at the top of the Ligue 1 standings.
More recently, rumors began to spread of a potential Neymar return to Barcelona, with some of these rumors claiming that Messi himself requested a Neymar return. However, none of these rumors have been confirmed and Neymar remains a PSG player.
Neymar International
Neymar's star also rose on the international stage. His first World Cup was in 2014, and he was the team's biggest star. He impressed on the big stage, but a devastating injury in the quarterfinal sidelined him for Brazil's semifinal match. They were handily defeated by eventual champion Germany. Neymar's 2018 World Cup team started off shakily, ending their first match in a draw against Switzerland. This was followed by a 2-0 victory over Costa Rica (including a Neymar goal), but were not assured of qualifying for the next round before their match against Serbia.
In addition to his World Cup experience, Neymar has also been on Brazil's Olympic team twice, bringing home a medal on each occasion. He played a crucial role in the team's journey during the 2012 London Olympics, helping take the team all the way to the final match, where they lost to Mexico and took home the silver medal. Hungry for the gold, Brazil reached the final again in 2016 in their home country. Playing against Germany, Neymar's go-ahead penalty was the decider, and the team took home the gold in Rio.
Neymar Endorsements
Forbes claims that Neymar makes $17 million off of his various endorsement deals. Likely the biggest of these deals is his long-term deal with Nike; not only does Neymar have Nike cleats, but his own custom model of Air Jordans.
It's far from his only sponsor, though. Neymar Jr. has appeared in commercials for McDonald's, Beats by Dre and Gillette. Neymar also has a deal with Red Bull, which sponsors his worldwide competitive football tournament Neymar Jr's Five.
Neymar House
Neymar's wealth has allowed for multiple expensive homes in the various countries he has been lucky enough to play in. Perhaps his most impressive one, though, is in his home country. Neymar purchased an €8 million mansion in Brazil in October 2016. Located on a gated estate called Portobello, the massive property boasts tennis courts, swimming pools, a gymnasium and a helipad.
After signing with PSG, Neymar purchased a five-story mansion in Paris that includes, among other things, a large indoor swimming pool and garden. Not long after, however, it was reported that security concerns made the footballer decide to move out and to a more secluded location.