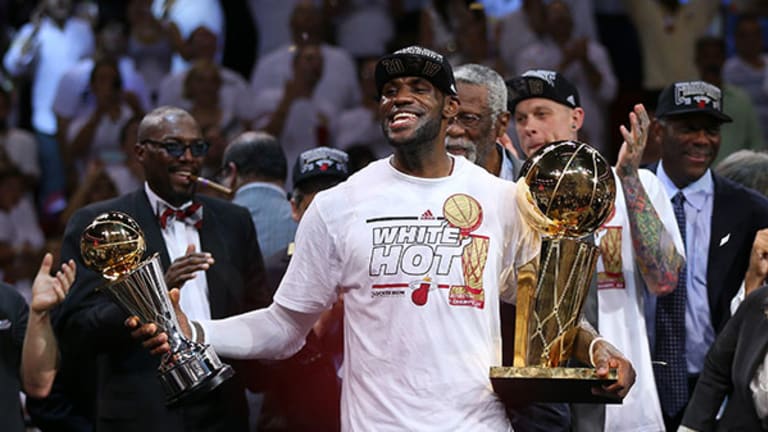 NBA Tips Off As International Players, Revenues Jump
A record number of international players on team rosters shows basketball is the United States' biggest sports growth prospect.
NEW YORK (
) -- Maybe they should change the name to the International Basketball Association.
The National Basketball Association, which tipped off its regular season on Oct. 29, says a record 92 players from 39 countries and territories are taking the court for the 2013-2014 campaign.
The NBA's popularity has grown across the globe as international markets account for 10% of overall league revenue.
Followers of the game invented by Canadian American James Naismith are aware over the past two decades of the surge of international players in the league.
Among the most recognized international names are Dirk Nowitzki (Germany), Tony Parker (France), Pau Gasol (Spain) and Tim Duncan (U.S. Virgin Islands).
Basketball has been the United States' most successful sports transplant since Michael Jordan, Larry Bird and Magic Johnson teamed with a roster of other superstars to form the 1992 Dream Team.
"The summer of 1992 was unlike any in the history of Olympic basketball, becoming the biggest and brashest story of the Games, drawing a level of worldwide interest that ultimately contributed more to the growth of the global game than any other singular factor," reporter Chris Sheridan
for ESPN in 2010.
The NBA has publicized its ambition to build its international market reach, specifically in China, where Commissioner David Stern has said it expects league revenue to increase at least 10% annually.
Stern
Bloomberg
in 2012 that he expected television and digital rights to games for last season to drive league revenue to $150 million in China.
-- Written by Joe Deaux in New York.