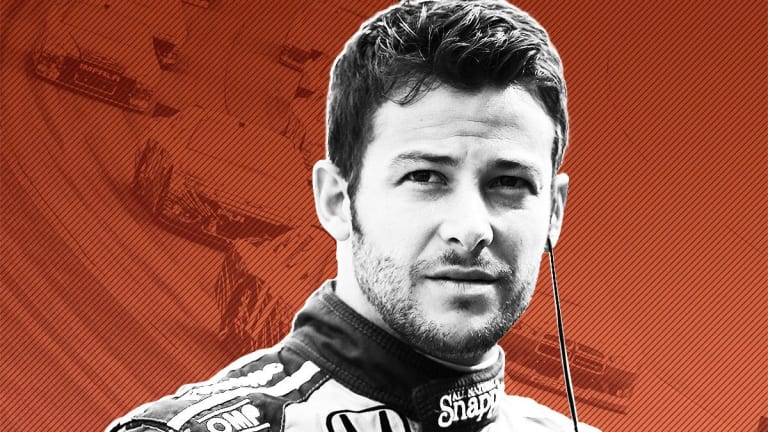 What Is Marco Andretti's Net Worth?
Andretti, who comes from a long legacy of racing, is estimated to be worth as much as $20 million.
As the IndyCar Grand Prix approaches, fans await yet another chance to see some of their favorite racers vie once again for the title.
One such driver is Marco Andretti, who finished 13th in last year's IndyCar Grand Prix. Andretti is hoping to keep momentum going; 2018 saw him finish the season ranked ninth, his first top 10 end-of-season rank since 2015.
Andretti has been one of the most recognizable IndyCar drivers since he burst onto the scene as a teen in 2006 - as much due to his family name as his actual success. And in his many years racing, he has made quite a bit of money. How much is the IndyCar star worth?
Marco Andretti's Net Worth
Andretti is estimated to be worth as much as $20 million from his career, according to Celebrity Net Worth. Though this worth is likely mostly from his career racing and any endorsements he's gotten from it, Andretti comes from racing royalty and that's sure to help him as well.
Marco Andretti's Career
Andretti's father is Michael Andretti, an IndyCar and Formula One racing star of the 80s and 90s. His grandfather is Mario Andretti, a legendary driver with an Indianapolis 500 championship to his name and the only driver to win an IndyCar race in four separate decades.
So racing was something of an inevitability for Marco. Born in 1987, he was competing in professional races by 2003 - and winning them. By 2005, he was racing in the Indy Pro Series, and won three races there too.
It was 2006 that proved to be the big breakout year for Andretti, though. An impressive start to his rookie year on the official IndyCar circuit turned into sudden stardom as he raced in his first ever Indianapolis 500 and ended up being part of one of the closest finishes in the history of the race. Having the lead for most of the final two laps, he was overtaken by Sam Hornish, Jr. at the last second. Hornish just barely held onto that lead, but Andretti won Rookie of the Year and made a statement about his spot in the sport at just 19 years of age.
Later that year, Andretti won his first IndyCar race at Sonoma Raceway, and finished the season ranked seventh among IndyCar drivers.
2007 was a step down from his rookie year in some ways. He had some great races, including a second place finish at the Firestone Indy 400 and a few top-five finishes. But during an Indianapolis 500 where he had a lot of hype from the previous year, he crashed with Dan Wheldon and finished just 24th. Despite participating in more races than his rookie year, he finished outside the top 10.
Andretti started the 2008 season strong with a second place finish at the Homestead-Miami Speedway behind Scott Dixon. He finished behind Dixon and Vitor Meira at the Indy 500 that year, along with a third place in the Indy 300 to return to a seventh place ranking at the end of the season. He also reached another first that year: his first pole position, at the ABC Supply Company A.J. Foyt 225, a race he finished 21st.
2009 and 2010 were each solid if unspectacular years for Andretti. They saw several top-five finishes, including another third place at the Indy 500 in 2010, but he finished that year still having not won an IndyCar race since his rookie year in 2006.
The 2011 season ended with Andretti ranked eighth in points, the same as 2009 and 2010. But it was this season that saw him finally win another race, the Iowa Corn Indy 250 in June. But he was unable to translate that momentum into a good 2012. 2012 saw Andretti change cars and engines, and the transition was a bit rough, ending with Andretti finishing the season a career-worst 16th in points.
He rebounded in 2013 with his best year and a career high in points, finishing the season fifth. He had a top 10 finish in 15 of the 19 IndyCar races he participated in, and was top five in six of them (including placing fourth in the Indy 500).
Andretti has seen success in the years since, but has yet to top 2013 in terms of races, points and ranking. He began to decline, falling back to 16th in 2016 and then 12th in 2017, his first ever back-to-back seasons outside the top 10.
2018, though, saw signs of hope for Andretti. His fourth place finish in the Detroit Grand Prix was his first top-five finish in a race since 2015, and after another top-five finish later in the year he returned to the top at the end of the season, ninth in points.
Marco Andretti's Salary
In 2018, Racer claimed that Andretti, along with several other IndyCar drivers, made $1 million in a season. That put him fifth, with Scott Dixon estimated as the top IndyCar earner.
Marco Andretti's Endorsements
Andretti drives for - who else? - Andretti Autosport in IndyCar along with Conor Daly, Ryan Hunter-Reay, Alexander Rossi and Zach Veach. Among the sponsors for Andretti Autosport are:
U.S. Concrete (USCR)
DHL  (DPSGY)
Honda (HMC)
Group1001
Volkswagen  (VWAGY)
Rockstar Energy Drink
BMW  (BMWYY)
U.S. Air Force
Marco Andretti's House
It's pretty easy to want to stay true to your roots and live where you grew up when you grew up as part of a sport legacy. So when Marco Andretti moved into the old home his family lived in when he was a child, that still means he bought a house that was on the market for $6 million. Andretti and his house reside in Bushkill Township, Pennsylvania.
The mansion, bought from his father Michael, is 12,225 square feet with six bedrooms and six bathrooms. For added measure, the home also features a wine cellar and a nine-hole golf course. 
It's never too late - or too early - to plan and invest for the retirement you deserve. Get more information and a free trial subscription toTheStreet's Retirement Dailyto learn more about saving for and living in retirement. Got questions about money, retirement and/or investments? We've got answers.