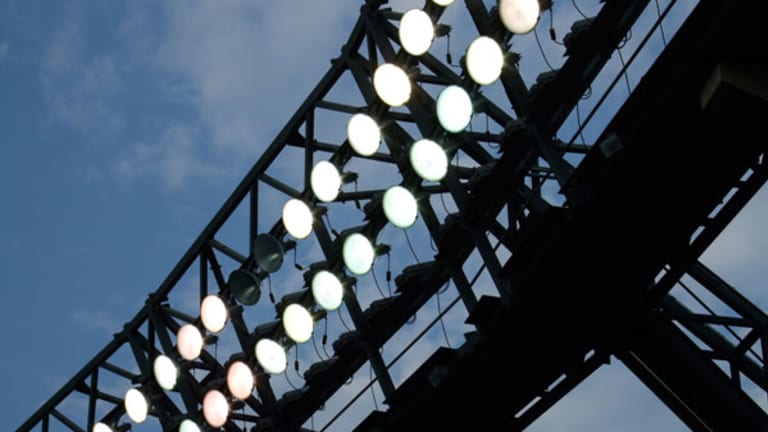 March Madness Is a Suite Deal For Corporate Clients
The NCAA tournament's biggest plays are being made in corporate suites and at celebrity meet and greets.
The NCAA tournament's biggest plays are being made in corporate suites and at celebrity meet and greets.
NEW ORLEANS (
) -- The Final Four is presumably about the NCAA men's basketball championship, but some of the best games in New Orleans are being played on smartphones, in luxury suites and behind the flaps of corporate hospitality tents.
The Final Four is one of little more than a handful of in-demand events routinely circled on the corporate calendar, as regional vice presidents and chief executives all too familiar with the Pareto Principle (80% of sales come from 20% of your clients) try to impress their most valuable vendors. Jacob Turnage, co-founder and vice president of marketing for Atlanta-based organizer of high-end sports hospitality
EB Corporate
routinely counts the Final Four among the "Big Six" corporate hospitality events that include the Super Bowl, the Masters Tournament, tennis' U.S. Open, the Kentucky Derby and, this year, the Ryder Cup.
The action on the court is great, but the NCAA tournament's biggest plays are made in corporate suites and at celebrity meet and greets.
Back in 2003, when the Final Four was last in New Orleans, city native Turnage sold a client from
Kellogg's
(K) - Get Report
a package so he could entertain one of his top clients, an executive from
Kroger
(KR) - Get Report
. The supermarket bigwig was a Syracuse University alumnus and wanted to see his Orange and star freshman Carmelo Anthony make a run for the national title.
Turnage secured low-level seats for them at the Superdome (a good idea for a basketball game played in a football stadium), a luxury suite and a meet-and-greet with current and former NCAA basketball coaches. Since it's a two-day event, with the semifinals on Saturday and the final on Monday, Turnage made sure his client and guest got a nice meal at a top area restaurant on Sunday and had some time to discuss business.
"While the game's going on, they're not talking business," Turnage says. "On Sunday, if they can stay sober, they can close a deal that day."
As luck would have it, Syracuse won its first national championship that Monday by beating the University of Kansas. Kellogg's had a happy supermarket exec on its hands and Turnage didn't have to wait long to hear from his client about the business impact of that win.
"We chatted on Tuesday after the final when we shared a cab to the airport and he said, 'My customer will never forget who was by his side when 'Cuse won it all ... that's why what you do is vital to what I do,'" Turnage said. "He didn't close a contract that day, but he cemented a customer relationship, and whatever he spent with us is pennies on the dollar compared to what Kroger does for Kellogg's business."
That's about the best Turnage can hope to assure clients from companies such as
Oracle
(ORCL) - Get Report
,
Caterpillar
(CAT) - Get Report
,
Bayer
and
Johnson & Johnson
(JNJ) - Get Report
: That when a competing company or vendor comes in with a lower price or a better deal, the client in question will remember the event, the souvenirs and the cushy amenities and show some loyalty. If there's any doubt a weekend at the games, a few autographs and a commemorative seat cushion can secure a business relationship, consider the $4,000 to $5,000 a head companies such as
General Electric
(GE) - Get Report
and
Intel
(INTC) - Get Report
shell out for packages including private tents and suites or the $12,000 to $30,000 per person companies spend when they want to really impress clients with limousines, hotels, parties and celebrity guests in the suites.
"It's so much tougher to get a new customer than it is to keep an existing one," Turnage says. "I went to business school, but I didn't have to go to one to know that."
That's true on all levels of business, which gives the NCAA tournament and its corporate suites, tents, dinners and concerts a distinct advantage. Sharyn Outtrim, executive vice president of strategic events at official NCAA ticket and hospitality provider
PrimeSport
, lays out March Madness like a corporate perks pyramid. The bottom tier is built from early-round match-ups that companies offer to local and regional clients or as employee incentives, usually based on a client or employee's school of choice. The Sweet 16 and Elite 8 rounds are often reserved for second-tier executives -- Turnage uses regional managers and district vice presidents as examples -- and school-specific clients they're hoping to impress.
The Final Four, however, breaks into two categories: companies' top-tier customers who would attend no matter who was playing; and companies' CEO partners who suddenly have a school in the semis and would happily scratch the back of anyone willing to scratch theirs.Those corporate whales tend to go for bigger bait, such as a $700 package including a ticket, Blues Traveler show and cajun buffet, a $1,350-a-head suite-and-seat package featuring a two-hour buffet before game time hosted by former University of North Carolina star Sam Perkins or former Los Angeles Lakers big man John Salley or a $3,000 package that includes a bit of the above and a room at the
Hyatt
(H) - Get Report
. In the case of one prominent IT and online security company CEO, Outtrim was able to get the 5-foot-10 exec a one-on-one game with the 6-foot-11 Salley. This year, she and her staff are getting guests time with the Final Four trophy, "Chalk Talk" meetups with coaches and a few other celebrity surprises.
"We underpromise and try to overdeliver, especially in our hospitality events," Outtrim says. "Last year, I didn't tell anyone that Kareem Abdul-Jabbar was coming because I love that moment of surprise and I know I've done a great hospitality event when I can bring the child out of the corporate executive. When you can do that and the corporate executive can do that with his customer, he has the customer in the palm of his hand."
The very nature of the NCAA tournament gives it a few advantages over its professional counterparts, especially for companies and clients looking to be the center of attention. For one thing, Final Four weekend also doubles as the weekend of the NCAA men's basketball coaches' annual meeting. That means Duke's Mike Kryczewski is in town whether the Blue Devils win or not and former UNLV coach Jerry Tarkanian is available to sign gear for CEOs and corporate drones who remember his powerhouse teams of the '90s. Why does this matter? Because they're built-in celebrities a hospitality company doesn't have to import and tack onto the price of a package.
"It's a great opportunity for companies because we don't fly them in or put them in hotels," Turnage says. "If we wanted to get Greg Norman to appear at The Masters, it would cost a pretty penny to get him there and get him a room that's to his standards, but with the Final Four all the coaches are here already."
The location of the Final Four factors in as well. New Orleans is an admittedly fun blend of food, culture, booze and pre-existing revelry. That still doesn't give the Final Four the cachet of the Super Bowl, but a client may require less convincing to go there than to a cold, cuisine-devoid and outwardly conservative town with a larger event.
"A lot of our customers are customers who come to the Masters or the Super Bowl, but we've seen that the city has a lot to do with it," says Outtrim, who also spent six years doing corporate hospitality for the NFL. "We've got corporations that have done the Super Bowl, but because Indianapolis had a shortage of rooms and it wasn't exactly what they were looking for, this year they moved their program and said they weren't going to do the Super Bowl and wanted to do the Final Four instead."
It generates a lot of return business. Outtrim says that not only are customers who've bought into the Final Four before more likely to come back, but that it has the highest positive RSVP return rate for any event among clients who use PrimeSport for various events. There's also the small matter of passion, a word that comes up incessantly when hospitality professionals and ticket brokers discuss March Madness. School pride runs deep and gives the tournament a fervent undercurrent not found among the other events these folks are selling.
"At the Kentucky Derby, there's a lot of passion but there's also a lot of rich people who own horses," Turnage says. "The Super Bowl doesn't have a lot of fans there who are with the team in the event, but with the Final Four it's difficult to sell on my end because I have to remember someone and store the information of where a client went to college and where his client went to college."
While the Final Four doesn't always provide the quiet, business-friendly backdrop of the golf course and can involve a labyrinth of social itineraries, multiple hospitality entrances and parking facilities to rival the Super Bowl, its strong emotional and visceral draw for some clients helps its suites, tents and toys earn their big-ticket prices. It looks like just a game from afar, but when multimillion partnerships are at stake it may be worth worth getting a ticket, putting on a foam finger and stuffing your face with limitless appetizers to keep those relationships intact.
"One of my biggest clients,
Hewlett-Packard
(HPQ) - Get Report
, has a client who's a Kentucky grad and a die-hard basketball fan," Turnage says. "If they win the Elite 8, and I've seen them play live this year and they're really good, I have to scramble to get him whatever he needs -- I have the seats and hotels, but I have to get him into John Besh's restaurant and pull a lot of strings."
-- Written by Jason Notte in Boston.
>To contact the writer of this article, click here:
Jason Notte
.
>To follow the writer on Twitter, go to
.
>To submit a news tip, email:
.
RELATED STORIES:
>>NCAA Tournament Drives Ticket Resale Madness
>>Does NCAA March Madness Really Beat The BCS?
>>Is March Madness Marketing's New Super Bowl?
Follow
TheStreet
on
and become a fan on
Jason Notte is a reporter for TheStreet. His writing has appeared in The New York Times, The Huffington Post, Esquire.com, Time Out New York, the Boston Herald, the Boston Phoenix, the Metro newspaper and the Colorado Springs Independent. He previously served as the political and global affairs editor for Metro U.S., layout editor for Boston Now, assistant news editor for the Herald News of West Paterson, N.J., editor of Go Out! Magazine in Hoboken, N.J., and copy editor and lifestyle editor at the Jersey Journal in Jersey City, N.J.