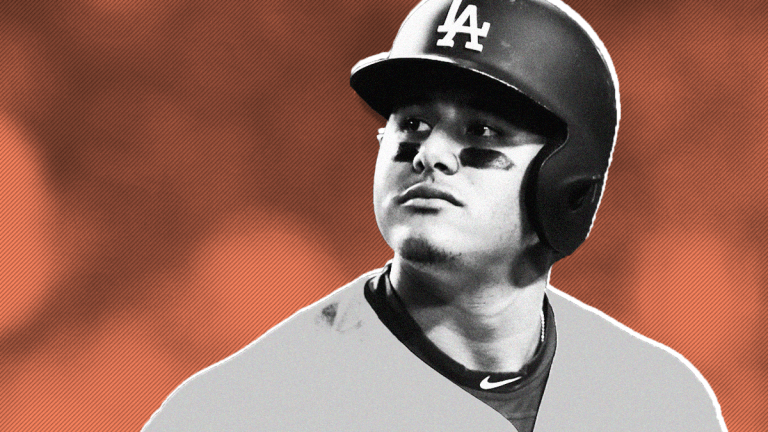 What Is Manny Machado's Net Worth?
The Padres superstar has been rumored to be worth as much as $50 million. How did he get there and how much money is he set to make for the rest of his contract?
One of baseball's most polarizing players also happens to be one of its most elite. In the offseason following the 2018 season, some pundits speculated that Manny Machado's reputation for having an attitude might hurt his ability to get the large contract his stats warranted.
Those speculations turned out to be unfounded, and in February of 2019 he got the massive deal people had been expecting him to get for years. From his early days with Baltimore, Machado was immediately a star in the MLB and quickly developed into one of the best overall players in baseball, a consistent All-Star who offered batting average, power and defense. And after several outstanding seasons in Baltimore (as well as a half season in Los Angeles helping the Dodgers reach the World Series), he got compensated like the player he is by the San Diego Padres.
Machado is a very rich man just shy of turning 27, and he's set to get a whole lot richer over the next decade. How much is he worth?
Manny Machado's Net Worth
Manny Machado is estimated to be worth as much as $50 million, according to Celebrity Net Worth.
These figures are hard to prove definitively, but regardless of his current worth, Machado still has the overwhelming promise of his massive contract ahead of him. Whatever his actual worth is, expect it to skyrocket quickly.
Manny Machado's Career
Machado's talents were apparent from a young age playing baseball in his home state of Florida. A star in high school, Machado was drafted third overall by the Baltimore Orioles in the 2010 MLB Draft, behind just Bryce Harper and Jameson Taillon.
Drafted in June 2010, Machado tore through the Orioles' minor league system in no time at all, and in August of 2012 Baltimore called him up to the majors. Though originally a shortstop, the O's moved him to third base where there was room for him on the infield. Appearing the final 51 games of the season for Baltimore at just 19 years of age, Machado hit .262 with seven home runs in 191 at-bats. This Orioles team made the postseason for the first time since 1997 and defeated the Texas Rangers in the AL Wild Card Game before falling to their division rival Yankees in five games in the ALDS. Machado hit just .125 in this series.
2013 was Machado's first full season as a major leaguer, and he burst onto the scene in an enormous way. Machado made his first-ever All-Star Game after putting up one of the best first halves of any player in the American League. The Orioles failed to make the playoffs, but by the end of the season Machado had 14 doubles and an AL-leading 51 doubles. He would end up ninth in AL MVP voting that year and would win his first Gold Glove for his defense at third base - a position he wasn't even drafted to play.
Machado missed the first several weeks of the 2014 season after offseason knee surgery and hit 12 home runs in 82 games. However, a knee injury in August required surgery that ended his season. Machado missed the postseason after the Orioles won the AL East and advanced to the ALCS.
2015 saw Machado make up for his 2014 absence, appearing in all 162 games for the Orioles. He posted career bests in batting average, on-base percentage and slugging percentage (.286/.359/.502) and more than doubled his best single-season home run total with a 35-homer season, good for 10th in the American League. He won his second Gold Glove, made his second All-Star Game and came in fourth in MVP voting for the AL. He would lose to Toronto's Josh Donaldson, much as the Orioles came a close second to the Blue Jays for the division title.
Machado managed to put up another fantastic season in 2016, hitting .294 with a .533 slugging percentage thanks to a new career-high in home runs (37) and hitting 40 doubles. He did, however, receive a suspension in June when he caused a bench-clearing brawl after getting hit by a pitch against the Kansas City Royals. Still, his numbers helped get him voted to start the All-Star Game for the first time and ultimately place fifth in AL MVP voting. The Orioles season ended in disappointment, though, as they faced Toronto in the Wild Card Game and lost in 11 innings.
At this point Machado was an established star with three top-10 MVP finishes, and Baltimore rewarded him with an $11.5 million salary for 2017, avoiding arbitration in the process. But Machado got off to an incredibly slow first half of the season, which led to the lowest batting average of his career. However, a red-hot second half helped get him to that point, and also helped him hit 33 home runs on the season, his third consecutive year with more than 30 home runs. But a significant teamwide regression meant the Orioles finished the year in last place in the AL East.
2018, the last season Machado was under team control, saw his salary increase all the way to $16 million. And this time, Machado - now playing shortstop - got off to a scorching start. Hitting well over .300 and getting past 20 home runs before the All-Star break, he was named starting shortstop for the AL All-Star Team. The Orioles, though, struggled mightily around him. Baltimore was historically bad in 2018, and Machado was seen as a possible player a competing team could snag in a trade.
That competing team turned out to be the Los Angeles Dodgers, who traded for Machado right after the All-Star break. Machado put up solid numbers in the second half, if not as spectacular as his first-half numbers. The Dodgers made the playoffs, winning the NL West after a tiebreaker game against the Rockies. Machado struggled in the team's first playoff series against the Braves, but performed far better in the NLCS against the Brewers. However, he once again caused the benches to clear after kicking Brewers first baseman Jesus Aguilar's foot running to first base. Despite the controversy, the Dodgers won that game and the series, making their second consecutive World Series.
But the Dodgers fell easily to the Red Sox in the 2018 World Series. Machado hit just .182 in five World Series games with no extra base hits, made the last out of the series striking out, and was perceived as not hustling throughout the series.
The 2018 World Series was a low point in Machado's career, but not enough to hurt his chances for a fat contract. The Padres signed him that offseason to a 10-year, $300 million contract. It was the largest free agent signing in MLB history for two weeks, when Bryce Harper's contract with the Phillies became the biggest contract in MLB history (later overtaken by the Angels giving a mammoth contract extension to Mike Trout).
Manny Machado's Contract: How Much Does He Have Left?
Machado is in the first year of his contract, and technically only making $10 million in salary - the other $20 million of the $30 million annual salary he makes on this contract was converted into a signing bonus.
According to Spotrac, from 2020-2029 Machado is on the Padres payroll with a $30 million salary, though he does have an opt-out clause after the 2023 season if he chooses to exercise it. If he doesn't, those nine years will multiply by more than seven the amount Machado made his first decade as a professional ballplayer - to over $314 million.
Manny Machado's Endorsements
In addition to his large contract, Forbes says that Manny Machado makes $500,000 per year from endorsement deals.
Among the companies Forbes says Machado has endorsement deals with are sports apparel and equipment manufacturers Rawlings and Nike (NKE) - Get Free Report .
It's never too late - or too early - to plan and invest for the retirement you deserve. Get more information and a free trial subscription toTheStreet's Retirement Dailyto learn more about saving for and living in retirement. Got questions about money, retirement and/or investments? We've got answers.