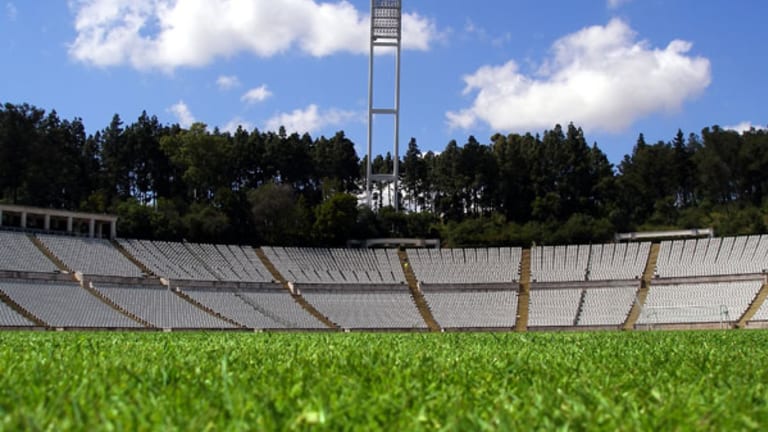 Like Many, Buffalo Bills Fumbling Pass to Heirs
Poor succession planning.makes a mystery of the Buffalo Bills' future after owner Ralph Wilson, 91.
BUFFALO (TheStreet) -- Those who still question the merits of succession planning should talk with fans of the National Football League's Buffalo Bills about the state of the team and owner Ralph C. Wilson Jr.
A 290-pound linebacker charging at them helmet-first at full speed would be less frightening.
With the Bills now 0-5 this season, two weeks removed from their first local television blackout in nearly five years and two weeks from their annual "home" game in Toronto, the future of the team is about as clear as Buffalo roads during a Western New York lake-effect snowstorm. The Buffalo market's position among the NFL's smallest and the team's losing record since 2004 has fans and pundits speculating that the yearly trip to Toronto's Rogers Center may be a test drive for a move across the border.
Buffalo Bills owner Ralph C. Wilson Jr., 91, is an example of a lack of succession planning in U.S. businesses.
Such speculation could be easily confirmed or denied if the 91-year-old Wilson -- the NFL's oldest owner, who has no intention to move the team during his tenure -- laid out a succession plan. Instead, the Bills join the more than half of North American public and private companies who cannot immediately name a successor to their chief executive, according to a study completed this year by
and Stanford University's Rock Center for Corporate Governance.
"It's advisable that the succession process begin at least three to five years before," says Mass Mutual adviser Louis F. Grammes of uFinancial in Central Pennsylvania. "You should take the time to make sure you leave your business in style. And if you wait until the last minute, the valuation of your business is going to be in question."
That's already an issue for the franchise. The Bills' value has dropped 12%, from $909 million last year to $799 million this year, according to Forbes. That's only $74 million more than the lowest-valued team, the Jacksonville Jaguars, and is heavily influenced by the $93 million value of 37-year-old Ralph Wilson Stadium and $45 million in ticket receipts, both ranking in the lowest quarter of the league. That's a steep markup from the $25,000 Wilson paid for the team in 1959, but still representative of the team's financial shortcomings, which are ranked at 28th out the league's 32 franchises.
The Bills' value and the fortunes of its surrounding city have taken divergent paths since the 1950s. Buffalo's population has shrunk to little more than 270,000 people from its peak of more than 580,000 in 1950; and while the greater metropolitan area has more than 1.1 million people, it's not even close to the Toronto area's 5.4 million. The region is coping with 25% poverty, 7.6% unemployment, a 43% slip in home sales -- and the Bills just hiked ticket prices prices 15%, which still gives them the third-lowest ticket price in the league at $59.19, according to
. While the team's vague-to-nonexistent plan for a future without Wilson can't be blamed for all of Buffalo's misfortunes, like the 39% of North American businesses that the Heidrick &Struggles/Stanford survey says have "zero" viable candidates for succession, it's already hurting the value of the franchise.
"If the proper planning isn't done and the valuation is not where it should be, then your shareholders are in a negative position as part of the value a business provides for them," Grammes says. "The value of a business has less to do with what's going on outside than what's going on inside with relationships, key players ... if that's not going on internally, then the transition is probably not going to be successful."
Buffalo's Empire State neighbors, the New York Jets and the New York Giants, have dealt with succession issues in the past decade, resolving those issues in vastly disparate fashion. Jets owner Robert Wood Johnson IV, heir to the
Johnson & Johnson
(JNJ) - Get Johnson & Johnson Report
fortune, bought the team in 2000 from the estate of
Hess
(HES) - Get Hess Corporation Report
founder Leon Hess, who died a year earlier and left no successor. The Giants, meanwhile, stayed in family hands in 2005 when Steve Tisch and John Mara assumed ownership of the team after the deaths of co-owners Bob Tisch and Wellington Mara. While there's a chance the Bills could find a local owner interested in keeping the team in Buffalo after Wilson's passing, like Johnson kept the Jets in the New York metropolitan area, he would have to start grooming a successor such as daughter Christy Wilson Hofmann -- already with the Bills as a consultant -- immediately to ensure a transition as seamless as Tisch and Mara's.
"Most succession plans today, when the owner decides to exit, he normally continues with the firm for an amount of time until the reins can be turned over," Grammes said. "We don't have any succession plans in existence now where the current owner, even in a family situation, remains on board to make sure the transition is smooth."
In the meantime, the five-year deal Wilson made in 2008 to play games in Toronto hasn't assuaged fears, and the Heidrick & Struggles/Stanford survey's findings that boards only spend two hours a year on succession planning doesn't provide an optimistic picture of when Wilson may choose a successor. While there aren't shareholders to answer to in this instance, the Bills have anxious fans, invested local sponsors -- including
Xerox
(XRX) - Get Xerox Holdings Corporation Report
and
M&T Bank
(MTB) - Get M&T Bank Corporation Report
-- and a whole lot of local employees waiting to hear who'll succeed Wilson -- and hoping the Bills don't learn their lesson about succession planning too late.
"We had a situation here in Central Pennsylvania two months ago where we were put off on a succession plan for the past two years and the person died in an airplane accident. Now we have real issues, because it's a construction company," Grammes says, "and there are bonding issues and the bonding company may pull the bond for projects already in existence, which means they'll be taken over by other companies."
--Written by Jason Notte in Boston.
>To contact the writer of this article, click here:
Jason Notte
.
>To follow the writer on Twitter, go to
.
>To submit a news tip, send an email to:
.
RELATED STORIES:
>>NFL TV Blackouts Tune Out Tampa
>>NFL Causing Its Own Blackouts
Follow TheStreet.com on
and become a fan on
Jason Notte is a reporter for TheStreet.com. His writing has appeared in The New York Times, The Huffington Post, Esquire.com, Time Out New York, the Boston Herald, The Boston Phoenix, Metro newspaper and the Colorado Springs Independent.