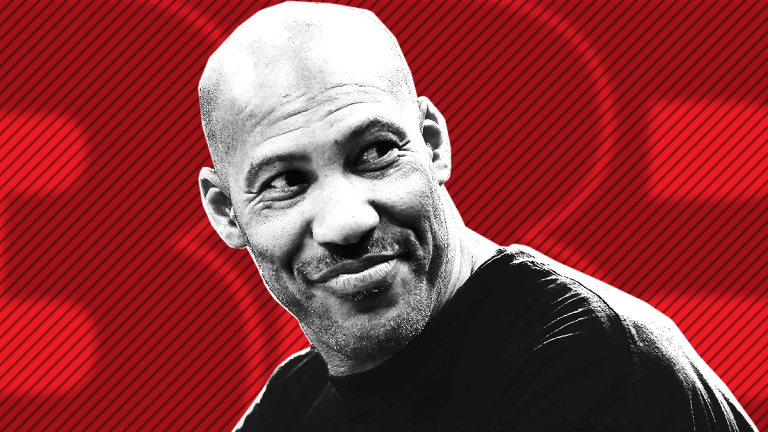 What Is LaVar Ball's Net Worth?
LaVar Ball is reportedly worth an estimated $4 million in 2018. But how did the controversial football player-turned businessman make his millions?
Whether its from his feud with Trump or his countless controversial comments, you've probably heard of LaVar Ball. The former football player is now a businessman, entrepreneur and media personality. And with three sons forging careers in basketball, the 50-year-old businessman has become widely known for his inflammatory comments (as well as his mega clothing and shoe brand Big Baller Brand).
Still, what is LaVar's net worth, and how did he make his fortune? 
What Is LaVar Ball's Net Worth?
According to Celebrity Net Worth, Ball's net worth comes in at around $4 million as of 2018. 
The lion's share of LaVar's fortune comes from his brand Big Baller Brand, which he founded in 2016. Recently, LaVar reportedly asked for a $3 billion co-branding deal in 2017, according to Sports Illustrated, self-evaluating the company at $10 million. 
Still, the Los Angeles native's net worth reportedly pales in comparison to that of his sons. Perhaps the best known, Lonzo Ball plays for the Los Angeles Lakers, while LaMelo played for Lithuanian team BC Vytautas Prienai, and LiAngelo Ball recently joined the Los Angeles Ballers in the JBA League. Still, reports claim that Lonzo's net worth trumps that of his father's, coming in at around $6 million, although his contract with the Lakers is reportedly a $33 million deal, earning him $8 million a year. 
LaVar Ball's Career
LaVar is perhaps best known as the founder and CEO of Big Baller Brand - a clothing and shoe company that has notably churned out high-priced basketball shoes, although recent reports claim that the brand has tried to lower prices. But, before becoming a 'Big Baller,' LaVar began his early career playing football - somewhat unsuccessfully. 
Early Career
LaVar played some basketball at Washington State, West Los Angeles College and Cal State before signing a football contract in 1994. 
Although it was only a somewhat insignificant part of LaVar's career, the 50-year-old businessman started out as a football player signed with the New York Jets, and was subsequently lent out to the London Monarchs of the World League of American Football. LaVar served as a kick returner for a short time, and also participated on the Carolina Panther's practice squad, but his years in professional football were limited. And, to some of his former teammates, unmemorable. 
"I kept seeing his name in the news, and never once, until you reached out to me, did I think, 'That was my teammate,'" Damon Baldwin, team captain and center for the London Monarchs in 1995, told Bleacher Report last year.
But despite missing the mark when it came to his own professional career as an athlete, LaVar has since dedicated his career to helping his three sons go pro in the NBA. Which, so far, has been one-third successful. And, in his free time, LaVar seems to occupy himself by getting into feuds with several notable figures in sports and politics.
LaVar and his wife Tina Ball had Lonzo Ball in 1997. Shortly after came LiAngelo in 1998, and in 2001, LaMelo. 
Training the Ball Boys
LaVar made it his mission to train his three sons for a career in basketball from an early age. In fact, LaVar had Lonzo doing pull-ups by age 4.
"I started introducing my boys [to working out] when they were 4 or 5 years old, doing pull-ups and dips and hanging on the bars for fun," LaVar told Business Insider. "They was into it because they would see who could do one, and then the other one would try and do two, and as they got older, they'd say 'Dad, let me go in there, I can do them by myself.' It was like a competition thing for all of them."
In fact, after LaVar's first son made the NBA, the confident father asserted his optimism about his second son following suit.
"I'm going to speak it into existence and guess what?" LaVar told Rolling Stone last year. "It's gonna happen."
The confidence LaVar seems to have about his sons' careers may well be traced to his constant admonitions of them to follow in his footsteps and pursue careers as professional athletes.
"Your mom's a PE teacher. I'm a trainer. She's big. I'm big. You guys are big. Your last name is Ball. What else you gonna do?" LaVar reportedly would tell his sons, according to Business Insider. But, according to an interview with GQ last year, LaVar claims he thinks one of this three boys won't "make it." 
"I told my boys that one of them wasn't going to make it. Because if you've got three, only one, maybe two make it to the NBA," LaVar claimed. According to GQ, he thinks it will be his middle son, LiAngelo.
Still, the sports father seems to have achieved what he set out to - with son Lonzo in the NBA, son LiAngelo in the JBA, and son LaMelo in a Lithuanian league. 
Additionally, LaVar has reportedly said he is willing to package all three boys together for a deal with a big sponsor like Nike (NKE) - Get NIKE, Inc. (NKE) Report or Adidas (ADDYY) .
"A billion dollars, it has to be there," Ball said, according to USA Today. "That's our number, a billion, straight out of the gate. And you don't even have to give it to me all up front. Give us $100 mil over 10 years."
Big Baller Brand
In 2016, LaVar founded Big Baller Brand - a clothing and shoe brand that is known for their pricey basketball shoes and loud endorsements by the founding family. 
Big Baller Brand has been famous for their high prices - the Big Baller Brand ZO2 sneaker costs $495 ($995 for a pair with Lonzo's signature). Despite the hefty price tag, LaVar has stood by his sneakers. 
"If you can't afford the ZO2'S, you're NOT a BIG BALLER!" the businessman claimed on Twitter.
However, recent reports suggest the company is lowering costs.
"Ball in the Family"
According to reports and ESPN, the Ball family is making millions of dollars through the success of their Facebook reality show "Ball in the Family." The reality spot has reportedly drawn 1.2 million views, with a high of 26.8 million for its premier during the first season and 10.2 million for the second season. 
LaVar Ball's Controversies
It seems as though controversy follows (or is instigated by) LaVar, who is well known for being outspoken on a variety of subjects - especially his sons. 
LaVar on His Sons
Despite being well known for consistently talking up his sons to the press, LaVar has also gone after their teams.
The NBA father and the Lithuanian coach of BC Vytautas Prienai reportedly butt heads.
"We're not going to waste our time no more," LaVar Tweeted. 
The feud resulted in LaVar pulling his sons out of the league with two games left in the season. According to the New York Post, local Lithuanian sports journalist Donatas Urbonas reported the move was chalked up to how LaVar claimed "I just didn't get along with the coach."
But LaVar has continued feuding with his other son's coaches as well - noting his dislike for Laker's coach Luke Walton. 
"Nobody wants to play for him. I can see it. No high-fives when they come out of the game. People don't know why they're in the game. He's too young. He's too young. ... He ain't connecting with them anymore. You can look at every player, he's not connecting with not one player," LaVar told ESPN earlier this year.
And, seemingly having an opinion on everything related to his sons, LaVar welcomed his first grandchild (daughter of Lonzo and his girlfriend Denise Garcia) with a comment on the girl's name.
"Zoey? Ewww," LaVar said in June on "Ball in the Family," reports USA Today. "I'ma give him my girl's name. He better take it."
Feuds with Celebrities
But LaVar didn't stop there. The ex-basketball player allegedly went after NBA giant Michael Jordan.
"I would just back (Jordan) in and lift him off the ground and call a foul every time he fouls me when I do a jump hook to the right or the left," Ball told USA Today. "He cannot stop me one-on-one. He better make every shot 'cause he can't go around me. He's not fast enough. And he can only make so many shots outside before I make every bucket under the rim."
But Jordan wasn't the only celebrity LaVar had beef with.
Riffing off of the fact that LaVar never actually played a full down in the NFL, Shaquille O'Neal's included the line in a dis track: "Dudes talking loud, I don't understand/Walking around like they the true Big Baller Brand."
The two also reportedly sparred over the cost of LaVar's brand's shoes. 
LaVar on Trump
In an odd turn of events, LaVar's son LiAngelo and two of his teammates were arrested for shoplifting in China. President Trump reportedly intervened by asking Chinese President Xi Jinping to help - but Trump's help allegedly went unrecognized to LaVar.
Trump tweeted a two-Tweet series: 
Continuing...
LaVar continued the feud with a fiery comment directed at the President. 
"Maybe we were doing some talking with some other people before he even got there," LaVar told Fox News. "There is a lot of other matters going around for the president to deal with that's political. As far as me, let me deal with my son."
How Does LaVar Make His Money?  
Still, how does the businessman and sports father make all his cash?
Some have claimed it's off of the backs of his sons. And, to some extent, it's true.
LaVar has built his family's brand name - Big Baller Brand - off of his three sons' successes (allowing him to charge high prices for signed shoes). Additionally, the outspoken father has used controversy to continue building a media presence and get coverage.
Currently, LaVar is seeking an endorsement for Big Baller Brands - which was notably rejected by the major athletic brands. 
Still, LaVar's dedication to his family is evident.