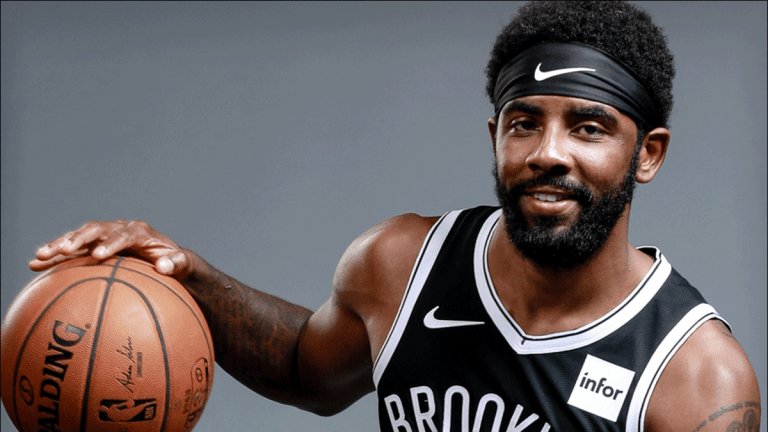 What Is Kyrie Irving's Net Worth?
It has been estimated that Kyrie Irving is worth $70 million. How much is he set to make on his latest contract?
It was a busy 2019 offseason for the Brooklyn Nets after making the playoffs for the first time since 2015. To capitalize on the momentum and provide the Nets with the possibility of deeper playoff runs in the future, the team signed two superstar free agents. One, Kevin Durant, almost certainly won't play this season due to an injury. That means this new Nets team will be led by their other huge signing: Kyrie Irving.
The Nets will be Kyrie Irving's third team he has played for in his NBA career. He has made good on the potential that basketball fans saw in him in college and when he was drafted with the first overall pick in 2011. There have been controversies and unpopular trade requests through his career, but there have also been huge games and iconic moments in NBA history. Irving is one of the league's best players, and at just 27 he is very much in the prime of his career.
As he prepares to enter his ninth year in the NBA, he will be playing on his second massive contract. One of the most recognizable stars in the game, how much is Irving worth?
Kyrie Irving's Net Worth
Kyrie Irving is estimated to be worth approximately $70 million, according to Celebrity Net Worth. This figure, should it be even remotely close to the real number, is a massive number that will be getting much larger as Irving plays out his latest contract. Combined with his many endorsement deals, Irving is easily one of the richest and highest-paid NBA players.
Kyrie Irving's Career
The son of a former college basketball player, Irving's skills were known about for some time. Kyrie was a prep school basketball star in New Jersey, and by the time he was preparing to declare for college, scouts ranked him as one of the elite high school prospects. And like so many other elite basketball prospects, Irving chose Duke University as the school to commit to.
Though an injury robbed Irving of most of his freshman season, the games he did play in showed why he was such a sought-after prospect: in 11 games (eight starts) Irving averaged 17.5 points and 4.3 assists per game. More importantly, Irving had recovered from his injury in time to play in the 2011 NCAA tournament, where Duke was the top seed in the West Region.
Duke demolished 16-seed Hampton in the first round before winning a close game against 8th-seed Michigan to advance to the sweet 16. Here, though, Duke was upset by an Arizona Wildcats team that defeated them soundly. Irving had one of his best shooting games of the season with 28 points, but it wasn't enough for Duke.
After one season at Duke, Irving decided to declare for the NBA draft and immediately was the favorite to get picked first overall.
Kyrie Irving and the Cavaliers
And indeed, Irving did get drafted with the top overall pick by the Cleveland Cavaliers, ahead of other future NBA superstars like Klay Thompson and Kawhi Leonard.
Starting most games for the Cavs in a strike-shortened season, Irving put together an impressive campaign that ultimately culminated in winning the NBA Rookie of the Year award in 2012, as well as making the All-Rookie First Team. In late January of 2012 in a loss against the then-New Jersey Nets, Irving achieved his first ever game of more than 30 points, with a 32-point game that also had six rebounds. For the year, he averaged 18.5 points a game.
But beyond Irving, the Cavaliers were devoid of elite talent. The team's record cratered the year prior, after LeBron James had left them for the Miami Heat. In Irving's first season, the team won just 21 games.
The Cavaliers were even worse the next year (they won 24 games but in a full season, a worse winning percentage than the year prior), but Irving took a solid step forward and made his first NBA All-Star Game. He scored at least 15 points in each of his first nine games before missing time with injury -- Irving appeared in just 59 games in the season. He returned from this injury to help beat the Lakers with a 28-point, 11-assist performance. A few days later, in a loss to the Knicks, Irving established a new career high by scoring 41 points. He reached the 40-point threshold again in late January 2013, this time against the Celtics. For the season, Irving averaged 22.5 points per game.
The 2013-14 season saw the Cavaliers improve somewhat, albeit still not performing well (33 wins, 10th in the Eastern Conference). Irving established a career high in games played with 71 and averaged 20.8 points per game. It was a season in which Irving had some particularly impressive accomplishments, headlined by a new high in points scored (44) in an April game against Charlotte and his first ever triple-double (21 points, 12 assists, 10 rebounds) against the Jazz.
His other highlight this year was being named All-Star Game MVP while starting for the Eastern conference's team. Irving had quickly become a fan favorite and one of the biggest names in basketball. He just didn't have a competitive team.
That changed the next season. In the biggest basketball news of the year, LeBron James announced in the offseason that he was returning to Cleveland, playing for the Cavaliers again in the hopes of finally bringing a title to his hometown team. To ensure that James had a more competitive championship contender than in his last go-around with the team, Cleveland made sure to keep Irving around, signing him to a 5-year, rookie max contract extension worth $94.3 million. The Cavs also traded for Timberwolves star Kevin Love, giving Cleveland a much deeper core.
In this new and much-improved team, Irving had one of his best years, improving his shooting percentage considerably from the past two years and averaging 21.7 points per game. Irving started 75 games on the year and played well throughout, even while the team itself played inconsistently. But the team righted the ship and got finished strong to finish as the No. 2 seed for the playoffs. Irving was easily one of the biggest contributors to this hot streak: in January against the Trail Blazers, he set a new high of 55 points scored. Nearly two months later, in a March game against the Spurs, he topped it with a 57-point performance.
In the first playoff series of his career, Irving excelled. He scored 30 points in the first game against the Celtics, and the Cavs swept Boston easily. He opened their next series against Chicago with 30 points as well. Irving only played two of the team's games against Atlanta in the Eastern Conference Championship, but led by LeBron they easily won to make the NBA Finals. Irving put up 23 points in game one against the Stephen Curry-led Warriors, but fractured his kneecap in overtime. The team lost in six games.
That fractured kneecap kept Irving out for the first 24 games of the 2015-16 season. He was eased back into the lineup in late December, ultimately playing in 53 games and averaging 19.6 points per game. He once again contributed significantly to the team come playoff time, averaging 27.5 points per game in a sweep of the Pistons and 21.3 in a sweep of the Hawks. The Eastern Conference Finals went to six games against the Raptors, but a 30-point performance from Irving in the decisive game six helped the team make their second straight NBA Finals.
The 2016 NBA Finals, a Cavaliers-Warriors rematch, would become a legendary series. The Warriors, having secured the greatest regular season record of all-time, won three of the first four games for a commanding series lead. But the Cavaliers won game five on a 41-point performance from Irving, and followed that up with 23 points in game six, tying the series and forcing a decisive game seven. An intense back-and-forth affair between the two teams, Irving made a 3-pointer with under a minute left to give the Cavaliers a lead that they would keep for the rest of the game. Irving finished with 26 points, and the Cleveland Cavaliers were finally champions.
Following their championship, Irving established a new high in points per game in the 2016-17 season with 25.2 and made his fourth All-Star Game in five years. And he again showed up in a big way for the Cavs in the playoffs. The Cavaliers won their first 10 games of the playoffs, sweeping the Pacers and Raptors before taking the first two games against the Celtics. After the Celtics won game three, Irving scored 41 points in game four; the Cavs won in five games and made their third consecutive NBA Finals to once again face the Warriors. But Cleveland was simply no match for an overpowering Warriors team; they won game four thanks to a 40-point performance from Irving, but fell in five games.
Kyrie Irving and the Celtics
Irving was a star, but with LeBron around he wasn't the centerpiece star of the team. Seeking that role, he requested a trade. Prior to the 2017-18 season, Cleveland traded Irving to the Boston Celtics for several players (headlined by Isaiah Thomas) and draft picks, including Boston's first-rounder in 2018.
Kyrie opened his Celtics career with 22 points and 10 assists in the first game, and put up similarly solid stats for the season. Making yet another All-Star Game, Irving had 24.4 points per game in his first season as a Celtic, the high point being a 47-point performance in a win against Dallas. However, leg injuries and surgery cost him the last month of the regular season and caused him to miss the playoffs entirely. In his absence, the Celtics nearly made the NBA Finals, taking the Cavaliers to seven games in the Eastern Conference Finals.
2018-19 had a great deal of uncertainty regarding Irving's future with the team as he played on the final year of his contract. Still, even with all of that Irving averaged 23.8 points per game in his 67 starts, and had 30 or more points in 19 games. This time, he was healthy for the playoffs as the Celtics faced the Pacers in the first round. Highlighted by a 37-point game two by Irving, the Celtics swept Indiana handily. In the next round, they had an unexpected game one victory over the Bucks thanks to Irving's 26 points and 12 assists. But even with a 29-point showing in game three from Kyrie, the Celtics were eliminated in five games.
Kyrie Irving and the Nets
Irving was part of a large free-agent class in the 2019 offseason that included Durant and Leonard. And Irving decided, along with Durant, to sign a deal with the Brooklyn Nets for four years (including a player option).
Kyrie Irving's Contract: How Much Does He Make?
According to Spotrac, Irving's new contract with the Nets is a 4-year contract worth $136.5 million. The fourth year is contingent on Irving picking up his player option; if he doesn't he can become a free agent again in 2022.
Spotrac claims that in his first eight years of his playing career, Irving made approximately $95.2 million in cash earnings. If he plays all four potential years on his contract, that would bring his career cash earnings to nearly $231.7 million. And at his age, he would likely be able to fetch another large contract after that.
Kyrie Irving's Endorsements
As one of the most recognizable stars in one of the country's biggest sports, Irving has plenty of endorsement deals to the point that he makes similar money with them per year as he does with his basketball. According to Forbes, over the last year he made $23 million in endorsements alone.
His most notable endorsement deal turned into something even bigger. Early in his career, he began doing advertisements for Pepsi Max playing the character Uncle Max. The ads were a huge success, culminating in the release of the 2018 film "Uncle Drew."
Like so many elite NBA players, Kyrie Irving also has an endorsement deal and a line of shoes with Nike (NKE) - Get NIKE, Inc. Class B Report . Irving's line has proven to be exceptionally popular and he has convinced Nike to take some unusual risks with the brand, including a recent partnership with Nickelodeon so he can release a line of SpongeBob SquarePants-inspired shoes.