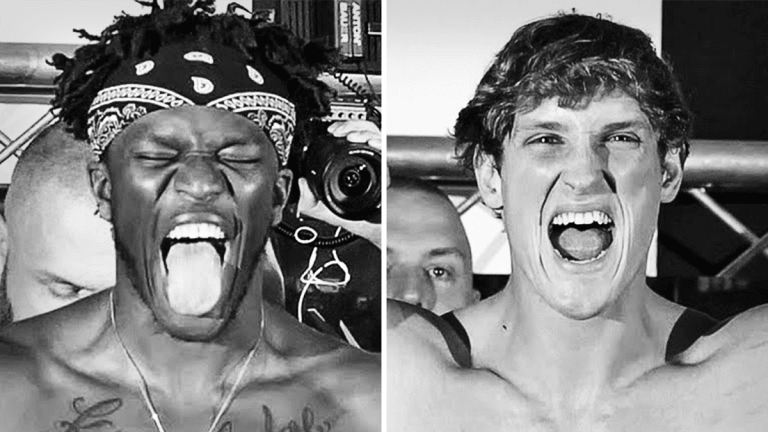 KSI vs. Logan Paul 2: How Much Revenue Will the YouTube Boxing Rematch Generate?
The KSI-Logan Paul rematch is tomorrow night. How much revenue will it generate and where can you watch it?
The KSI-Logan Paul rematch is tomorrow night. How much revenue will it generate and where can you watch it?
In what looks to be one of the bigger sporting events this weekend, YouTubers Logan Paul and KSI will be facing off in the ring for a rematch of their 2018 fight in London. This time, the two will square off in the U.S., at the Staples Center in Los Angeles.
It may not be a match that gets the most respect from boxing enthusiasts, but it's certain to be a highly-anticipated and highly-viewed one all the same. It is also, as a result, set to make a fair profit for everyone involved.
How much can we expect KSI vs. Logan Paul 2 to generate in revenue?
How Much Revenue Will the KSI vs. Logan Paul Rematch Generate?
There's no concrete figure, though there have been some hefty estimates. The Daily Mail, for example, claims that it is expected to generate 150 million pounds in revenue (about $191.86 million).
Estimates like these are likely based on the financial success of their first match in 2018. We will update you when more information on the revenue becomes available.
How Much Revenue Was Generated in Last Year's Match?
There are a lot of figures surrounding the 2018 KSI vs. Logan Paul match, all fairly large. According to The Verge, the YouTube stream of the match had about 773,000 cumulative viewers. KSI, though, claimed that the match did over one million sales, and 950,000 of them were directly from YouTube. It cost approximately $10 for a pay-per-view sale to watch the match.
In addition, 15,000 people bought tickets to the sold out event in Manchester Arena, and it was estimated that 2.7 million pounds ($3.45 million) was made at the live gate alone. All of these figures, of course, pale in comparison to the amount of viewers that viewed the match on pirated streams on websites like Twitch.
Because the match ended in a draw, Paul and KSI split the purse 50/50. While there were rumors that the two of them both made as much as 40 million pounds (about $50 million) from the match, KSI denied it, saying that while the figure was high it was significantly lower than that.
Some reports for the 2018 match also claimed that it totaled $190 million in generated revenue, though this is not a confirmed figure.
How Much Is KSI Worth?
KSI, aka Olajide Olayinka Williams Olatunji, is estimated to be worth $5 million by Wealthy Gorilla as of 2019.
Olatunji is one of the most successful gaming YouTubers, having started his channel in 2009 providing commentary for FIFAvideo games. As he expanded his channel, the following grew rapidly, and within a few years he had millions of YouTube subscribers. He courted controversy early on, though, when his inappropriate behavior around women led to him from a Eurogamer expo.
In addition to his YouTube career, prior to getting involved with boxing, KSI also began rapping. The British content creator released his first single, "Lamborghini," in 2015. In the next few years, KSI released several EPs, and in 2019 released a collaborative album with the rapper Randolph called "New Age."
KSI's first match with Logan Paul also wasn't his first time in the ring. In 2018, he fought fellow British YouTube creator Joe Weller, defeating Weller in a TKO in the third round.
As of this writing, KSI has 20.5 million subscribers on YouTube.
How Much Is Logan Paul Worth?
Logan Paul is estimated by Wealthy Gorilla to be worth around $19 million.
Whereas KSI found his initial success through YouTube, Logan Paul first became notable on Vine before spinning that off onto various social media platforms. He has been able to turn this into television appearances as well, most notably on "Law & Order: SVU." But Paul has also been an extremely controversial figure thanks to a number of videos many saw as insensitive - most notably a video filmed with a corpse at Aokigahara in Japan. Amidst massive outcry, Paul took down the video and put up a video apology a few days later.
As of this writing, Logan Paul has 19.9 million subscribers on YouTube.
When Is the Match and How Can You Watch It?
KSI and Logan Paul will have their rematch on Saturday, Nov. 9 in Los Angeles at the Staples Center. While the event begins at 7 p.m. EST with the undercard, the actual fight between Paul and KSI is to start at approximately 11:15 p.m. EST, though depending on how long the preceding events go it could be closer to midnight.
While the first match was streamed for pay on YouTube, this match will be aired on the streaming service DAZN, and will require signing up for a subscription. A monthly subscription costs $19.99, while a yearly one costs $99.99. DAZN can be watched on mobile, desktop or smart TVs and supported devices that have, among others:
Amazon Fire TV/Amazon Fire Stick
Android TV
Apple TV
Chromecast
ROKU
For viewers in the United Kingdom, the match will be aired via pay per view and streaming with Sky Sports Box Office.