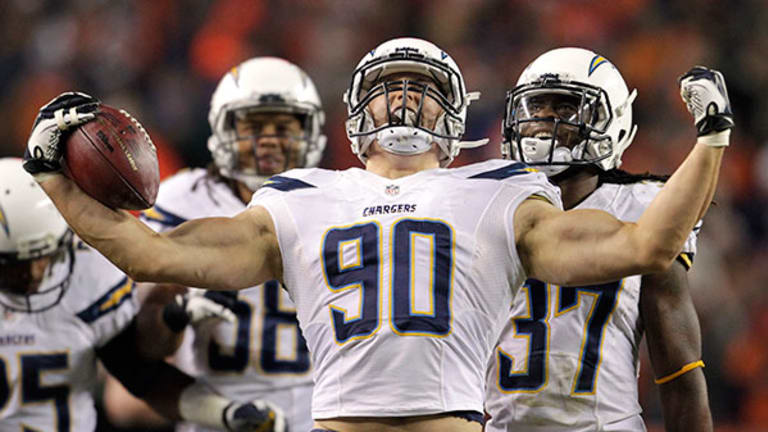 It's Peak Season for NFL blackouts
It's great that the league went 12 weeks without taking a game off of local television, but harsh weather and eliminated teams should change its luck.
PORTLAND, Ore. (TheStreet) -- We've been wrong about the National Football League's blackouts already this season -- thanks largely to NFL teams such as the Tampa Bay Buccaneers increasingly using loopholes to avoid them -- but all bets are off when it comes to televised football in late December.
Of last season's 15 NFL games taken off the air for failing to sell out a venue 72 hours in advance of kickoff, six (40%) came in December. It isn't exactly a mystery why, either: The temperatures get colder, the weather gets more punishing and teams that had tough seasons get closer to elimination. Last season, the four teams that blacked out games in December -- the Tampa Bay Buccaneers, Oakland Raiders, San Diego Chargers and Buffalo Bills -- had a combined record of 24-40 at the end of the season. 
All missed the playoffs.
This year, the Buccaneers are out of that mix despite a sub-.500 record and nonexistent playoff prospect. The Glazer family of owners teamed with sponsors to exploit a loophole in the NFL blackout rule that allows sponsors to buy back tickets at a third of the price and hand them out to local charities. That leaves the other four, and a strong chance that at least one of them will go off the air before the season's end.
The Chargers were the only team to black out a home game this season and almost blacked out a Monday Night Football game before ESPN (DIS) - Get Walt Disney Company Report
The Raiders, meanwhile, have avoided blackouts all year thanks partially to the NFL's optional blackout limit introduced last year. The team opted to take the league up on its offer to consider 85% attendance a "sellout," but looming questions about the team's O.co (OSTK) - Get Overstock.com, Inc. Report
Sadly, the most likely blackout scenario involves the Buffalo Bills. Owner Ralph Wilson already went into his pocket to prevent a blackout of an October game against the Cincinnati Bengals and needed an extension to keep a mid-November game against the Jets on the air. With only one game in December at Buffalo's Ralph Wilson Stadium -- it's other "home" game of the month was played in Toronto -- it's already looking bleak for the Dec. 22 matchup with the Miami Dolphins. As of early December, the team had sold only about 25,000 of 73,000 available nonpremium tickets.
Yet Buffalo faces this issue just about every year around this time. It takes more than a quarter of the city's population of 259,000 to fill its stadium, compared with the small fraction of Chicago's 2.7 million residents who need to fill 65,000-seat Soldier Field to keep the Bears on the air. Its average december temperature is below freezing, its average snowfall during the month is more than two feet and the average Bills fan skips late-December games even in better years. With Jim Kelly at quarterback, Thurman Thomas in the backfield, Bruce Smith harassing opposing offenses and Super Bowl appearances an annual occurrence, even fans in the early '90s stayed away in enough numbers to cause local blackouts.
Even if all of these teams blacked out the last games of their home schedules, however, the NFL would still see huge improvement from its recent blackout numbers. From 26 blackout in 2010 to as little as two this year, it's a dramatic change. Granted, that's what can happen when the league deflects blame for blackouts directly onto team owners and members of Congress threaten to not only ban blackouts in facilities built with public money -- basically every NFL stadium but MetLife Stadium in New Jersey -- but to strip the league of its tax-exempt status.
Those blackouts that left December dark and dreary for local fans for so long are dwindling. When the NFL stops punishing fans for not freezing themselves through to see backups play out the stretch for teams with no hope of making the playoffs, maybe December will look less bleak to fans in all markets.
-- Written by Jason Notte in Portland, Ore.
>To contact the writer of this article, click here: Jason Notte.
>To follow the writer on Twitter, go to http://twitter.com/notteham.
>To submit a news tip, send an email to: tips@thestreet.com.
RELATED STORIES:
>>What A Season Full Of NFL Saturdays Would Look Like
>>The San Diego Chargers Are NFL's Blackout Grinch
>>NFL Blackout Backlash Deserves Thanks
Jason Notte is a reporter for TheStreet. His writing has appeared in The New York Times, The Huffington Post, Esquire.com, Time Out New York, the Boston Herald, the Boston Phoenix, the Metro newspaper and the Colorado Springs Independent. He previously served as the political and global affairs editor for Metro U.S., layout editor for Boston Now, assistant news editor for the Herald News of West Paterson, N.J., editor of Go Out! Magazine in Hoboken, N.J., and copy editor and lifestyle editor at the Jersey Journal in Jersey City, N.J.