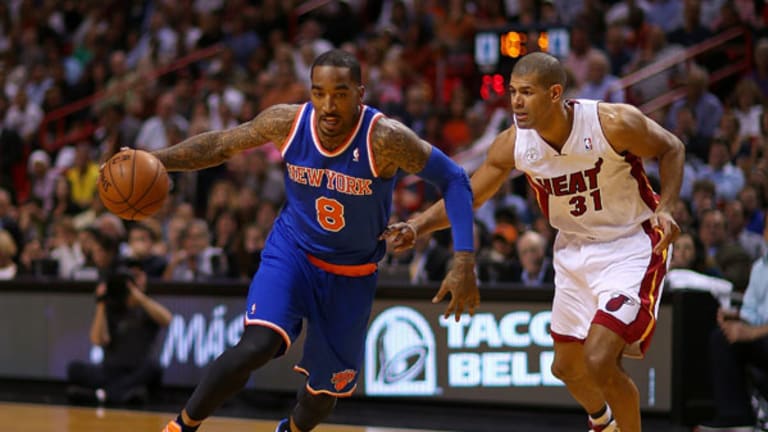 Publish date:
'Investing' in Knicks vs. Heat: NBA Eastern Conference Finals
The best time to invest in tickets for resale is before the matchups are decided.
The best time to invest in tickets for resale is before the matchups are decided.
NEW YORK (TheStreet) -- Juan Ruiz, a 30-year-old NBA fan, is betting on a New York Knicks-Miami Heat showdown in the Eastern Conference finals. With less than a month till game one, Ruiz has wagered $1,655 to see the two teams meet at Madison Square Garden (MSG) - Get Madison Square Garden Co. Class A Report.
Believing that he will not have a shot at limited tickets through
Ticketmaster
( TKTM) when matchups are decided, Ruiz decided to buy a pair of 100-level tickets for the contingent game through reseller
StubHub
, an
eBay
company. Excluding fees, each ticket cost him $750.
If the Knicks don't make it to the finals, StubHub will give him a full refund. But if they do, and ticket prices skyrocket closer to game one, Ruiz said he would consider reselling his tickets.
The purchase seems risk-free, unless one believes that ticket prices in the secondary market would drop closer to game day. Highly unlikely, says Brittany Menard, ticket broker and author of
.
Demand, says Menard, is at its highest after the initial sale of tickets to the general public. If the event is a quick sellout -- which is expected if the Knicks are in the finals -- "fans will be left scrambling for tickets and would be willing to pay more money on the secondary market to secure their seats."
Madison Square Garden has a total capacity of around 19,000 seats for New York Knicks home games, but a representative for MSG would not disclose how many tickets will be made available for the finals. Season subscribers are offered seats before tickets can be sold to the public.
For big games, Menard says teams hold back the majority of tickets for a number of reasons: corporate partnerships, team and building sponsors, promotions, friends and family associated with the team, contests and season-ticket holders. "Some premium seats are never even released to the general public and are held back to be auctioned off on sites like Ticketmaster's TicketExchange," says Menard.
Also see:
New York Knicks Tickets: 'Tantalizing'
To make a profit in the secondary market, Menard -- who has been buying and selling tickets since 2006 -- explains that the "investor" should buy the tickets before the matchups are decided.
According to ticket search engine
TiqIQ,
for the NBA Eastern Conference finals, the average ticket price in the secondary market for home game one of the Knicks is currently $1,523; the average ticket price for the first Miami home game is currently $592.
Chris Matcovich, a representative of
TiqIQ, says Ruiz, who is actually based in Miami, would have been better off buying tickets for the Heat home games. "Florida in general is a fairly weak sports market; tickets on the resale market for most of the professional sports teams tend to be cheap," Matcovich said.
If Ruiz is just looking to save money to see the game, Miami would be the cheaper way to go. But if he's looking at it from the standpoint of an investor, the New York tickets could give him a bigger profit.
"The Knicks tickets have a higher value right now because of their previous lack of post-season success. People are excited to see the team play and will pay top dollar," says Menard. "The Miami Heat are obviously a favorite to go all the way, so their tickets are valued at less right now because their fans have grown to expect them to go deep in the playoffs."
StubHub notes that as of April 29, the Knicks are the top selling tickets for contingent game one of the finals.
Also see:
10 Most Expensive Trips to the Ballgame in 2013
Given the right circumstances, buying tickets for contingency games in the secondary market and then reselling for a profit is certainly possible, says Menard, who has put herself through university by being a ticket broker. She warns resellers, however, about doing business with Web sites that do not have security measures in place. "If the game is not played, you should get a full refund, including fees paid," she says.
Menard adds that resellers should also be reminded of the time-sensitive matter of playoff games. "Teams don't release the tickets until the matchups are decided, leaving only a few days for the tickets to be shipped," Menard says. "If there is an option to buy electronic tickets instead of hard tickets, buy those so they can be emailed to the buyer."
Not a problem for Ruiz, who bought his tickets weeks in advance. Although he's eager to watch the Knicks and the Heat in the Eastern Conference finals at Madison Square Garden, he'd give up his tickets -- if the price is right.
Whether he will see Knicks vs. Heat matchup -- if it happens -- or be convinced to resell could be a "game-time decision."
-- Written by Marilen Cawad in New York.
Disclosure: TheStreet's editorial policy prohibits staff editors and reporters from holding positions in any individual stocks.