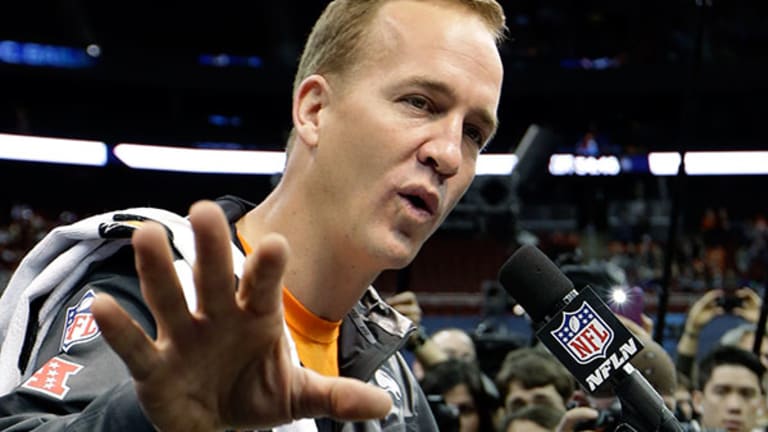 How to Successfully Avoid the Super Bowl
Half of the U.S. population isn't going to watch the game on Sunday. These are some of the best ways to join Tom Brady and the other game day contrarians.
PORTLAND, Ore. (TheStreet) -- About half of the country tuned in to the Super Bowl last year, which means that more than half of the country didn't watch the game at all and couldn't care less about it.
Because the National Football League, its sponsors and its broadcast partners can't squeeze a dime out of people if they're not watching, the other half of the country's 314 million people becomes a non-factor when the game draws closer. Why weren't those people part of the 164 million people who tuned in at one point or another last year? Why couldn't they just suck it up and join the 109 million who watched the event the whole way through? They couldn't even be a part of the 104 million who watched Beyonce and Destiny's Child at halftime last year? How dead do you have to be inside not to watch Beyonce & Co. perform Single Ladies?
As it turns out, the rest of the country's national wonders don't just crumble into the sea on Super Bowl Sunday. Restaurants without door-sized televisions don't just close, theaters don't stop showing movies or staging plays (except on Broadway, where the Super Bowl is taking over surrounding streets and postponing shows) and gyms don't just assume everyone else is stuffing themselves with chicken wings, chips and beer and chalking the day up as a loss.
Read: 5 Craft Beer Brewers Who Need A Super Bowl Ad
Even people who dedicate their whole lives to football aren't necessarily enamored of the idea of blowing one of their few Sundays off by watching a game. New England Patriots quarterback Tom Brady has been Denver Broncos quarterback Peyton Manning's longtime archnemesis and had a tough "U Mad, Bro?" exchange with Seattle Seahawks cornerback Richard Sherman after a loss in Seattle a few years back, but he's one of the most accomplished members of the NFL ranks and a scholar of the game. Even he won't be watching Sunday's game.
So how do you do it? How do you avoid the Super Bowl when your local grocery store has stacked beer cases into the shape of goal posts and your local takeout places will all be saddled with hourslong waits on gameday? Any introvert knows that answer: Go where the people aren't.
Bars, pubs, the local Buffalo Wild Wings: These are all terrible options for avoiding the game. If you head to the movies to catch up on Oscar nominees or see if Kevin Hart really does as much to balance out Ice Cube in Ride Along as U.S. moviegoers think he does, you have to at least attempt to seal yourself inside one of the mausoleums that are Super Bowl Sunday movie theaters. Last Feb. 3, movie theaters across the U.S. still took in more than $10.5 million, according to Box Office Mojo. That's down more than 66% from just a day earlier and still less than half of what they'd earn the following Sunday, but double the Monday total and higher than any Monday-Thursday date that wasn't Presidents Day or Valentine's Day.
The top box-office draw that day? The zombie love story Warm Bodies, which accounted for roughly 32% of all box office revenue that day. Hansel and Gretel: Witch Hunters and Oscar-nominated Silver Linings Playbook each made more than $1 million that day as well.
Want to go to dinner afterward? You're probably never going to have a better chance of making that 7 p.m. reservation. The folks at restaurant reservations site OpenTable note that reservations are roughly half the volume you'd see on Sundays before or after the game. Plus, you're two weeks ahead of the amateur-hour rush that is Valentine's Day reservation booking. With Valentine's Day falling on a Friday this year, that's feasibly three whole nights you'd have to contend with packed houses, shortened "special" holiday menus, higher prices and people who don't spend a whole lot of time out in public during the rest of the year. Super Bowl Sunday is your reward for not engaging in that groupthink and enjoying your favorite restaurants when they need your business most.
Maybe you'd just prefer to stay home and watch something else. Well, that's not exactly an issue either. Netflix, Hulu, Amazon Instant Video, Apple iTunes and other services are based on offering alternatives to what networks, cable and satellite spoonfeed you. Last year's Super Bowl ratings were impressive, but they were helped by the other networks punting the evening away by filling their evening slate with repeats. As ABC, NBC, CBS and Fox all get the opportunity to air the Super Bowl on a rotating schedule, none of them are particularly inclined to ruin a competitor's evening by running a show people might actually want to watch.
Read: NFL Sponsorship Is a Thankless Trap
PBS has no such qualms. Like the NFL, they're subsidized with taxpayer dollars and want to make the most out of that money. That's why they're not particularly nervous about running new-to-the-U.S. episodes of Julian Fellowes' sweeping British historical drama Downton Abbey while the Super Bowl is still on.
The 2013 Super Bowl averaged 109 million viewers, but only 95 million stuck around by the time Downton Abbey started at 9 and only 89 million were around by the time the show ended. Even as the NFL averaged 92 million viewers during Downton Abbey's time slot, the little drama still managed to pick up 8.8 million viewers. It's 9.6% of the Super Bowl's audience, but it's still a population the size of New Jersey tuning out the Super Bowl in favor of a show about 1920s British aristocracy.
If you're really looking for that smug sense of Super Bowl superiority, though, there's not better way to go about it than hitting your local 24-hour gym. Classes might be canceled, but you'll have the equipment to yourself while the guy who spends every Sunday grunting and dropping free weights starts on his fifth dozen of wings and second tub of blue cheese while his girlfriend who lets out belabored sighs when you're on the reclining bike for more than 30 minutes mainlines yet another 20-ounce diet soda. You may not be completely alone, but the handful of people in there with you will similarly appreciate the silence.
-- Written by Jason Notte in Portland, Ore.
Read: Super Bowl Home Rental Is A Tempting Gamble
>To contact the writer of this article, click here: Jason Notte.
>To follow the writer on Twitter, go to http://twitter.com/notteham.
>To submit a news tip, send an email to: tips@thestreet.com.
Jason Notte is a reporter for TheStreet. His writing has appeared in The New York Times, The Huffington Post, Esquire.com, Time Out New York, the Boston Herald, the Boston Phoenix, the Metro newspaper and the Colorado Springs Independent. He previously served as the political and global affairs editor for Metro U.S., layout editor for Boston Now, assistant news editor for the Herald News of West Paterson, N.J., editor of Go Out! Magazine in Hoboken, N.J., and copy editor and lifestyle editor at the Jersey Journal in Jersey City, N.J.