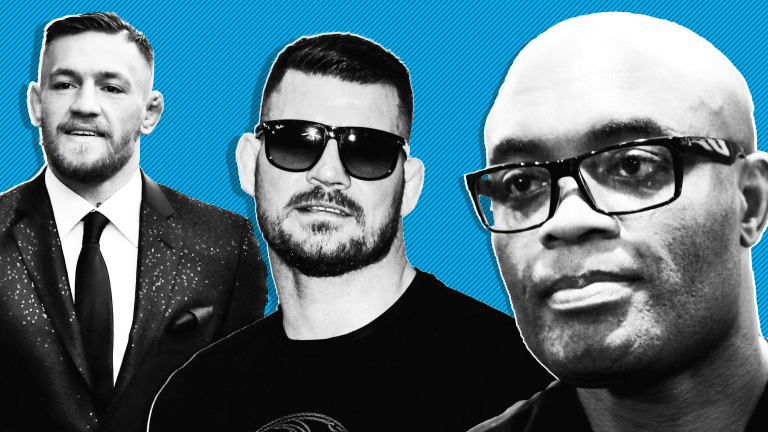 Who Are the Highest-Paid UFC Fighters of All Time?
The UFC is one of the most popular fighting organizations in the world - here are its highest-paid fighters.
Ultimate Fighting Championship fighters make more than the average U.S. citizen, but outside of the top-tier fighters, the average UFC combatant has to scratch for a decent living.
According to industry figures, the average UFC fighter earns about $138,000 on an annual basis, well ahead of the $45,000 yearly salary of the average U.S. full-time worker. About 187 UFC fighters earned more than $100,000 last year, while 37% of UFC fighters earned less than the average American's yearly salary.
There is a significant imbalance to the $138,000 UFC figure, as the top 20 or so fighters earn the lion's share of the cash in the UFC circuit.
How much do the highest-paid UFC fighters actually make? Read on to see how your favorite UFC knockout artist earns in the ring these days.
A quick note: It's worth noting that the figures cited below are for UFC bouts only and don't reflect earnings made before 2004, when the UFC officially started tallying fighter earnings. Any earnings made in bonuses and sponsorship opportunities tied to UFC appearances also aren't included, as they can't be substantiated.
The Highest-Paid UFC Fighters of All Time
1. Conor McGregor

The feisty Irishman is far and away the highest-paid UFC fighter, and is one of the wealthiest athletes in the world. A part-time UFC fighter who also steps into the ring for the Mixed Martial Arts (MMA) world, McGregor earned $9.5 million for his UFC-only fights. However, for his famous fight with Floyd Mayweather, McGregor earned $75 million.
2. Michael Bisping

A relative unknown to the average sports fan, Bisping has made his money the hard way in the ring - by fighting often. The 2016 UFC welterweight champion, Bisping has stepped into the ring as a UFC fighter 29 times, earning about $7.1 million. He is now retired.
3. Georges St-Pierre

Another UFC fighter who has hung up his gloves, but who was a consistent force in the ring, St-Pierre fought 22 times under the UFC banner, earning approximately $7 million in the ring.
4. Anderson Silva

This highly-respected UFC champion has also been a frequent UFC combatant, fighting 24 times and earning about $7 million. He is among the most highly-decorated UFC champions and figures to be a first-ballot Hall-of-Famer.
5. Mark Hunt

With $6.4 million in UFC earnings, Hunt is among the highest-earners on the circuit. The New Zealand fighter of Samoan descent is highly celebrated for his fight against Dana White at UFC Fight Night 33, one of the closest and entertaining fights in UFC history.
6. Donald "Cowboy" Cerrone

The Cowboy has earned $6.14 million in the UFC ring during his career. Cerrone is among the top fighters in the UFC as measured by victories, with 22 stacked up against UFC competition. He also holds the UFC record for finishes, at 16 victories.
7. Alistair Overeem
The Dutchman is a crowd favorite in the ring, and not just in the MMA, either. He's earned approximately $6.1 million as a UFC fighter. While never a UFC champion, Overeem does hold titles as an MMA and K-1 kickboxing champion at the same time.
8. Daniel Cormier

At $6.06 million in earnings, Cormier has certainly made his mark on the UFC circuit. He's a two-time UFC champion and a former Olympic wrestler and the first-ever UFC fighter to defend two titles in two weight classes.
9. Vitor Belfort 

The American-Brazilian powerhouse has fought 26 times under the UFC banner, and did win a light-heavyweight championship title and a heavyweight title. He also fought in the UFC's middleweight division and has earned roughly $5.1 million as a UFC fighter. He's also one of the top "finishers" in UFC history, closing out 14 fights with knockout power.
10. Brock Lesnar

One of the most celebrated mixed martial arts fighters in history (and also a former professional wrestler and a former NFL player cut by the Minnesota Vikings), Lesnar only fought eight times as a UFC combatant, but he did earn about $5.1 million doing so. He is retired.
11. Jon Jones
A controversial but highly-successful UFC fighter, Jones is the current UFC light heavyweight champion and was the youngest-ever UFC title holder, after his 2011 win over Mauricio Rua. Jones has earned approximately $5.1 million in 21 UFC fights.
12. Andrei Arlovski

The Belarusian mixed martial arts and former UFC heavyweight champion has earned $5.08 million on the UFC circuit. He sports a 3-2 record in UFC title matches.
13. Rashad Evans

A 2019 inductee into the UFC Hall of Fame, the now-retired Evans is a UFC light heavyweight champion who has earned about $4.6 million in the ring under the UFC banner.
14. Lyoto Machida

With $4.58 million in UFC earnings, Machida is another top earner on the circuit. The Brazilian mixed martial artist is a former UFC light heavyweight champion and a contender in the UFC middleweight division. He combined a unique wrestling and sumo style to become one of the most popular - and longest-lasting - fighters in UFC history.
15. Mauricio Rua

Known as the "Shogun," Rua has earned $4.54 million as a UFC fighter. He's a former UFC light heavyweight champion and currently ranks among the high end of the light heavyweight class for the UFC. His rematch with Machida in 2010 is a fight UFC fans still talk about today. It ended with a knockout win for Rua, despite the fact that he seriously injured his knee during the bout.
16. Stype Miocic

With $4.48 million in total UFC fight earnings, the Croatian-American UFC fighter is a two-time (and current) heavyweight champion and holds the record for most fight-night bonuses in the UFC heavyweight class, with nine awards.
17. Dan Henderson

A former Olympic wrestler, Henderson is also a UFC middleweight champion at UFC 17, but is better known in the MMA world, where he bested 22 MMA champions in the course of a long career. Henderson earned about $4.4 million in the ring as a UFC fighter.
18. Chuck Liddell

One of the more popular and pioneering UFC battlers, Liddell has earned $4.38 million in the ring with the UFC. The now 50-year-old Liddell is retired, but is credited with bringing mixed martial arts into the U.S. professional sporting mainstream. He was inducted into the UFC Hall of Fame in 2009.
19. Nate Diaz

With $4.37 million in career UFC earnings, the 34-year-old Diaz is one of the more celebrated welterweight fighters in the UFC stable. He ranks sixth among current UFC welterweights and his fight against McGregor at UFC 202 is one of the highest-rated telecasts in UFC history.
20. Frankie Edgar

Edgar has earned $4.34 million as a UFC fighter, competing mainly in the featherweight class, although Edgar is a former welterweight champion. His championship bout (and win) against B.J. Penn was rated by ESPN as the best upset of the year at the 2010 ESPYs.
It's never too late - or too early - to plan and invest for the retirement you deserve. Get more information and a free trial subscription toTheStreet's Retirement Dailyto learn more about saving for and living in retirement. Got questions about money, retirement and/or investments? EmailRobert.Powell@TheStreet.com.