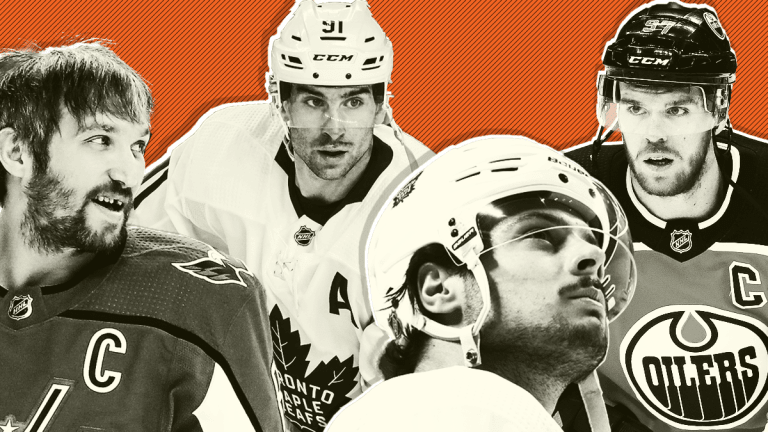 30 Highest Paid NHL Players
Led by two Maple Leafs players, these are the highest-paid players in the NHL for the upcoming 2019-20 season.
Led by two Maple Leafs players, these are the highest-paid players in the NHL for the upcoming 2019-20 season.
Last year, the St. Louis Blues shocked the hockey world. One of the worst teams in the NHL in the first half of the season, the Blues rebounded to make the playoffs and stun everyone by winning their first ever Stanley Cup. It was a championship to remember.
Only one member of that championship Blues team is featured on this list, and he is all the way down at number 28.
You don't need the highest-paid players in the game to win a championship, but many on this list are still some of the best in the game right now. And many of them are making a lot of money not from yearly salary, but from signing bonuses - at least according to data from Spotrac.
Here are the highest-paid players in the NHL coming into the 2019-20 season.
1. Auston Matthews
2019 Salary: $15.91 million
Technically, according to Spotrac, Matthews is making just $700,000 in base salary this season. The remaining $15.21 million is part of the signing bonus from the contract extension he signed with Toronto in February of 2019: five years, $58 million.
Auston Matthews was drafted first overall by the Maple Leafs after impressing in both junior hockey leagues and professionally in Switzerland. He rewarded them with a phenomenal rookie season, playing in every game and scoring 40 goals (second in the NHL). With Matthews as a star center, Toronto has made the playoffs in each of his first three seasons in the league, though they failed to advance out of the first round each time. Still, with Matthews making the All-Star Game all three years, Toronto decided to extend him midway through 2018-19 while he was on his way to a new high in points.
2. John Tavares
2019 Salary: $15.9 million
Right behind Matthews is another Maple Leaf and former No. 1 overall pick. But Tavares wasn't drafted by Toronto, and is only entering his second season with them. Tavares made a name for himself with the New York Islanders, who drafted him in 2009. He quickly became a star for the Islanders, and by 2011 was signed to a contract extension - followed by another in 2011. But Tavares decided to test the open market after the 2017-18 season, and decided to sign a 7-year deal with the Maple Leafs for $77 million ($650,000 of his money this season is in salary, while $14.99 million is part of his signing bonus).
He rewarded the Maple Leafs by establishing a career-high in goals (47, third in the league) and points (88, 16th in the league). With the help of Tavares, Toronto made the playoffs, where they fell to Boston in the first round. Tavares had five points in seven games.
3. Carey Price
2019 Salary: $15 million
Carey Price has been a mainstay with the Canadiens since they drafted him in the first round in 2005. After the 2014-15 season, he won the Hart Memorial Trophy, the first goaltender to do it since Jose Theodore in 2002 (when he was also a Canadien). In 2017, Montreal signed him to a massive extension, the fourth one they had given him since drafting him. This was his biggest yet: eight years, $84 million.
Price made his debut with Montreal in 2007. Among active goaltenders, he is seventh in wins, seventh in saves, eighth in saves percentage and ninth in GAA. He has had 44 shutouts in his career, eighth among active players.
4. Erik Karlsson
2019 Salary: $14.5 million
Erik Karlsson is just a few months removed from a big contract extension with the Sharks worth $92 million over eight years. It's not his first long extension, either. Karlsson was drafted in the middle of the first round by the Ottawa Senators in 2008, and in 2012 the team signed him to a 7-year extension.
Karlsson was a major contributor to the Senators, particularly in 2015-16 where he finished 4th in the NHL in points thanks to a league-leading 66 assists and 2016-17 where he fought through injury to help get the Senators to the Eastern Conference Finals. Just before the 2018-19 season, he was traded to the San Jose Sharks.
5. Artemi Panarin
2019 Salary: $14 million
Artemi Panarin never went drafted and ended up playing internationally. When the Blackhawks finally took a chance on him and signed him to a 2-year deal in 2015, five years after he went undrafted, he rewarded them by winning the Calder Memorial Trophy thanks to his 77 points. By 2016 Chicago had extended him, but in the offseason in 2017 they traded Panarin to the Columbus Blue Jackets.
This past offseason, Panarin signed with the New York Rangers in free agency for $81.5 million over seven years. Per Spotrac, this year he'll be making $1 million in base salary and $13 million in signing bonuses.
6. Connor McDavid
2019 Salary: $14 million
Connor McDavid was selected first overall by the Edmonton Oilers in 2015, but his rookie season was marred by injuries and he only played in 45 games. In his sophomore year, though, he played in every game, led the league with 100 points thanks to an also-league leading 70 assists, and finished the season as winner of the Hart Memorial Trophy. After that season, McDavid signed a lucrative extension: eight years, $100 million, keeping him in Edmonton through 2026.
McDavid has continued to be one of hockey's best young players since signing the extension, leading the league in points again the next year with 108 and establishing a personal best in 2018-19 with 116.
7. Tyler Seguin
2019 Salary: $13.5 million
Though Tyler Seguin was drafted second overall by the Bruins in 2010 and they signed him to an extension prior to the 2012-13 season, in the offseason afterward they traded him to the Dallas Stars.
Since being traded, though, Seguin has become one of the more consistent goal scorers in hockey, finishing the season top 10 in goals four times since becoming a Star. The change happened immediately: in his first season with Dallas, he was fifth in goals and fourth in points. Prior to the 2018-19 season, Dallas extended Seguin for $78.8 million over eight years.
8. Jamie Benn
2019 Salary: $13 million
Seguin's teammate, Jamie Benn has been with Dallas his whole career, drafted in the fifth round by the Stars in 2007. He joined Dallas in 2009, and ended up playing in every game his rookie year, and has been a fixture for the Stars ever since.
By 2013, Dallas had signed Benn to his first contract extension and he had started to make the leap to one of the best scorers in hockey. At the end of the 2014-15 season, he was able to finish the season leading the NHL in points with 87, and the next year finished with 89. After this season, Benn was extended yet again: eight years, $76 million.
9. Mark Stone
2019 Salary: $12 million
Mark Stone was drafted in the sixth round of the 2010 NHL Entry Draft, didn't make the team until 2012, and saw limited action in his first two seasons. So much so that he still qualified as a rookie in the 2014-15 season, finishing second in Calder Memorial Trophy voting and leading the league in takeaways. Stone continued to play well on offense but established himself as a defensive forward, a mainstay near the top of voting for the Frank J. Selke Trophy.
He has finished in second place for the Selke in each of the last three seasons, including last season when he was traded to the Golden Knights midseason. Soon after, Las Vegas signed him to an 8-year, $76 million contract extension.
10. Drew Doughty
2019 Salary: $12 million
Drew Doughty has been a Los Angeles King for over a decade, a two-time Stanley Cup champion. Drafted second overall by L.A. in 2008, in 2015-16 he won the James Norris Memorial Trophy.
Doughty is currently on his second big extension by Los Angeles; in 2011 he was signed to an 8-year extension worth $56 million. As that extension was nearing expiration, he signed another 8-year extension in 2018, this time worth $88 million.
11. John Carlson
2019 Salary: $12 million
Drafted in 2008 by the Capitals, John Carlson was a mainstay on many of those Washington teams that saw their fair share of playoff heartbreak. He was also there, though, during their incredible 2018 run to a Stanley Cup, scoring 20 points (15 assists) throughout those playoffs.
By then, Carlson had established himself as one of the better scoring defensemen in the game, and after their championship Washington signed him to an 8-year contract extension for $64 million.
12. Jacob Trouba
2019 Salary: $12 million
Jacob Trouba was drafted 9th overall by the Winnipeg Jets in 2012, and after one season in college joined the team in 2013. The 2018-19 season was Trouba's first appearing in ever game, and he established a new high in points with 50. In the offseason, the Jets traded Trouba to the Rangers, getting a first round pick in exchange for him. The Rangers subsequently signed the defenseman to a 7-year, $56 million contract.
13. Nikita Kucherov
2019 Salary: $12 million
Tampa Bay's stunning first-round exit in the 2019 NHL playoffs may have made some forget, but Nikita Kucherov won the Hart Trophy that season for a historical year where he helped lead the Lightning to easily the best record in the NHL. His 128 points led the NHL by a wide margin, and he also led the league with 87 assists.
Kucherov's incredible season was a nice reward for the Lightning, who had signed him to an 8-year extension worth $76 million in the offseason. Kucherov has been a lifelong Lightning member, drafted by them in the second round in 2012.
14. Sebastian Aho
2019 Salary: $12 million
Drafted by the Hurricanes in 2015, Aho is coming off a breakout 2018-19. He played in 82 games for the second time in his three seasons, scoring 30 goals and 50 assists for a total of 83 points on the year. Carolina made it to the Eastern Conference Finals where they fell to the Bruins, but Aho had 12 points including five goals throughout the playoffs.
For his impressive performance, Aho was ready to leave in free agency for Montreal, signing a 5-year deal for $42.27 million. But the next day, Carolina matched the offer, and he remains a Hurricane.
15. Sergei Bobrovsky
2019 Salary: $11.5 million
Bobrovsky went undrafted in 2006, playing in Russia before the Flyers signed him to goal-tend in 2010. He started most games in his rookie season before being relegated to back-up the next and getting traded to Columbus after two seasons. But Bobrovsky blossomed with the Blue Jackets and won the Vezina Trophy in his first year. He would win it again for them in 2016-17, coming in third for voting for the Hart as well. Bobrovsky was a mainstay with the Blue Jackets for seven years, and was their goalie when they upset the Lightning last year.
This season, though, Bobrovsky will be a Panther, signing with Florida in the offseason for $70 million over seven years.
16. Anze Kopitar
2019 Salary: $11 million
Like Doughty, Anze Kopitar is a lifelong King and has two Stanley Cups to show for it. A mainstay with Los Angeles since 2006 (one year after being drafted), Kopitar also has two Selke awards (one in 2016 and one in 2018) and the 2016 Byng Trophy.
In 2008, a few years before his first Stanley Cup, Kopitar signed a 7-year extension worth $47.6 million. In 2016, two years after his second Stanley Cup, he signed an 8-year extension worth 80 million.
17. Max Pacioretty
2019 Salary: $10.5 million
Pacioretty played for the Canadiens for 10 seasons. His high in goals was 39 during the 2013-14 season, while his points high was 67 in both the 2014-15 and 2016-17 seasons.
Prior to the 2018-19 NHL season, Montreal traded Pacioretty to the Golden Knights, who immediately signed him to a 4-year, $28 million extension.
18. Brent Burns
2019 Salary: $10 million
Burns was originally drafted by Minnesota, but concussion problems marred his tenure with the Wild. In 2011, he was traded to the San Jose Sharks, who extended him for five years. With the Sharks, Burns became a more consistent player, appearing in more games and shining on defense, winning the Norris Trophy in 2017 as well as being the runner-up in voting in 2019.
Burns' last extension came in 2016, when he signed an 8-year deal worth $64 million.
19. Logan Couture
2019 Salary: $10 million
Couture was the Sharks' first-round draft pick in 2007 and has been with the team ever since. In 2011, Couture re-signed with San Jose for two years, and in 2013, he signed a 5-year extension for $30 million. In the offseason in 2018, they extended Couture again, this time for eight years at $64 million.
20. Alexander Ovechkin
2019 Salary: $10 million
Alexander Ovechkin is, to put it mildly, an NHL legend. Three Hart Trophies. Eight Richard Trophies, which translates to being the NHL's leading goal scorer eight times. He is the league's leading active scorer. And in 2018, Ovechkin finally got the trophy he wanted most of all: the ever-elusive Stanley Cup.
Ovechkin was such an instant star since being drafted first overall in 2004 that his last contract extension was back in 2008: 13 years, $124 million. This coming season will actually be the penultimate year on that contract.
21. Jack Eichel
2019 Salary: $10 million
The second overall pick in 2015, Eichel has steadily improved in his first four years with the Sabres. This culminated in a 82-point season through 2018-19, with highs in both goals and assists. Buffalo has had him signed long-term for a few years already, though. In 2017 Eichel signed to an 8-year contract extension worth $80 million.
22. Jeff Skinner
2019 Salary: $10 million
An impressive rookie year for the Hurricanes saw Jeff Skinner take home the Calder Trophy in 2011, and Skinner was a mainstay for Carolina through 2018. In that offseason, though, he was traded to the Sabres. In his first season with Buffalo he tied his career-best in points while establishing a new high with 40 goals. In the offseason this summer, Buffalo extended Skinner with an 8-year deal worth $72 million.
23. Blake Wheeler
2019 Salary: $10 million
Blake Wheeler was first drafted by Phoenix, and first played in the NHL with Boston. But at this point he's more known for his tenure with the Winnipeg Jets, who he signed with in 2011 and has played for ever since. He has been in the top 10 in assists in four different seasons, most notably leading the league with 68 in the 2017-18 season (though his career high in assists is 71, which he achieved the year after).
Wheeler initially signed a 2-year deal with the Jets, and when that expired he re-signed with Winnipeg for five years. Prior to the 2018 season, Wheeler signed a 5-year extension worth $41.25 million.
24. Matt Duchene
2019 Salary: $10 million
Duchene played most of his career with the team that drafted him, the Colorado Avalanche, before being traded to Ottawa, and then Columbus the next year. But the center now has a new home coming into the 2019-20 season. In July of 2019 it was announced that Duchene was signing with the Nashville Predators for a 7-year, $56 million deal.
25. P.K. Subban
2019 Salary: $10 million
P.K. Subban made his name as a star in Montreal, developing into of of the fiercest defensemen in the league and winning the Norris Trophy in 2013. Debuting in 2009, he signed an 8-year extension worth $72 million in the 2014 offseason. In the 2016 offseason, he was traded to the Predators and continued to play at a high level. This offseason, with three years still left on his contract, Subban was traded to the New Jersey Devils.
26. Patrick Kane
2019 Salary: $9.8 million
Patrick Kane has had a particularly illustrious career. Drafted first overall by the Blackhawks, he would go on to win three Stanley Cups and a Hart Trophy as Chicago's right wing. A consistent All-Star, Kane had 106 points in his Hart-winning season in 2015-16, a figure he topped by scoring 110 points in 2018-19. In the 2013 playoffs, when the Blackhawks were champions for the second time in Kane's career, Kane won the Conn Smythe Trophy.
Currently, Kane is signed through 2023. His last contract extension came in 2014, when he signed an 8-year deal worth $84 million.
27. Jonathan Toews
2019 Salary: $9.8 million
Toews, Kane's Chicago teammate, won the Conn Smythe Trophy when the two of them first won a Stanley Cup for the Blackhawks back in 2010. He was also the recipient of the Selke Trophy in 2013, as well as a runner-up in the voting in both 2011 and 2015. Like Kane, Toews was last extended in 2014 with an 8-year, $84 million contract.
28. Vladimir Tarasenko
2019 Salary: $9.5 million
As mentioned previously, Tarasenko is the lone member of the Stanley Cup champion St. Louis Blues, and he has been an incredibly productive player for them for years. Tarasenko was among the top 10 goal scorers in the NHL for three consecutive seasons from the 2014-15 to the 2016-17 season. During their playoff run, Tarasenko scored 11 goals in 26 games.
The Blues signed Tarasenko to a contract extension back in the 2015 offseason, an 8-year deal worth $60 million.
29. Steven Stamkos
2019 Salary: $9.5 million
Stamkos was the first overall pick back in 2008 by the Lightning, and he has been with Tampa his entire career. In just his second year in the league, he scored 51 goals to lead the league in scoring, and then did the same two seasons later with 60 goals. In the Lightning's incredible 2018-19 regular season, he was fourth in hockey with 45 goals.
Stamkos has signed multiple extensions with Tampa Bay, his last being in 2016: an 8-year, $68 million contract to keep him with the Lightning through 2024.
30. Evgeni Malkin
2019 Salary: $9.5 million
Malkin is a Penguins legend, a three-time Stanley Cup champion. His first championship came in 2009, where his 36 points throughout the playoffs got him the Conn Smythe Trophy. He led the league with 113 points in the regular season that year; the next time he would lead the league would be 2011-12 season, and he won the Hart Trophy that season. He remains a productive player, and lead the playoffs in scoring in 2017 back when the Penguins last won a Stanley Cup.
Including this season, Evgeni Malkin has three years left on his contract. Back in 2013, he signed an 8-year extension worth $76 million to keep him in Pittsburgh.