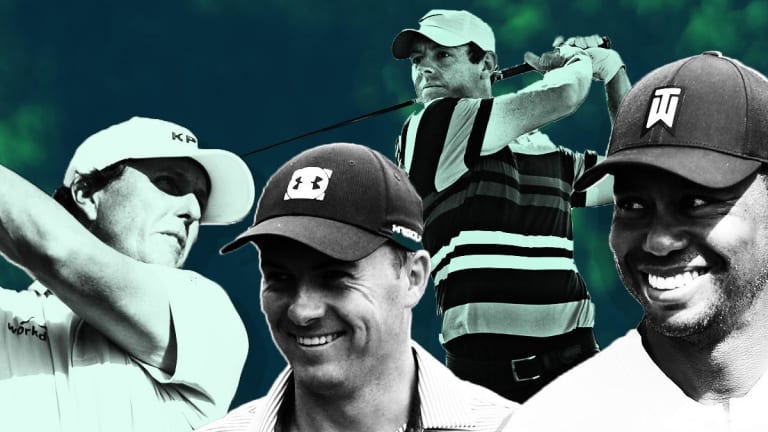 Who Are the Highest-Paid Golfers ?
2019 was a banner year for professional golf, and a profitable one for these top linksters.
Golf had a great run in 2019, with Tiger Woods winning the Masters, Rory McIlroy winning the Players Championship, and Brooks Koepka repeating as the winner of the PGA Championship at historic Bethpage Black last May (Koepka won both the PGA and the U.S. Open in 2018).
The sport traditionally rewards its greatest and most gifted players, showering them with cash, trophies, luxurious venues to ply their trade, and the opportunity to build their brand by being on television and the Internet all the time.
Which professional golfer makes the most money so far in 2019 -- as of Aug. 8? Some of the usual suspects make the list, but there are a few surprises, too.
Top 5 Golf Professionals by Total Earnings
Tiger Woods
2019 Earnings: Estimated $45.15 million
Tiger Woods is the most popular and the best-paid golfer on the planet.
Woods earned $3.158 million on the PGA Tour in 2019, and earned an estimated $42 million in endorsement money for major brands like Nike (NKE) , Monster Energy (MNST) , and Bridgestone undefined . 
Besides winning the Masters, Woods also emerged victorious in the 2018 Tour Championship, his first win in years after battling injuries and personal scandal. Now, Tiger Woods once again sits atop the professional golf world -- and lands on the No. 1 spot of the sport's "best paid" list.
Phil Mickelson
2019 Earnings: Estimated $39.4 million
Phil "the Thrill" finds himself in a familiar place in the golfing world -- right near the top of the highest-paid list, but once again looking up at Tiger Woods.
Mickelson isn't likely complaining, as he earned $2.4 million in winnings in 2019, along with an additional $37 million in endorsement money, shilling for companies like Callaway (ELY) , Barclays (BCS) , KPMG, Exxon Mobil (XOM) , Rolex, and Amgen (AMGN) .
Mickelson did win the Pebble Beach Pro-Am this past February, but has had an otherwise lackluster season on the links. Yet, even if "Phil the Thrill" is crying about an off-year, he's also crying all the way to the bank, with about $40 million in total earnings.
Jordan Spieth
Earnings: Estimated $31.78 million
The three-time major championship winner may be having an off year on the course -- he hasn't won a championship and has earned $1.78 million, good for 58th place on the PGA Tour's money list through early August.
But the affable Texan does earn about $30 million in endorsement money and remains one of the biggest draws in professional golf. No doubt he'll be back in the winner's circle in 2020, and cashing some big checks along the way.
Rory McIlroy
Earnings: Estimated $37.7 million
A regular crowd favorite on the PGA Tour and across the world, the Ireland native won both the Players Championship and the Canadian Open in 2019, further cementing his status as one of the most celebrated and wealthiest professional golfers in the world.
He's earned $7.37 million in tour winnings so far in 2019, and earns an additional $30 million in endorsements for companies like Nike and Taylor Made.
Justin Thomas
Earnings: Estimated $26 million
Thomas is one of the up-and-coming stars on the PGA Tour, with one major championship (the 2017 PGA) under his belt, and a host of other world championships.
So far this year, Thomas has earned $3.17 million in on-the-course cash and approximately $23 million more in endorsement earnings for big brands like Titleist, Footjoy, Polo Ralph Lauren (RL) , Citigroup (C) , NetJets, Beats by Dre.
Thomas is only 26 years-old and should have a bright future in front of him as one of the legitimate young guns on the PGA Tour - he's one of the rare "under 25" players who have won a major golf championship.
Top 10 Professional Golfers by PGA Tour Money Listings
Brooks Koepka - $9.51 million 
Koepka has been a beast in 2019, claiming the PGA Championship in May and the WGC FedEx-St. Jude Invitational, a world golf championship event. Koepka is at his best in the bigger events. Besides his win at the PGA, Koepka finished in the top five at The Masters, The U.S. Open, and The British Open. His PGA earnings, as will all on the list, are up to Aug. 8.
Rory McIlroy - $7.37 million
The Irish superstar may not have won a much-coveted major tournament this year, but he came close with a win at the Players Championship outside of Jacksonville, Fla. -- the Players is often called the "Fifth Major" and it further cemented Mcilroy's status as a big player in big events.
McIlroy won $2,250,000 at the Players, along with an additional $1.3 million by winning the Canadian Open. At 30-years-old, Rory McIlroy is well-positioned to win more big tournaments for a decade or more to come.
Matt Kuchar - $6.27 million
The laconic Kuchar caught some flak for under-tipping his caddie after winning the Mayakoba Golf Classic in Mexico, but has rebounded nicely with another PGA Tour win at the Sony Open in Hawaii.
A noted steady player on tour, Kuchar has made 18 out of 19 cuts on the PGA Tour this season, thus ensuring a paycheck almost every week (PGA Tour players only earn a paycheck if they make the 36-hole cut every week).
Gary Woodland - $5.61 million
The 2019 U.S. Open Champion, which netted $2.25 million to the winner, gives Gary Woodland some new gravitas on the PGA Tour -- and likely with his accountant, too. Always a reliable competitor on the tour, Woodland now has amassed $5.61 million in tour earnings so far in 2019, which is a season-long high for the links veteran who made his debut as a PGA professional in 2009.
Aside from his U.S. Open title, Woodland also has one Top 5 and a pair of "top twos" on the PGA Tour this year, assuring him of padding his bank account in a year when he's broken through as one of golf's most celebrated players.
Xander Schauffele - $5.50 million
Xander Schauffele is another of golf's young guns taking the golfing world by storm in recent years. Always a strong contender in golf's major championships, Schauffele finished third in the U.S. Open at Pebble Beach, finished second behind Tiger Woods at the Masters, and won a World Golf Championship event - the HSBC Champions event, netting him $1.7 million alone for the victory.
That's not all, Schauffele also won the Sentry Tournament of Champions in Hawaii last January, which earned him $1.3 million. Of all the under-25 golfers on the PGA tour, Schaufelle's name often comes up as a future major championship winner, and 2020 wouldn't be too soon.
Dustin Johnson - $5.44 million
One of the longest hitters on tour, along with Woodland and McIlroy, Dustin Johnson is a former U.S. Open winner, and usually a dependable bet to win at least one PGA tour event each year. He did that year and then some, besting McIlroy in the prestigious WGC-Mexico Championship in February, which padded Johnson's bank account to the tune of $1.745 million. He also had "top two's" at a pair of majors -- The Masters and the PGA Championship, which earned him an additional $2 million in prize winnings for the year.
Patrick Cantlay - $4.950 million 
Like Schauffele, Cantlay is a young PGA Tour professional often cited as a player with the most potential for greatness, and 2019 has shown that potential is coming to fruition.
Earning almost $5 million so far in 2019, Cantlay found himself in the winner's circle at The Memorial, one of pro golf's most sought after titles, since its host is golfing legend Jack Nicklaus. Cantlay pocketed $1.64 million for winning the Memorial, giving him both a grand payday but also the satisfaction of having the tournament's trophy handed to him by Nicklaus, usually cited as the greatest golfer in history.
Webb Simpson - $4.48 million
The North Carolina native had already cemented his place in golf history after winning both the U.S. Open and the Player's Championship, which alone would secure a great career for any professional golfer. But Simpson isn't done yet. While he hasn't entered the winner's circle in 2019, the dependable Simpson has six "top five's" so far this year, including a second at three PGA events and a fifth-place finish at The Masters. As pure a putter and ball striker as they come, expect Simpson to add to his championship laurels next year on the PGA Tour.
Paul Casey - $4.18 million
One of Britain's finest golfers over the past 20 years, Casey was a winner at the Valspar Championship in March, earning him $1.2 million, and finished second to Phil Mickelson at Pebble Beach last February (he lost in a playoff) but earned $800,000 in doing so. A "top three" behind Dustin Johnson at the WGC Mexico event earned Casey an additional $472,000.
Jon Rahm - $4.10 million
The "Rahminator" as he's known among professional golf galleries, Jon Rahm is another in the long list of Spanish golfing greats, along with Seve Ballesteros and Sergio Garcia, to come along in the past few decades. This year, Rahm has won the Irish Open (for the second time) and the Zurich Classic in New Orleans in April, ensuring that in the off-season watering hole talk at pubs and bars from Barcelona to Baton Rouge, the name "Jon Rahm" will come up often as a betting favorite for the 2020 Masters and British Open.