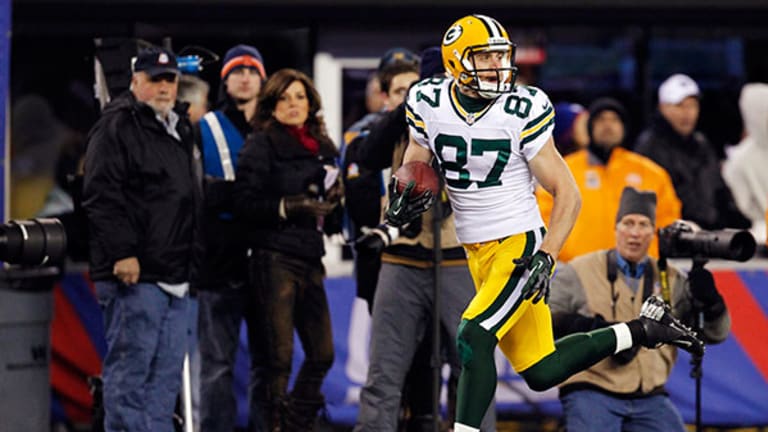 Here's to Fantasy Football Ruining Thanksgiving
Don't let fantasy football cut into your family time.
NEW YORK (TheStreet) - Thanksgiving will be special this year. My brother is making a brief return to New York City after he decided to move to Red Sox country in August. Family from abroad will even be around this Turkey Day. Yet, I'm very worried I might ruin the holiday.
The problem is fantasy football.
My team, Pride of the Reggie, will be playing a must-win Week 13 matchup to make the first round of the playoffs, and it looks like a tight one. In fact, Yahoo! gives me just a 45% chance of winning.
Currently, I have Jordy Nelson gearing up as a third wide receiver for my team this Thanksgiving. Barring any last-minute roster tinkering from my opponent, I'll be facing off against Dez Bryant, Jason Witten and Mason Crosby in an all-important match-up.
If Jordy Nelson proves a fantasy bust under whatever non-Aaron Rodgers quarterback the Green Bay Packers decide trot out onto Ford Field at noontime tomorrow, or if Dez Bryant and Jason Witten shred the Oakland Raiders defense in the afternoon game, it could cast a pall over the holiday festivities.
Roddy White and Anquan Boldin are sitting on my bench, so I'll really be kicking myself if Jordy Nelson doesn't get the 250-yard, 3-touchdown performance IREALLY NEED this week. There's a lot of thought that goes into these decisions.
Jim Cramer, founder of TheStreet, has proven himself to be a savvy fantasy football guru. How about that Tavon Austin call! I guess waiver wire pickups and buy-high or sell-low football picks are tame, in contrast to the relentless search for stock market value.
For me, it's been a divisive fantasy football season. There's currently a money dispute being aired out in my league. Text messages and emails concerning weekly matchups have become increasingly hostile. I've said things I didn't mean.
Maybe that's what happens when two games separate everyone in my eight-team league. Maybe we're just not friends anymore...
My favorite was Week 9. I needed seven points from Jordy Nelson to win, but Aaron Rogers went down on the first drive of the game, and wound up losing by about a point. I was playing a Packers fan that week. Needless to say his fantasy team has locked up a postseason birth, but Green Bay's playoff hopes hang in the balance. 
These kinds of things happen occasionally.
Last year, NFL football proved to be a gut-busting Thanksgiving Day event. You see, I come from a family of Jets fans.
I think we were just digesting our pumpkin pie when Mark Sanchez gave meaning to the term "butt fumble."
It was a positive sign when ESPNfinally retired the butt fumble from SportsCenter's Not Top Ten after a 40-week reign atop their infamous weekly ranking. Watching the SportsScience segment on Mark Sanchez's fateful flop remains a traumatic experience.
But back to fantasy football.
For those who find themselves fighting for their playoff lives, it may be a challenge to put family first. I count about a dozen must-start players that will take the field on Thursday and another handful of players who are viable to come off the bench.
Why sit down for a drawn-out Thanksgiving meal when you can run off to a bar or flop on the couch to track your team's performance in real-time? Twitter (TWTR) - Get Twitter, Inc. Reportnow allows you to air your frustration or over-use exclamation points as an outlet if you, unwisely, choose to spend the holiday stewing over fantasy football.
Furthermore, the Packers, Lions, Cowboys, Steelers and Ravens are all legitimate playoff contenders. Who would have thought the Oakland Raiders would be a game out of a wild card spot at this time of the year?
My advice is to set your lineup and tune out.
There's only one Thanksgiving, and you had all year to scout and draft a team that would be a playoff lock by Week 13.
--Written by Antoine Gara in New York