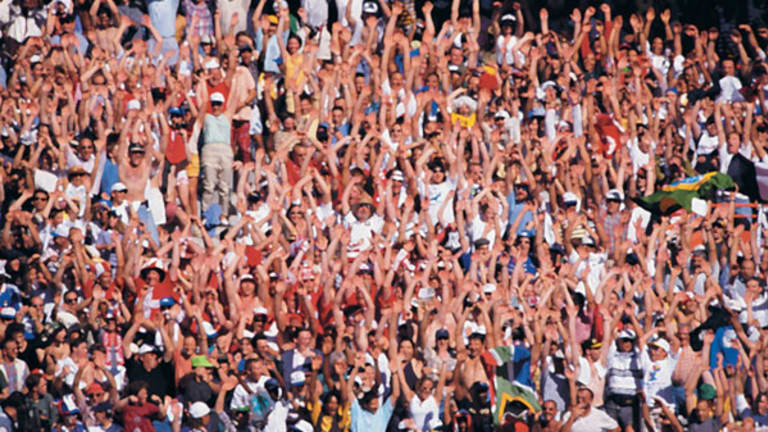 Golf Bailout Would Get Game Back on Course
You thought the economic package was big? That's nothing compared to the Golf Aid Recovery Program.
In retrospect, the GARP wasn't foolproof.
Back in September, GARP (Golf Aid Recovery Program) was created in response to the biggest crisis to hit the sport since the Great Depression, or as Ely Callaway used to call it, the Great Big Depression. More courses were closing than opening. Equipment sales were sagging like Boo Weekley's belly. Instead of going out clubbing on Saturday nights, bon vivant Tommy Armour III was staying home to watch TLC's
What Not to Wear
.
It was a scary time for the American golfing public.
With the gears of the golf economy "stuck," in the words of economist/Tiger Woods' coach Hank Haney, we in Congress took what we thought was the prudent course of action: We gave a billion dollars to Bernie Madoff. (One of our members knew a member at Palm Beach Country Club, and one thing led to another. Ten to 12% a year sounded good, and the guy could golf his ball -- 20 straight rounds in the 80s between 1998 and 2000.) And what did Mr. Madoff do with that money?
We don't know. The FBI, GAO and the USGA are investigating. But the solid-gold toilets at PBCC have led us to fear the worst.
The American people should understand that we have learned our lesson. With conditions only worsening, now is the time for the legislative branch to look forward and help get the golfer back on his FootJoys. As such, we have been hard at work crafting a plan familiar to any player ever faced with trouble: The Bailout. Here are some highlights of the $18 trillion proposal:
$300 billion to rebuild the nation's bridges and cart paths. A total of $50 billion will go to repairing the Sarazen Bridge at Augusta National's 15th hole, including gold bricks to replace the current Astroturf walking surface. Another $25 billion will create a bridge to Nowhere CC, a 9-hole pitch-and-putt on Gravina Island, Alaska, designed by Tom Doak.
$15 billion for marriage, tobacco, Hooters, beer and Diet Coke abstinence programs, known informally as the "John Daly pork barrel provision."
$900 billion to the "No Golfer Left Behind" education program. The public golf school system has clearly failed. Handicaps haven't gone down -- ever. A new approach is needed. Charter Golf Schools will focus on teaching the next generation of golfers to repair their pitch marks, rake bunkers and keep up with the group ahead.
$225 billion for caddie retraining. Under the auspices of the CIA, former caddies will learn how to sabotage golf carts, in turn creating a renewed need for caddies and counteracting a declining employment picture.
$125 billion for research into artificial knees and hips. Whatever it takes to keep Tiger playing until he's 75.
Getting a bill this big through Congress will require presidential leadership, delicate diplomacy and good-faith bargaining. John Boehner (R-OH) wants a tax cut for Cypress Point. Nancy Pelosi (D-CA) is demanding women members at Pine Valley. Still, we remain hopeful a deal can be hammered out.
Evan Rothman is a freelance writer living in Staatsburg, N.Y. His work has appeared in The New York Times, Sports Illustrated, Esquire, Men's Journal and other leading publications.