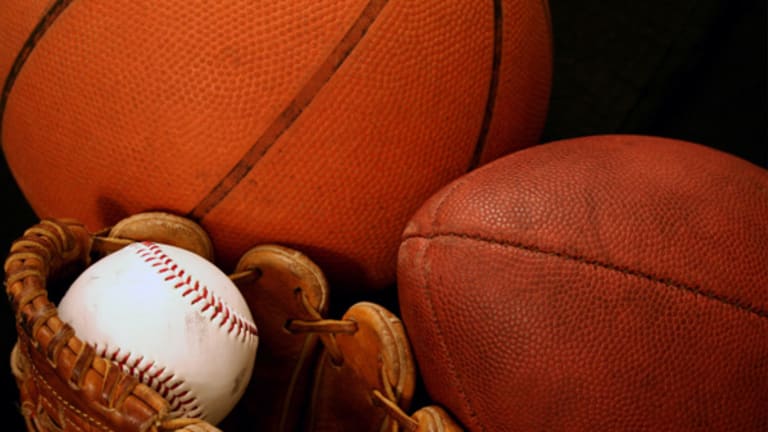 Favre's Done, the 'Dream Team' Is Toast
Brian Walker makes six sports predictions you're going to love. Or possibly hate.
It's been a long, tough summer for sports fans. The lull between the NBA Finals and the start of football season is a tough one to overcome, with only baseball to hold us over. But with the rapidly approaching start of some new seasons, it's time to take a look at where things could end up in several sports come this time next year.
That means I need to make some more predictions. Six of them, in fact.
Team USA basketball will not win the gold in Beijing.
The newest reincarnation of the Dream Team hopes to break the eight-year gold medal drought for men's basketball at the Beijing Olympics. They're undefeated in pre-Olympic tune-up play thus far, but last week's 87-76 win over Australia was a bit close for comfort.
One game isn't enough to call doom and gloom over, but the narrow victory showed that Team USA can still be defeated because of a lack of consistent defense and an inability to gel together as a cohesive team, instead looking like a very good street-ball squad.
If they don't fix the weaknesses that were their undoing in 2004, it could be trouble come game time against Greece or Spain.
Brett Favre will have a losing record in New York.
Favre has all the talent and ability in the world to make things work with the Jets, but I don't think he'll be able to. And after a season or two of disappointment, he'll start kicking around the "R" word again, this time for good.
The Jets filled a weakness at left guard by signing Alan Faneca but protecting Favre's blind side will only do so much. New York features one decent receiver in Jericho Cotchery, but after that the talent drops off. Laveraneus Coles would be a #3 receiver at best on most teams, and overall the vertical threat just isn't there like it was in Green Bay.
A fairly manageable schedule will help Favre put up some wins this year, but I suspect he'll be a shell of his former Packers self.
Angels over Cubs in the World Series.
Picking the team in each league with the best record to go to the World Series couldn't be any more cliché, but I honestly don't see any other way right now it could shape up.
The Angels have baseball's best record -- with good reason. Their starting pitching has been lights out and they feature one of the most reliable and dominant closers in the game with Francisco Rodriguez. The only glaring weakness they had was the lack of a big-time power bat, and getting Mark Teixiera more than filled that void.
As for the Cubs, they make it by virtue of no other real competition. The Brewers are in the wild-card hunt, but remain five games back from Chicago and lack the consistency of a World Series team. The NL East and West are in general disarray and even the leaders of those divisions have too many glaring problems right now.
Chicago will ride reliable starting pitching and the bat of Alfonso Soriano into the Series, where they'll hit the buzz saw that is the Angels' pitching staff.
Problems are just beginning for the NBA.
Anyone who thinks the sentencing of disgraced referee Tim Donaghy for his part in a gambling scandal is the end of troubles for the NBA may be sadly mistaken. Firstly, if Team USA fails to win gold in Beijing it could do some serious damage to the "superstar" status of some of the players, who would have once again failed to live up to the Dream Team expectations set by their timeless predecessors. As if that's not enough, now the league finds itself facing a new trend of top players heading overseas to play in European leagues.
Recently Josh Childress left the Atlanta Hawks and signed a contract to play next season in Greece. Now there's talk of the same action from other players as well. Last week Lebron James said he would play in Europe for $50 million per year. While that salary is ridiculous and almost certainly out of reach, there are rumors that some teams have already contacted him.
With the NBA image in the tubes for years now, gambling scandals and rumors of players defecting to go overseas are the last thing Commissioner David Stern would like to see, but like it or not we may have only witnessed the tip of the iceberg so far.
Adrian Peterson will have a sophomore slump.
All Peterson did last season as a rookie is rush for 1,300 yards, set a single-game rushing record, earn a Pro Bowl selection and take home Rookie of the Year honors. Minnesota Vikings fans are understandably excited to see what he can do his second year in the league, but I wouldn't be shocked to see Peterson fall off a bit.
Splitting time with Chestor Taylor won't cause any noticeable production drop-off, especially since that's how things were last year as well. The addition of WR Bernard Berrian and the emergence of Sidney Rice as a red-zone threat will put more emphasis on the passing attack, though, and could take some carries away from Peterson.
Most crucial, however, is Peterson's well-documented injury history. In just one professional season he's already missed a month with a knee injury -- and because of his running style and workload, it wouldn't be surprising if he went down with another one even earlier this season.
The Beijing Olympics will be the lowest-rated ever.
Things have been stacking up against the 2008 Summer Olympics ever since China was announced as the host -- and now, on the day everything is set to kick off, the focus is still more on the problems that persist rather than the Games themselves. My bet is that a good many Americans just don't care that much this time and the viewership ratings will prove it.
That's assuming there can even be significant viewership, what with China doing everything in their power to limit broadcasting rights and block access to everything from certain Web sites to live interviews during specific times.
Add to that the fact that there's still more concern over air pollution and security threats than there is about the events, not to mention a new steroid scandal just about every day. With the U.S. basketball team being less-than-stellar the past eight years, the gymnastics team suffering the loss of two athletes already and Michael Phelps having already captured the world's attention in 2004, American viewers could be tuning out in droves this time around.