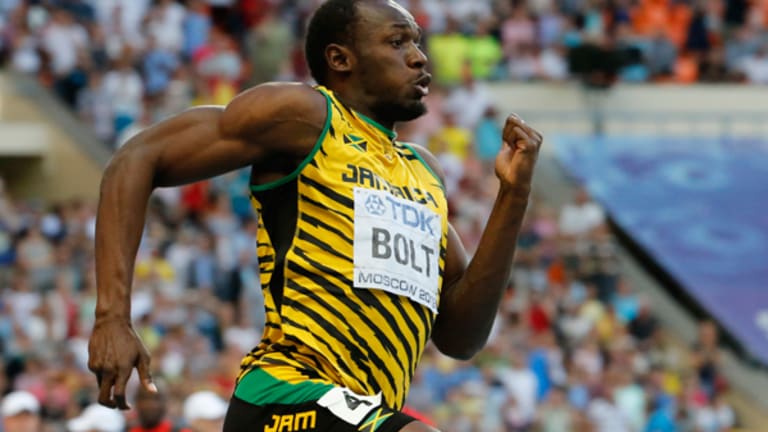 Farah vs. Bolt: A Match Race Made in Heaven
It may not happen, but who wouldn't want to see two of the best runners going head to head, each coming from opposite ends of the running spectrum?
NEW YORK (TheStreet) -- The running world has been buzzing of late with news that Britain's Mo Farah challenged Usain Bolt to a race for charity -- and that to the surprise of many, Bolt picked up the gauntlet.
Farah, a
Nike
-sponsored distance runner, was one of the big stories of the 2012 Summer Olympics in London. He became the seventh man in Olympic history to win both the men's 5,000 meters and 10,000 meters and did so in front of an adoring home crowd that included members of the British royal family and
at least three very excited BBC commentators.
Jamaican sprinter Bolt, the world's fastest man and favorite son of
Puma
, also took multiple gold medals in London. Bolt won the men's 100 meters and 200 meters and anchored Jamaica's winning 4x100-meter relay team. He'd won the same three races in Beijing four years earlier as well.
This past week Farah and Bolt continued to dominate the competition at the 2013 World Championships in Moscow. Bolt even managed to elevate his near-mythic stature by winning the men's 100 meters
as lightning blazed across the sky
, the kind of dramatic exclamation point of which lesser mortals can only dream. Now that Moscow's over, fans can focus on the intriguing prospect of a match race between the two superstars.
Should the contest happen -- and no date or venue has been announced -- the event will likely be 600 meters, an intermediate distance outside both athletes' sweet spots.
So who would win?
Perhaps surprisingly, most experts say the odds are with Farah. Bolt may be the fastest man on the planet but Farah's no tortoise, and it's much harder for Bolt to move up in distance than it is for Farah to move down. It's mostly about physiology.
As
Ross Tucker from The Science of Sport
explains, Bolt primarily uses oxygen-independent (anaerobic) energy systems to power his six-foot-five frame. In a 200-meter race, for example, male sprinters like Bolt will typically generate 70% of their energy needs from anaerobic systems. These systems enable sprinters to go incredibly fast over short distances; beyond that, the accumulation of metabolic by-products inhibits muscle contraction and they have to slow down.
Farah, the distance runner, finds himself at the opposite end of the spectrum. He's an oxygen guy, meeting most of his energy requirements from oxygen-dependent (aerobic) energy systems. In a 3000-meter race, 85% of Farah's energy needs will come from aerobic systems. The farther he runs, that percentage rises even more. Aerobic systems will never give Farah the raw horsepower of a top sprinter, but neither will his muscles tire as quickly.
The choice of 600 meters was no accident. At that distance, the ratio of anaerobic to aerobic energy requirements for both athletes will be roughly 50-50. But roughly doesn't mean exactly, and Tucker believes the midpoint is actually closer to 550 meters, or even a bit less. That gives a slight physiological advantage to Farah.
Another issue for Bolt is that he'll need to run three times farther than his typical race distance, and it's unlikely that he does many (if any) 600s in practice. More, he'll have to figure out how to ratchet down his speed by a gear or two in order to avoid blowing up entirely.
For his part, Farah will be familiar with 600 meters from his training sessions so he'll likely have a solid feel for what his body can and should do. If he's able to run fast enough - and if Bolt doesn't summon unexpected reserves of endurance (and turn sport science on its head) -- then Farah should be able to push Bolt beyond his limits.
All of this anticipation may be wasted if the race never happens. It began, after all, as a little more than a schoolyard dare. However, unlike a previous challenge to Bolt from 800-meter specialist David Rudisha, Farah and Bolt share the same agent, Ricky Simms, so there's one less occasion to say, "Tell your people to call my people."
In addition, both runners are longtime friends who've been involved with each other's charity foundations in the past. Finally, you have to think that Nike and Puma would move a few corporate mountains for the exposure.
As for a possible date, who knows? But with the World Championships out of the way a "Mo v. Bo" race could happen soon. With two of the best,
on the planet going head to head, each coming to the track from opposite ends of the running spectrum, who doesn't want to see that?
This article was written by an independent contributor, separate from TheStreet's regular news coverage.
Doug Mollenauer mixes writing, running and traveling with bouts of technology product marketing and consulting. An East Coast native, he now resides in Santa Cruz, Calif., where the surfboard by his front door is just for show. He holds an M.A. from The Johns Hopkins University School of Advanced International Studies and a B.A. from Amherst College.