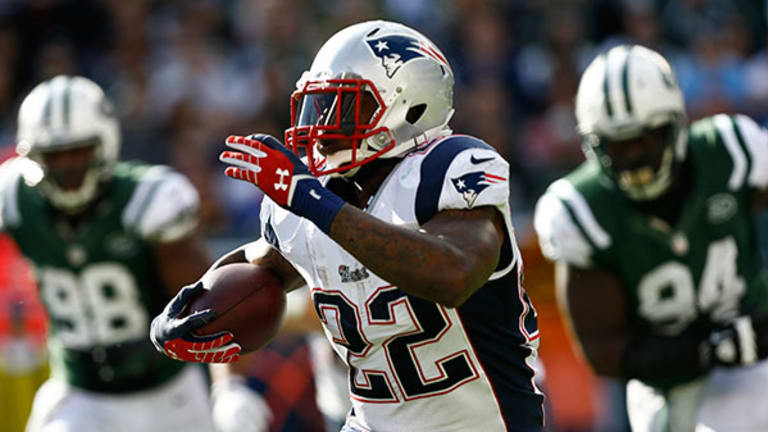 Fantasy Football: Stevan Ridley's Fumbling Leaves Owners Scrambling
New England Patriots RB Steven Ridley's fumbling issues have left fantasy owners scrambling on what to do at the RB position for the playoffs.
NEW YORK (TheStreet) If you know anything about me, you know that I bleed blue, silver and red for #patriotsnation.  I live and breathe the New England Patriots, and in my world, everything Bill Belichick and Tom Brady do is never wrong. The rest of the team isn't afforded that luxury, especially if you're Patriots RB Stevan Ridley. In light of Ridley's recent fumbling issues, fantasy owners have been scratching their heads, searching for an answer that isn't there -- just yet.
Ridley, 24, is a supremely talented runner, having rushed for 1,263 yards last year, scoring 12 TD's while catching 14 passes for 51 yards. In the 4 leagues I'm in (two auction drafts, two snake drafts), Ridley went for an average of $34.50, and was picked 26.5. He's obviously well regarded as he's owned in 96% of Yahoo! leagues.
Yet with 3 fumbles in the last 3 games, Belichick's confidence in the running back is falling, fast.
On Belichick's conference call, he said Ridley's fumbling problem is correctable, but that he has a very low tolerance for mishaps. "I don't think any of our backs have an issue that I would say would prevent them from being a productive player," Belichick said, in comments captured by ESPN Boston's Mike Reiss (who does a great job covering the Patriots). "Look, there are some plays that happen in football that are plays that happen in football. Then there are other plays that are caused by a lack of discipline, a lack of technique, just carelessness. Those are the ones we have to eliminate."
Ridley was benched on Sunday night after the latest fumble against the Denver Broncos, finishing the night with 4 carries for 14 yards, and 1 costly fumble. Normally, a backup RB would be the logical answer for fantasy owners, but LeGarrette Blount, a 250 lb. bruiser the Pats acquired from Tampa Bay in the off-season, also has had fumbling issues. In fact, the Patriots fumbled the ball 3 times in their first 3 possessions Sunday night, though they went on to beat Denver 34-31 in a thrilling overtime game.
With fantasy owners searching for help, Shane Vereen might be the answer for your prayers in Week 13, going into the playoffs. Vereen is coming back from a broken wrist, having played the past two weeks. With Ridley and Blount both in Belichick's dog house, Vereen picked up the slack, running 10 times for 31 yards. More importantly for fantasy owners (especially those in PPR leagues), Vereen had 8 catches for 60 yards. Vereen is by far the Patriots best receiving back, and is owned in just 65% of Yahoo! leagues, making this pass catching threat a potential steal, as playoffs approach.
Vereen's work load in Week 13 against the Houston Texans should be pretty comparable to what we saw against Denver, perhaps even more so, as the Patriots begin to push towards winning another AFC East title, and securing at least the 2nd seed in the AFC, behind Denver and the Kansas City Chiefs.

If you're still scrambling for another RB and you're in no mood for another Patriot, the waiver wire is slim pickings at this point in your league. The trading deadline is coming up this Friday for most leagues, and depending on if you're in a 10 or a 14 team league, there's not much out there.
Here are some under-the-radar targets and a few players to try and trade for, assuming you can get them, to take Ridley's spot, as you ride into the playoffs, hopefully capturing glory.
Maurice Jones-Drew, RB, Jacksonville Jaguars
Jones-Drew, the 5'7", 210 lb. bowling ball of a RB, has had a down year. However, he's starting to come on as of late, so savvy owners might be able to swing a deal for him in a trade.
Against Houston, he rushed 16 times for 84 yards and a touchdown, while tacking on 6 catches for 60 yards. With matchups against the Cleveland Browns, Houston again, and Buffalo in the next three weeks, Jones-Drew could be a low-end RB2 against the Browns, and might be worth firmly starting in that second RB spot against Houston and Buffalo's porous defenses.
The diminutive RB will be hard to get though, as he's owned in 93% of Yahoo! leagues. If you're in desperate need of a RB, you'll be hard pressed to find a RB other managers are willing to give up, without giving up a lot in return.

Giovanni Bernard, RB, Cincinnati Bengals
Another diminutive RB, the 5'9", 208 lb. RB has taken the NFL by storm, breaking off runs not seen since Barry Sanders was still toting the rock for the Detroit Lions. The former North Carolina star has become a stalwart in both the running and passing games, having electrified crowds since the start of the season.
Bernard has run for 464 yards for 4 TD's this year, gaining 4.4 yards every time he touches the ball, including this insane, 35 yard touchdown run, which might be the best play you'll see all year.
In addition to being a stud in the running game, Bernard has been equally as valuable in the passing game. Year to date, he's caught 42 passes for 345 yards, adding 3 TD's. Bernard (who I'm lucky enough to own in one of my auction leagues), has fairly easy match-ups coming up in the next three weeks. He faces the San Diego Chargers, the Indianapolis Colts, and the Pittsburgh Steelers, all of whom he's projected to get at least 11 points against, according to Yahoo!.

Bernard won't be easy to get, though. He's owned in 93% of Yahoo! leagues, so you'll likely have to pay up for him, if you're going to ride Bernard to paydirt, and capture that fantasy crown.

Andre Ellington, RB, Arizona Cardinals
Ellington has come on in recent weeks, racking up more than 70 total yards 3 out of the past 4 weeks, including an explosive 162 total yard performance and a touchdown against Atlanta in Week 9. In Week 11, however, he gained just 3 yards on the ground, adding 10 more receiving.


That bit of inconsistency might allow you to pick up Ellington on the cheap, as you look to make your playoff push. He's owned in 65% of Yahoo! leagues, so he should be available for a good chunk of 10-team league owners, and might be worth as a flex option for 14-team leagues.
He's facing a weak PhiladelphiaEagles defense in Week 13, followed by St. Louis and Tennessee. He might be worth a pickup against the porous Eagles, but should be considered no more than a flex option against St. Louis, particularly if St. Louis defense plays well this week against San Francisco.
For the entire season, Ellington has gained 441 yards, averaging 6 yards a carry, with nearly 60% of his yards coming in the past four weeks. He's also found the end zone twice from the ground, and once in the air, so he's not afraid of finding the pile on for fantasy owners. Ellington is a good buy low candidate for the next 3 weeks, and a potential starter in two of them.
Dennis Johnson, RB, Houston Texans
Ben Tate is now the primary RB for the Texans going forward, but he's been battling injuries. Dennis Johnson, 23, stepped in and filled the role for Tate admirably this past week, carrying the ball 13 times for 74 yards, adding 2 catches for 13 yards.

Tate is expected to remain the lead back in Houston, but given the game Johnson had last week, it's expected to be a carry-sharing situation for the remainder of the season. The diminutive (notice a trend?) 5'7", 193 lb. back out of Arkansas showed good burst against a Jacksonville defense, averaging 5.7 yards per carry, including a long of 29 yards. As Gary Kubiak and his coaching staff look towards 2014, Johnson's playing time should go up over the next few weeks.
He's only owned in 12% of Yahoo! fantasy leagues, so he should be relatively easy to pick up, as you look for that playoff push.
--Written by Chris Ciaccia in New York
>Contact by Email.