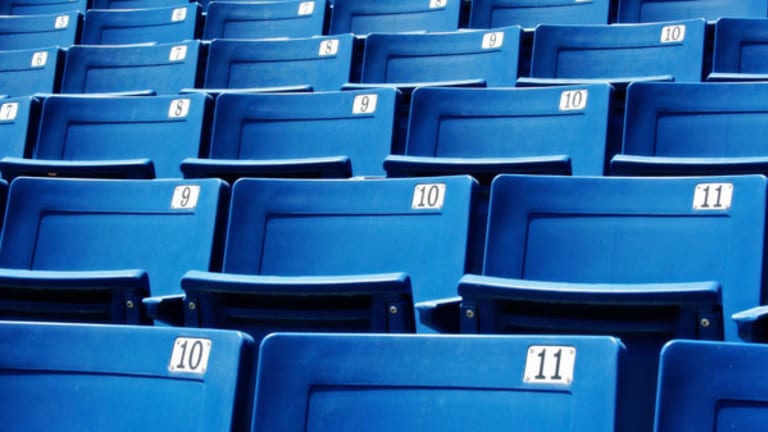 Fans Take NFL Blackout Fight To FCC
A sports fan lobbying group seeks to stop the NFL's blackouts as a season-ending lockout looms.
A sports fan lobbying group seeks to stop the NFL's blackouts as a season-ending lockout looms.
WASHINGTON (TheStreet) -- If you like this season's NFL blackouts, just wait until the entire season is blacked out next year.
This is the warning Brian Frederick, executive director of Washington-based fan lobbying and advocacy group the
, offers the NFL faithful who think they didn't need to get worked up about this year's 13 games blacked out in their home markets -- a measure that kicks in when games aren't sold out 72 hours before kickoff. As most fans are all too aware, the NFL's collective bargaining agreement with the NFL Players Association is up for renewal next year, and owners are looking to reduce the 60% of revenue that goes to their helmeted-and-jerseyed employees.
As unhappy as football fans are with 13 games so far being blacked out in from TV broadcasts in their home markets, they're going to be even less happy with a likely owner lockout next year.
Unless the league can prove profits aren't all they could be, there's little chance players will allow owners to shrink their cut. That means NFL owners could lock out players and, subsequently, fans for the entire 2011 season and 2011-12 playoffs -- making this year's blackouts look like a self-help pamphlet titled
Living Without the NFL.
Who should fans and well-invested league sponsors including
Visa
(V) - Get Report
,
Motorola
( MOT),
FedEx
(FDX) - Get Report
,
PepsiCo
(PEP) - Get Report
,
IBM
(IBM) - Get Report
,
Procter & Gamble
(PG) - Get Report
and next year's beer sponsor
Anheuser-Busch InBev
(BUD) - Get Report
blame for these blackouts and impending lockout? Don't look at
Fox
(NWS) - Get Report
,
CBS
(CBS) - Get Report
,
NBC
(GE) - Get Report
,
DirecTV
(DTV)
or
ESPN
(DIS) - Get Report
, as their hands are tied by the Sports Broadcasting Act of 1961, which allows the NFL to sell TV rights and enforce its blackout policy anytime it likes. Don't look at players, who make millions but don't offer contracts or sign their own checks for a job with a 100% injury rate.
The Sports Fans Coalition -- which includes former members of the Clinton and second Bush administrations -- says to look to the FCC for the solution to blackouts, as federal regulations 47 C.F.R., 76.111 and 76.127 prohibit cable or satellite providers from picking up NFL games if a local network affiliate has broadcast rights. Blame Congress for shielding the NFL with a decades-old antitrust agreement and agreeing to television and blackout plans.
Mostly, however, Frederick advises fans to take a long, cold look at local franchise owners who take public funding for their stadiums while allowing the league to block local broadcasts of their team's home games unless fans shell out an average $76 for a seat or $421 for their family of four, according to
. This is why Buccaneers fans in Tampa who paid $168.5 million in tax dollars to build
Raymond James
(RJF) - Get Report
Stadium more than a decade ago -- after team owner Malcolm Glazer threatened to move the franchise -- have had their
entire 2010 season blacked out
on local television for their trouble.
The Street spoke with Frederick about recent NFL blackouts, the current fan climate and why apathy toward fans and consumers may cost owners an entire season:
How has your group responded to this season's NFL blackouts?
Frederick:
Here in Washington, we've been meeting with FCC commissioners and we ask them to reconsider the FCC's rules on blackouts. A lot of fans just assume it's the NFL doing this -- and it is -- but it's in the FCC rules that a local broadcaster can't pick up a broadcast and televise it. We feel like the FCC committee and the government already treats sports differently than other programming. If they're going to treat things separately, they should do so with the the sports fan and the consumer in mind.
What can the FCC actually do to improve the situation for fans and sponsors?
Frederick:
What the FCC and Congress can do is, just by raising the issue, scare the hell out of the NFL. If an FCC commissioner said "Maybe we should reconsider the blackout rule," you would see a lot of panic on the part of the league. You could, ultimately, work to end the blackout rule from the FCC point of view so local broadcasters could just pick up the signal and wouldn't have to -- as they do now -- buy blocks of tickets so they can sell their local advertising. They would love it if they didn't have to do that.
Has the FCC shown any willingness to change the blackout rule or offer an alternate approach?
Frederick:
The FCC commissioners are looking for practical solutions and the nuts and bolts of this, which get kind of wonky. I think that they all see sports as kind of a way to appeal to a larger audience and make this issues more relevant to the average American. When you start talking about the NFL blackout rule or Sunday football being off NBC because of
Comcast
(CMCSA) - Get Report
, suddenly the average sports fan will perk their ears up.
Ohio Sen. Sherrod Brown released a letter to NFL Commissioner Roger Goodell earlier this year calling for the NFL to reconsider its blackout policy. Is Congressional involvement in the blackout dispute a real option, or just a convenient political talking point?
Frederick:
Clearly Congress has some sway, because the NFL political action committee just put up $600,000 this cycle for various campaigns and contributions. The NFL sees some need to make sure than Congress is with them, and a lot of it is for the upcoming player contract dispute.
Ideally, blackouts are supposed to lead to increased stadium attendance. Are they helping or hurting that cause for the NFL and its team owners this season?
Frederick:
I don't understand why you'd black out a game on TV and not want people to see your product. I would think that the amount of fans and viewers that you'd lose as a result of blacking out games is much greater than the small financial gain you'd get from having people in the stadium. Clearly they're willing to sacrifice the loyalty of some fans in order to make profit, and you'll see that on a much larger level with the lockout.
Is that the common thread between this season's blackout and next season's potential lockout?
Frederick:
I think these blackouts play into the larger issue of the work stoppage and lockout next year, because owners practice a business that is not as conducive to fan support as it should be. If they choose not to have games solely for the purpose of increasing their revenue, then it clearly shows that they have contempt for fans, or at least they're willing to dismiss them. We're going to keep hammering this issue of blackouts as a symbol of what's to come.
--Written by Jason Notte in Boston.
>To contact the writer of this article, click here:
Jason Notte
.
>To follow the writer on Twitter, go to
.
>To submit a news tip, send an email to:
.
RELATED STORIES:
>>Against The Spread: 2010 NFL Picks: Week 8
>>Detroit Among 3 NFL Blackouts in Week 8
>>NFL Causing Its Own Blackouts
Follow TheStreet.com on
and become a fan on
Jason Notte is a reporter for TheStreet.com. His writing has appeared in The New York Times, The Huffington Post, Esquire.com, Time Out New York, the Boston Herald, The Boston Phoenix, Metro newspaper and the Colorado Springs Independent.