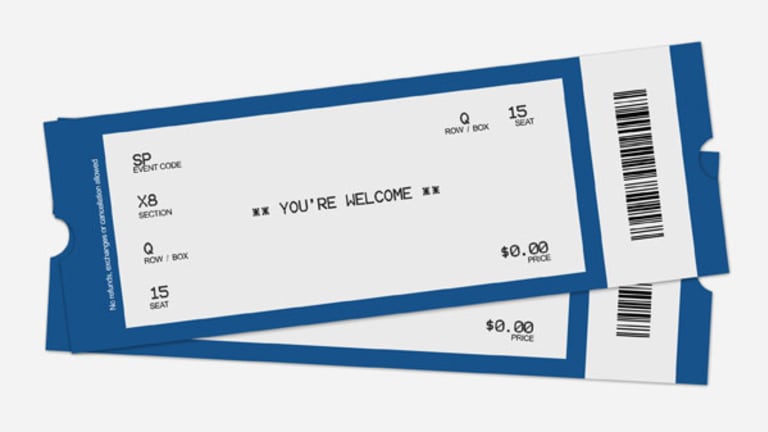 2010 College Football Picks: Week 8
No. 1 Oklahoma faces a test at No. 11 Missouri. Plus, showdowns in the SEC and Big Ten.
No. 1 Oklahoma faces a test at No. 11 Missouri. Plus, showdowns in the SEC and Big Ten.
NEW YORK (TheStreet) -- My how the college football hierarchy has shifted in just one week. Last week there was all this bickering over whether Boise State or Ohio State or Oregon should be No. 1 in the first BCS poll. Then the Buckeyes fell, and the Sooner Wagon galloped up and corralled the top spot from the clutches of the Ducks and Broncos.
Oklahoma will immediately face a challenge to its perch when it travels to surprisingly unbeaten Missouri in one of the College Football Corner's featured matchups Saturday. It now seems more unlikely that a team from a major conference will make it through the season unscathed.
Sure, that helps the likes of Boise, but keep an eye on a Mountain West team, and it's not No. 5 TCU. It's No. 9 Utah, which will join an expanded "Pac-12" next year with Colorado. Who could forget what the Utes did two seasons ago in the Sugar Bowl against Alabama? They finished undefeated but came in second in the final polls to Florida. The Utes are putting some huge numbers up this year. Now let's get to the games.
Landry Jones, Oklahoma
No. 1 Oklahoma (6-0) at No. 11 Missouri (6-0), 8 p.m. ET (ABC)
: As the oft-quoted line goes, uneasy lies the head that wears the crown. Oklahoma will get a sense of how apt that line is Saturday. Two weeks ago, Alabama lost its No. 1 ranking, followed a week later by Ohio State. This week, fresh off its No. 1 status in the season's first BCS results, Oklahoma travels to Columbia to face one of the few teams left on its schedule that can give it a run. The Tigers boast the conference's best scoring defense (and the nation's second best overall), holding opponents to just under 11 points per contest or 65 total this season. Quarterback Blaine Gabbert headlines an offense that's averaging nearly 35 points a game. In the Tigers' dismantling of Texas A&M last week, Gabbert was 31 of 47 passing for 361 yards and three touchdowns.
But it's not as though Oklahoma's resume isn't any less deserving of No. 1 compared with the others (for now). Thanks in large part to quarterback Landry Jones' improvement from his freshman season in 2009, the Sooners have managed to crank out 36 points a game. Jones has passed for 14 touchdowns, too. But if there's anything to unsettle the Sooner faithful, it could be road jitters following an uncomfortably close 31-29 win at Cincinnati in Oklahoma's lone true away game of the year.
Corner's choice: Missouri 35, Oklahoma 21
-- Sung Moss
Cam Newton, Auburn
No. 6 LSU at No. 4 Auburn, 3:30 p.m. ET (CBS)
: Auburn quarterback Cameron Newton has secured his place among Heisman Trophy front-runners after accounting for nearly 200 yards rushing, 140 yards passing and four touchdowns last week against Arkansas. While Auburn put up 65 points in that game, week, LSU will likely offer more resistance.
Auburn is averaging some 41 points and 480 yards a game, but the Bayou Bengals are yielding only about 240 yards and 14 points a contest. Don't expect Auburn's defense, which surrendered 43 points to Arkansas, or LSU's mediocre offense to make waves this weekend. But stopping Newton, a one-man band who's rung up 25 TDs running and passing, is easier said than done. We're giving this one to the home team.
Corner's choice: Auburn 28, LSU 10
-- Sung Moss
Derrell Johnson-Koulianos, Iowa
No. 13 Wisconsin (6-1) at No. 15 Iowa (5-1), 3:30 p.m., (ABC, ESPN)
-- This Midwestern classic (hey, they're playing for the Heartland Trophy) took on more importance in the Big 10 title hunt after the Badgers thumped then-No.1 Ohio State last Saturday. Iowa has recovered smartly after a tough loss to Arizona earlier in the season. This one could be won in the trenches. Will Wisconsin's punishing ground game, led by John Clay and James White, take hold vs. the Hawkeyes' unrelenting defense? And there's another big factor: the home field advantage, which Wisconsin had over the Buckeyes, so will Iowa this week.
Iowa was impressive on offense last week in a 38-28 victory over Michigan. Fifth-year senior quarterback Ricky Stanzi threw three TD passes to Derrell Johnson-Koulianos, and Adam Robinson rushed for 143 yards and two scores. The Black and Gold rarely lays an egg at home, but the Corner's hunch is with Wisconsin this week.
Corner's choice: Wisconsin 24, Iowa 21
--William Hennelly
Kirk Cousins, Michigan State
No. 7 Michigan State (7-0) at Northwestern (5-1), noon ET, ESPN
: Must all Michigan State teams be compared with the 1966 squad that tied Notre Dame for a share of the national championship? Probably. In this case, it is the best Sparty start since that edition from the '60s go-go days. Balance is the key to this team, with a strong ground game led by Edwin Baker and Le'veon Bell. But it's the defense -- a unit anchored by linebacker Greg Jones that has picked off 12 passes --that has given fans in East Lansing very high hopes.
That defense could be tested by Northwestern quarterback Dan Persa, who has completed 75% of his throws. The Wildcats had last week off following a disappointing 20-17 loss to Purdue the week prior. Coach Pat Fitzgerald's team plays 60 minutes of tough football, but Michigan State probably has a little too much here.
Corner's choice: Michigan State 28, Northwestern 20
-- William Hennelly
Ricky Dobbs, Navy
Notre Dame (4-3) vs. Navy (4-2), noon ET, New Meadowlands Stadium, East Rutherford, N.J. (CBS)
: The location gives this one an old school feel, as the "Subway Alumni" will turn out in droves for the Irish. Navy also should have its fair share of supporters, along with mascot "Bill the Goat." Notre Dame has won three straight, including victories over decent teams in Boston College and Pitt.
This is a key game for first-year ND Coach Brian Kelly, who has recovered from a 1-3 start. The Midshipmen's triple option offense, led by quarterback Ricky Dobbs, is ninth in the nation in rushing with just under 260 yards a game. Notre Dame, you'll recall, had trouble with a running quarterback when it couldn't contain Michigan's Denard Robinson in a September loss. But the Irish will find a way here.
Corner's choice: Notre Dame 34, Navy 31
LaMichael James, Oregon
Corner kicks
: What an overwhelming performance by Oregon in a 60-13 mauling of the UCLA Bruins Thursday night. Quarterback Darron Thomas passed for 308 yards and three scores, and LaMichael James rushed for 123 yards and two touchdowns. Between a smothering defense and a big-play offense, the Ducks do look like the best team in the country.
But what about the future in the Pac-12? The Ducks recruit heavily in the Los Angeles area, and with the new alignment of north and south divisions in the new conference, there will be fewer trips by Northwest teams to SoCal. It could bode well recruitingwise for teams in the southern division. Still, only the Ducks have uniforms like that.
--William Hennelly