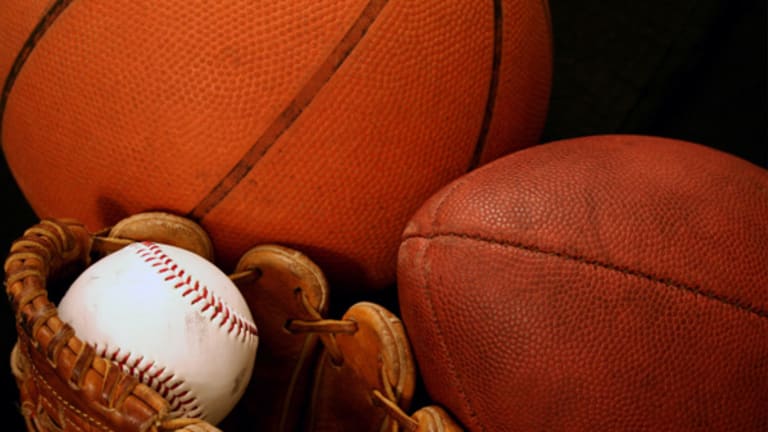 College Football Corner: Thanks, Texas Tech
A lot of teams are grateful for the Red Raiders' upset of Texas.
Get your back issues of College Football Corner on this page here.
Texas Tech's last-second (literally) 39-33 win over top-ranked Texas last Saturday made a lot of people grateful -- and not just in Lubbock.
Sure, the Red Raiders jumped five notches to second in the BCS standings, and the
only
thing keeping the team from playing in the national championship game is running the table in its last three games, then winning the Big 12 championship game, more than likely against No. 14 Missouri and its high-octane offense.
Texas Tech Coach Mike Leach
But you'll forgive the rest of the country's elite teams for licking their chops: Tech has a tough game this weekend at home against No. 9 Oklahoma State -- a matchup that practically screams emotional letdown after last week's thrilling win.
And the road ahead isn't much easier. The Raiders still have a Nov. 22 date to face No. 6 Oklahoma in Norman, where Tech hasn't won since 1996.
That buoys the hopes of new No. 1 Alabama, which unlike Texas Tech, has just two tough games left (at LSU, and a probable date vs. Florida in the SEC championship game), and certainly No. 3 Penn State, which can sit back with three remaining winnable games and no conference championship to fret over.
But all of a sudden, there's life in those one-loss teams. Florida's 49-10 crushing of Georgia has put the Gators in prime position to profit from a very realistic scenario: If the Gators win out by beating Alabama in the SEC title game, and Texas Tech falters down the road, Florida would be paired with Penn State in the BCS Championship game.
Defrocked Texas and Oklahoma, sitting at Nos. 4 and 6, respectively, have entered "need serious help" territory. As of right now, the Longhorns would stay behind the Texas Tech-Oklahoma winner in the polls, so it needs some big unexpected upsets, the sooner the better. Oklahoma still has the wild card of getting a boost out of beating Texas Tech, which would probably bring the windfall of a Big 12 Championship berth. But two out of Alabama, Florida and Penn State will have to lose again this season.
Here's a closer look at some top games this weekend:
No. 9 Oklahoma State (8-1) (+3) at No. 2 Texas Tech (9-0), 8 p.m. EST (ABC)
: Not many in Lubbock want to speak the L-word this week -- letdown, that is. After the biggest win in school history, it could be a tougher task for Red Raider Coach Mike Leach to focus his team on the visiting Cowboys. Tech's confidence is riding high coming into this matchup, and last Saturday marked only the third game this year in which the team has scored fewer than 40 points. Fortunately, the Raiders are again at home, where the team has now won 12 of its last 13, quickly making Jones
AT&T
Stadium one of the most feared venues for visitors. The potent combination of quarterback Graham Harrell and wide receiver Michael Crabtree is legendary at this point, pushing the team to seemingly score at will (like it did at Kansas two weeks ago, scoring five touchdowns in its first five possessions -- game over.)
Oklahoma State's offense is nothing to sniff at, either, albeit in an anti-Texas Tech sort of way. The Cowboys rely on a run-oriented offense led by sophomore running back Kendall Hunter's 1,220 yards and mistake-free quarterback play by Zac Robinson, who has completed 69% of his passes with a 20-5 touchdown/interception ratio. Don't forget that with a win here and a stumble by Texas, the Cowboys still have a shot to represent the South Division in the Big 12 championship game, and would have an outside shot at a national championship. The oddsmakers look smart here -- this is probably an even game on a neutral site.
Corner's choice: Texas Tech 37, Oklahoma State 30
.
No. 1 Alabama (9-0) (-3 ½) at No. 16 LSU (6-2), 3:30 p.m. EST (CBS)
: If Alabama manages to punch its ticket to the BCS title game, it will have earned it. The Crimson Tide's late-season gauntlet starts this Saturday in Baton Rouge, La., offers up the traditional Iron Bowl rivalry vs. Auburn (which has won six straight in the series) in late November, and ends with a date in Atlanta, probably against No. 4 Florida, in the SEC championship game.
Alabama defensive tackle Terrence Cody
Saturday's game has a little added spice with the return to Tiger Stadium of Alabama Coach Nick Saban, who went 48-16 in five seasons at LSU before his ill-fated move to coach the Miami Dolphins. As we've noted before, Alabama has already taken on the personality of those early-decade LSU squads: a solid running game, steady quarterback play, and most of all, a stifling defense. Nose tackle Terrence Cody has been an anchor for the Tide, which is allowing opponents only 12.2 points a game.
LSU's defense, on the other hand, has been that team's Achilles' heel, giving up more than 50 points in its two high-profile games against Florida and Georgia. The Tigers have been trying to rebuild that side of the ball, where the team had three players drafted by the NFL this spring, including defensive tackle Glenn Dorsey, the fifth-overall pick. Redshirt freshman Jarrett Lee has been spotty at quarterback, but he remains the starter. Baton Rouge is one of the SEC's toughest places to play, and the Tigers have won 7 of 8, but this looks like the Tide's year.
Corner's choice: Alabama 27, LSU 17
.
No. 12 TCU (9-1) (-1 1/2) at No. 8 Utah (9-0), Thursday, 8 p.m. EST, (CBS College Sports)
: From an immediate standpoint, the winner gets an inside track to the Mountain West Conference title. More importantly, the winner likely dispatches all but Boise State and Ball State in the run for a non-BCS school to crack the BCS bowl party. Utah Coach Kyle Whittingham believes that when he sees TCU play, he sees his own team. "I see a lot of similarities. We both have speed and there are schematic similarities. We both run the ball very well, there are a lot of similarities between the two offenses."
However, TCU leads the nation in run defense, and defensive end Jerry Hughes tops the country with 14 sacks. TCU coach Gary Patterson didn't mince his words on the importance of the game. "I don't think we need to say much about this one. When you play against a team like Utah this late in the season, everyone knows what they have. As a head coach, you always like to play a big game like this at home, but we're not. We had our opportunity at home against BYU, and now it's our turn to go to Utah. This is what you coach for."
One number to remember: 17. Dating back to 1999, TCU has won 65 straight games when holding opponents under that amount of points, including four consecutive games this year when TCU allowed seven points each. Utah's defense is no slouch, either, ranking seventh in the nation with 266.2 total yards allowed per game.
Corner's choice: Utah 21, TCU 20
.
-- Edison Sanon
No. 20 Georgia Tech (7-2) (+4) at No. 19 North Carolina (6-2), noon EST, (Raycom)
: The Tar Heels have seen a big turnaround in 2008, thanks to the leadership of former Miami head coach Butch Davis. After going 23-48 from 2002 to 2007, the team is not only bowl eligible after eight games, it's now looking for a division title and an ACC Championship.
Georgia Tech's Jonathan Dwyer
Georgia Tech, comes off last Saturday's emotional 31-28 victory over Florida State that featured two long touchdown runs by running back Jonathan Dwyer and a game-ending turnover by the Yellow Jackets that ended the Seminoles' 12-game win streak in the series. Along with Dwyer's running, Georgia Tech will keep the ball on the ground with quarterback Josh Nesbitt still working to understand the spread offense being installed by first-year Head Coach Paul Johnson. the new head coach. Dwyer and Nesbitt have produced a tandem that is the top rushing offense in the ACC and ninth-best in the nation.
A heavy ground game may be the best strategy for the Yellow Jackets considering North Carolina's defense leads the nation in interceptions, including four returned for touchdowns.
Corner's choice: North Carolina 29, Georgia Tech 24
.
-- Edison Sanon
Kansas (6-3) (+1) at Nebraska (5-4), 2:30 EST (FSN)
: Normally, being the sixth-best team in the Big 12 isn't much to shout about, but this year is an exception. The Jayhawks returned 15 players, including junior quarterback Todd Reesing, from a squad that went 12-1 in 2007, but the rest of the conference has improved that much more. The intrigue here is whether Kansas can follow Missouri's lead earlier this year by ending a long winless streak in Lincoln. Kansas lost at Nebraska in overtime two years ago, keeping intact a drought that goes back to 1968. The Jayhawks aren't quite as good on both sides of the ball as last year, but Reesing and wide receivers Dezmon Briscoe and Kerry Meier can still put up points. Running back Jake Sharp scored four times in last weekend's blitz of Kansas State.
With a win Saturday, first-year Cornhusker Coach Bo Pellini has an excellent chance to finish 8-4 and give the Memorial Stadium faithful hope that the program has rid itself of the relative mediocrity of the Bill Calahan era, and is on its way to restoring the program to its lofty past. Nebraska hasn't finished in the Associated Press Top 10 since 2001. Work still needs to be done, as the team just hasn't matched up against the league's "Power 5," but one of the worst BCS defenses of 2007 has improved significantly, led by senior defensive end Zach Potter.
Corner's Choice: Kansas 34, Nebraska 28
.
Corner kicks
:
Tennessee
Head Coach Phil Fulmer's 17th season will be his last. The Volunteers' head man has "agreed" to step down following season's end. Fulmer was a victim of his own early success, going 63-11 in his first six seasons and winning the national championship in 1998. After that, SEC East rivals
Florida
and
Georgia
got the better of him, and the possibility of a second losing season in four years sealed his fate. ... Besides the job in Knoxville, high-profile vacancies are open, or are likely to be, in
Washington
,
Clemson
,
Syracuse
and
Auburn
. Former Oakland Raider Head Coach Lane Kiffin, a former offensive coordinator at
USC
, and
Texas
defensive coordinator Will Muschamp are getting a lot of early buzz as the Next Big Things in coaching. ... Ron Prince, who was headed toward a second straight losing year at
Kansas State
, is out as coach after three seasons. Prince forgot the Cardinal Rule: Never follow the guy who has the stadium named after him. Bill Snyder led the Wildcats to 10 AP Top 20 finishes in 11 seasons from 1993-2003. ... With most teams having two or three games remaining, the schedule makers have a big say in determining winning or losing seasons.
Stanford
(5-4) has a tough hand, with games at
Oregon
, vs. USC and at
Cal
. On the brighter side of things,
Wisconsin
(4-5) should get to 7 wins as it closes out against
Indiana
,
Minnesota
(at home) and
Cal Poly
.