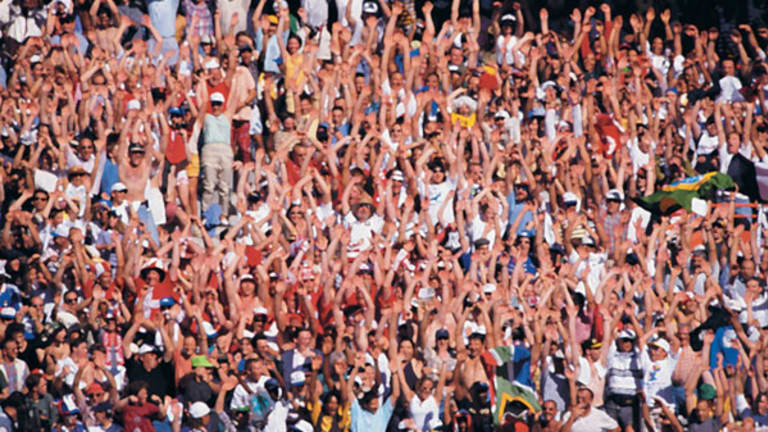 College Football Corner: Spurrier to Swamp
The Ol' Ball Coach returns to Florida Field to face a scary Gator team.
Get your back issues of College Football Corner on this page here.
The Ol' Ball Coach returns to his old stomping grounds this week, where he'll try to derail the national championship hopes of his old school.
South Carolina Coach
Steve Spurrier
Steve Spurrier, coach of South Carolina, won the 1966 Heisman Trophy as Florida's quarterback and went on to coach a national championship at UF in 1996.
He'll be back in Gainesville, Fla., on Saturday, with his No. 25 Gamecocks aiming to thwart the No. 4 Gators' shot at the
FedEx
(FDX) - Get FedEx Corporation Report
BCS National Championship Game.
"It's the first game that our players will play in front of over 90,000 this year," Spurrier said at his weekly press conference. "It will be a little louder maybe than the games we've had this year, but our guys enjoy playing on the road. We look forward to the environment down there and look forward to going with the attitude that we don't have anything to lose."
Spurrier's hoping to limit the Gators' big plays in this SEC East Division contest. "Florida really is good everywhere, but they're very good on special teams," he said. "They block punts, run it back, have good kickoff coverage and stuff like that. One thing we hope to do is not allow them any plays in special teams. We hope not to allow them any big defensive turnover plays."
In another road test involving a national title hopeful, No. 3 Texas will travel to Kansas. Unlike No. 8 Penn State, which dropped five notches after its defeat at Iowa, Texas is a one-loss team that's hardly out of the big picture. If the Longhorns win out, they can easily find themselves in the big game if No. 1 Alabama or No. 2 Texas Tech falters. And there are some interesting scenarios developing in the Big 12 South division.
If No. 5 Oklahoma knocks off Texas Tech Nov. 22 in Norman, we could end up with a three-way tie in the division, and the entrant into the Big 12 title game would be determined by a
.
Here's the breakdown of some noteworthy games this week.
No. 25 South Carolina (7-3) (+22½) at No. 4 Florida (8-1), 3:30 p.m. EST
: The Gamecocks will look to break an 0-11 record in Gainseville behind a stingy defense -- third best in the Football Bowl Subdivision (yes, the big one) -- that's been practically impenetrable on the ground. Two weeks ago, South Carolina held Tennessee to 34 yards rushing. Last week, Arkansas was limited to 54 yards on the ground. South Carolina had six sacks against Arkansas, with linebacker Eric Norwood racking up three of those.
South Carolina linebacker Eric Norwood (40)
On offense, South Carolina's ground game got a boost last week from freshman tailback Eric Baker, who averaged six yards a carry in the win over Arkansas. "He's getting better; he's learning where to go and had some nice runs," Spurrier said of Baker.
Florida's offense, the seventh highest-scoring in the nation, has been practically unstoppable lately, averaging 51.2 points in the last four games. Led by 2007 Heisman Trophy winner Tim Tebow, the Gators' attack is balanced, averaging 407 yards a game, fairly equally split between the run and pass.
Corner's choice: Florida 27, South Carolina 17
Florida linebacker Brandon Spikes
No. 3 Texas (9-1) (-13½) at Kansas (6-4), 12:30 p.m. EST
: Texas Coach Mack Brown is a bit wary of Kansas quarterback Todd Reesing, a Texas native. "He's so much like Colt
McCoy and Chase Daniel
also a Texan," Brown said. "He stays on the move, he's very hard to sack and he's so accurate. He's competitive. The people who saw him at Lake Travis
his high school know that. He just keeps the ball alive. He can make plays that you just wouldn't dream he could make, throwing off of his back foot and front foot with people trying to knock him out."
But Kansas has been something of a disappointment this year and has lost three of its last four games. The Jayhawks will need the game to turn into an offensive shootout. Reesing's top targets are Kerry Meier with 69 receptions and Dezmon Briscoe with 976 receiving yards and 11 TDs. But of course they'll be going against McCoy and his potent receivers Jordan Shipley and Quan Cosby. Shipley has 70 catches and 11 TDs, while Cosby has 66 receptions and six TDs. Texas will be without starting center Chris Hall, who sprained his knee in practice Tuesday. Freshman David Snow will get his first career start at center.
Corner's choice: Texas 45, Kansas 23
No. 22 Cincinnati (7-2) (-3½) at Louisville (5-4), 8 p.m. EST Friday
:
The two schools, 105 miles apart, will meet in the 48th Annual Keg of Nails game. The Bearcats are in a three-way tie in the Big East with Pittsburgh and West Virginia. Cincy knocked off the Mountaineers in overtime, 26-23, last week. The key to the win was holding quarterback Pat White and running back Noel Divine to a combined 99 yards. Bearcats quarterback Tony Pike threw the game-winning pass to Kazeem Alli despite having broken his non-throwing arm. Pike, who will remain in the lineup, is the fourth quarterback the team has used this season.
Cincinnati quarterback Tony Pike
Opening-game starter Dustin Grutza was lost for the year after breaking his leg against Oklahoma. Pike, the second-rated passer in the Big East, will look to avoid senior Cardinal cornerback Woodny Turenne, who leads the conference with four interceptions this season. Louisville is trying to salvage a month that started with a second straight loss to Syracuse, followed by a 41-7 drubbing by Pittsburgh despite its holding the Panthers' leading rusher LeSean McCoy to a career-low 39 yards rushing. But Louisville has won nine of the last 10 meetings with Cincy, including the last five.
Corner's choice: Louisville 29, Cincinnati 24
No. 6 USC (8-1) (-23½) at Stanford (5-5), 7 p.m. EST (Versus)
: Despite national championships in 2003 and 2004, it's the recent near-misses by Coach Pete Carroll's club that are beginning to nag Trojan fans. Two years ago, it was a final-game loss to UCLA that cost the team its shot, and this season an ill-fated trip to Corvallis, Ore., put the Trojans in a waiting line of one-loss teams hoping for an opening. But it was last year's 24-23 loss at home to Stanford -- with the Trojans coming in as a 41-point favorite -- that stands out among the latest string of one-game-a-year sleepwalks.
With revenge on its mind, USC brings the country's most outstanding defense into Palo Alto, Calif., this Saturday, led by linebacker Rey Maualuga and safety Kevin Ellison. This says it all: The Trojans have allowed 60 points in nine games. The offense has benefited from C.J. Gable's consistency at running back the past two games, balancing the outstanding play of quarterback Mark Sanchez.
In his second season at Stanford, Coach Jim Harbaugh needs one more win to get his team to bowl eligibility for the first time since 2001. While the defense has improved some, the team has shown more significant progress on offense, with a big running attack led by sophomore Toby Gerhart, who is 68 yards away from notching 1,000 yards. Unfortunately, teams don't make a lot of hay running against USC this year.
Corner's choice: USC 35, Stanford 10
.
Boston College (6-3) (+6½) at No. 19 Florida State (7-2), 8 p.m. EST (ABC)
: The only certainty in the Atlantic Coast Conference this year is uncertainty: Half the league still has legitimate dreams of getting a BCS bid via a league championship. The Eagles are probably not one of those teams, but they can certainly mess it up for others. It looked from the start like a rebuilding year for Coach Jeff Jagodzinski after last year's 11-3 finish, with the graduation of quarterback Matt Ryan and only four starters returning on defense. Senior quarterback Chris Crane hasn't been great, but the defense has allowed fewer points than a year ago, helped by 18 interceptions, a quartet of those in the team's sweet rivalry win last weekend vs. Notre Dame.
The Seminoles have a decent shot to win the ACC Atlantic Division, and Coach Bobby Bowden is on track to win at least nine games for the first time since 2004. Florida State is scoring points like in the old days, and the return of a strong running attack is a big reason why. Senior Antone Smith is the steady running back he was last year, but true freshman Jermaine Thomas has flashed the ability to break long runs. Sophomore quarterback Christian Ponder has been more consistent as a runner, but he played well in the team's win over Clemson last week, which had followed a heartbreaking defeat at Georgia Tech. BC's takeaway ability might be especially key in this one, but the Seminoles are 5-1 at home.
Corner's choice: Florida State 27, Boston College 17
.
Corner kicks
: No. 14
Ball State
is 10-0 for the first time after a 34-16 victory over Miami of Ohio
Tuesday
night, but the Cardinals were helped by a couple of late drops by Miami, one of which was a certain touchdown. Nonetheless, Ball has won each of its games this season by at least 12 points. ... The
Seattle Times
noted this week that Stanford Coach Jim Harbaugh could be looking for his next big gig sooner rather than later, in part because of the school's inability to draw crowds this year amid a resurgent program. We'd love to see more support by the Cardinal faithful, but let's not ignore the ho-hum home schedule the team has offered: unheralded
Oregon State
to start the season (6-3, who knew?),
San Jose State
, low-star-power
Arizona
and horrible
Washington State
. For that docket, the team averaged about 30,000 fans. A year ago, amid a 4-8 season, the school drew more than 39,000 for a home schedule that included
UCLA
,
Oregon
,
TCU
,
Notre Dame
and rival
Cal
(those last two games bringing more than 48,000 each). ...
Rutgers
has a chance to keep its nascent three-year bowl streak alive despite a 1-5 start to the season. After three straight wins, the Scarlet Knights (4-5) now face a
South Florida
team that has lost three of four, then host
Army
and
Louisville
.