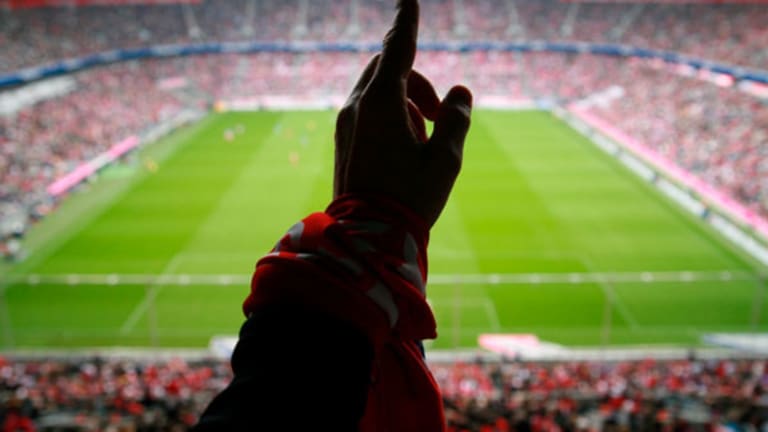 College Football Corner: Sooner Sojourn
Oklahoma heads up to Stillwater to face Oklahoma State in a game with major Big 12 and BCS implications.
Get your back issues of College Football Corner on this page here.
The path to this year's Bowl Championship Series national title game cleared up a little this past weekend -- or did it?
Texas Tech's 65-21 drubbing by Oklahoma dropped the Red Raiders from second to seventh in the BCS poll, dashing their hopes of a perfect Cinderella season and, seemingly with it, a shot to be crowned national champions.
But this year's Big 12 South round-robin parity (Texas beat Oklahoma, Oklahoma beat Texas Tech, Texas Tech beat Texas) makes everything a little more complicated. Consider this scenario: No. 3 Oklahoma loses this weekend at No. 12 Oklahoma State (the Sooners are only a 7-point favorite).
Texas Tech, by virtue of beating Texas, would then be the South's representative in the Big 12 championship game. If Tech beats Missouri in that one, would the humans and computers be able to keep the Raiders out of a date in Miami?
Probably so, under the poetic license used by those not wanting a national championship game that featured a team that was beat by 44 points in late November. But Tech fans would have a strong case for inclusion.
With a couple weeks left to decide it, now's probably a good time to look at what each team needs to get their chance for a BCS title slot.
No. 1 Alabama: Just win, baby. The Tide controls its own destiny, but it won't be easy. This weekend's Iron Bowl matchup with Auburn shouldn't be much of a contest, but it's a throw-the-records-out game, and the lowly Tigers have won six straight. After this, it's a date as an underdog with Florida in the SEC title tilt.
No. 2 Texas: Just winning might not be enough for the Longhorns. The fractional difference between the team and No. 3 Oklahoma could bring a flip-flop after the weekend -- the Sooners should get a computer boost from playing Oklahoma State, while Texas might get hurt with having only Texas A&M on tap. A Sooner loss would be huge.
No. 3 Oklahoma: With a win this weekend, it'll be time for Sooner fans to cross their fingers and hope that the team's rout of Texas Tech is more powerful in the next poll than increasingly-distant memories of the team's loss to Texas. If that happens, the Sooners will be ranked second, they'll get the Big 12 title berth, and a chance to play for the national championship.
No. 4 Florida: Similar to Alabama, the Gators have to get past an intrastate foe, No. 20 Florida State, before the SEC title game against the Tide. Winning those two should punch their ticket.
No. 5 USC: The Trojans are hurt this year by not being in the Big 12 or SEC, and trailing two teams each from the two conferences in the poll makes it nearly impossible to move significantly higher. And two final games vs. Notre Dame and UCLA won't do much for USC's poll points, which aren't significantly higher than No. 7 Texas Tech's. The Trojans simply need every possible upset to take place, and even then it's hard to see the team locking out a SEC vs. Big 12 national title game.
Now here's a closer look at some of Rivalry Week's top games.
Oklahoma's Juaquin Iglesias
No. 3 Oklahoma (-7) at No. 12 Oklahoma State, 8 p.m., EST, ABC
: They call this the Bedlam game, and that's what will happen to the BCS rankings if the host Cowboys knock off the Sooners. This game will feature two of the nation's top three rated passers. Heisman Trophy candidate Sam Bradford, who was spectular in a dismantling of Texas Tech last week, leads the Sooners' aerial attack. Bradford has 42 TD passes this season, and the Sooners, the highest-scoring team in the nation -- have scored
60 points
or more in each of their last three games. Bradford has an explosive receiver in Juaquin Iglesias. DeMarco Murray heads the running. Zac Robinson is under center for an Oklahoma State offense that averages 41.6 points a game. His No. 1 target is the bruising Dez Bryant, who has hauled in 68 passes for 1,222 yards and 18 touchdowns.
Oklahoma State Coach Mike Gundy is looking forward to the showdown. "I know they are going to be ready, and we just have to be ready," he said. "We have to bring our 'A' game. It is just going to be a showdown. We have
ESPN College Football Gameday coming in, and that is always a fun deal."
Oklahoma State's Kendall Hunter
Oklahoma State will get a boost this week with the return of Kendall Hunter, the Big 12's leading rusher with 1,434 yards. The sophomore was out with a leg injury suffered Nov. 15 vs. Colorado.
Coach Bob Stoops says his team travels well. "I feel very good about our attitude and the way we have taken the road thus far this season," Stoops said at his weekly press conference. "It has been very businesslike, and the guys have been very focused, concentrated and played well. But we have to do it again Saturday at Oklahoma State."
Corner's choice: Oklahoma 41, Oklahoma State 28
Notre Dame (6-5) (-33) at No. 5 USC (9-1), 8 p.m. EST, ABC
: The 80th edition of this rivalry has some intrigue, but not much. It is possible the Trojans are looking ahead to Pac-10 rival UCLA next week in hopes that a win there and an Oregon State loss to in-state rival Oregon this week will vault them to a Pac-10 title - it would be their 11th in 12 seasons -- and at least a trip to the Rose Bowl against Penn State. But there's also hope of a spot in the BCS Championship. That, however, would involve two teams among Alabama, Florida, Texas, Texas Tech or Oklahoma stumbling along the way.
That September Thursday night loss in Corvallis is the only thing that has kept USC outside the BCS talk. Since then, the defense has turned things up a notch -- including three shutouts in four games -- and the team has won seven straight. In their last game, the Trojans gave up the most points since losing to Oregon State, but still managed a 45-23 win over Stanford, avenging an upset last year. USC rushed for 282 rushing yards and pulled away in the second half after a 17-17 halftime tie. C.J. Gable and Stafon Johnson combined for three rushing touchdowns, and Gable added another touchdown on a 93-yard kickoff return.
Notre Dame heads west with little to be thankful for. The Fighting Irish showed little fight in the fourth quarter as they blew a 13-point lead and got stunned by Syracuse 24-23 on a last-minute touchdown last week.
"USC will certainly have their attention in a hurry," Notre Dame Coach Charlie Weis said. "But I think first things first. Anytime these guys come in, you have to deal with what's just occurred before you get going to USC."
Pete Carroll is 26-0 in the month of November as USC coach. USC has won the last six matchups, including 38-0 last season -- the most lopsided in the history of the rivalry. The Trojans hold a 27-game winning streak at the Coliseum at night. -- Edison Sanon
Corner's choice: USC 45, Notre Dame 17
.
No. 4 Florida (10-1) (-16 1/2) at No. 20 Florida State (8-3), 3:30 p.m. EST, ABC
: The Gators will need to stay focused on the prize -- a victory over Alabama in the SEC title game. But first they have to dispose of their in-state rivals the Seminoles. The 'Noles are coming off a 37-3 pasting of Maryland in a key ACC contest last week. But beating the Gators would be a signature win after some lackluster years, and Florida State will even practice on Thanksgiving.
Right now, though, can anyone stop the Gators? Led by 2007 Heisman winner Tim Tebow, Florida has the nation's third-highest scoring offense, putting up more than 46 points a game. Florida State's offense isn't so shabby either, checking in with 34.2 points a game. There is too much at stake here for Florida, and even though the 'Noles are on the rebound, the Gators are too strong.
Corner's choice: Florida 44, Florida State 21
Auburn (5-6) (+14) at No. 1 Alabama (11-0), 3:30 p.m. EST (CBS)
: This year's Iron Bowl features two teams that couldn't have defied their 2008 expectations more: Auburn was ranked No. 10 in the
AP
preseason poll on the belief that new offensive coordinator Tony Franklin could jump-start a mediocre offense that had nine returning starters. Alabama, on the other hand, was seen as a solid but young team that had a killer road schedule. Three months later, the Crimson Tide could play for the national championship while Auburn fired Franklin in midseason and is trying to avoid its first losing season since 1999.
Alabama, which has lost six straight in this series, relies on a balanced offense and a stellar defense led by defensive tackle Terrence Cody and linebacker Rolando McClain. Auburn's defense has kept the team in games, thanks to linemen Antonio Coleman and Sen'Derrick Marks, but the Tigers' 3-2 win against Mississippi State earlier this year tells the story: the offense ranks 10th in scoring offense in the 12-team SEC. The tradition suggests the spread doesn't matter, but Alabama has too much to play for.
Corner's choice: Alabama 27, Auburn 13
No. 23 Oregon (8-3) (+3) at No. 17 Oregon State (8-3), 7 p.m. EST (Versus)
: The 112th meeting of the "Civil War" is worth more than state bragging rights this year. The Beavers are looking for their first Rose Bowl bid in 44 years, and just their second Pac-10 co-championship since that time. Those rooting against Oregon State? To begin with, everybody else who would rather not see an unfortunate Penn State/Oregon State pairing in the Rose Bowl (The Nittany Lions swatted Oregon State 45-14 in September).
Oregon State's Jacquizz Rodgers
A loss by the Beavers would put USC in Pasadena. And don't forget Ohio State, which likely gets a BCS bowl invite with a win by the Ducks. Oregon State has been on the right side of its close games, and has been led by freshman sensation running back Jacquizz Rodgers. Unfortunately, Rodgers is doubtful for this matchup. The Ducks' offense is as high-powered as a year ago, with running backs Jeremiah Johnson and LeGarrette Blount balancing the improving play of quarterback Jeremiah Masoli. This "war" should be epic, but with Rodgers out for the Beavers, the Ducks' firepower advantage gives them the edge.
Corner's choice: Oregon 30, Oregon State 24
.