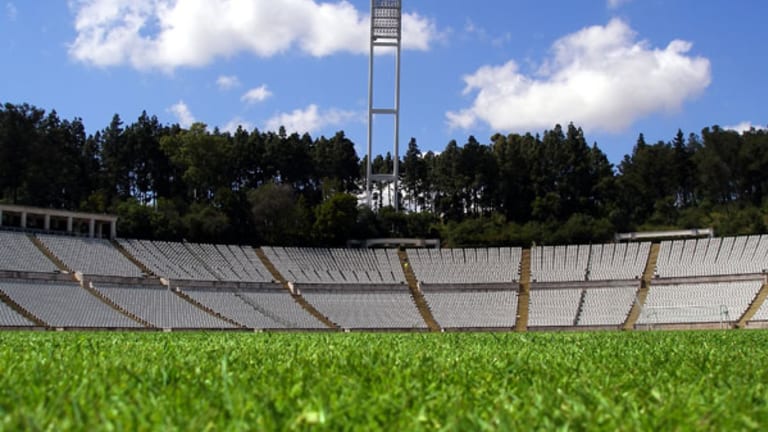 College Football Corner: Huzzahs for Mizzou
Chase Daniel and Jeremy Maclin lead the Missouri Tigers' high-powered offense.
Now that Missouri quarterback Chase Daniel has gotten off to an outstanding start, we're starting to hear how the Heisman "Chase" is on.
Daniel, a Heisman Trophy finalist last season, thrust himself into the award debate with a scintillating showing in a 69-17 victory over Nevada. He threw for 405 yards to set the school career passing record and finished with four TD tosses, three to his favorite target, Jeremy Maclin, who may generate his own hardware interest. Missouri is also establishing itself as a potential BCS title-game contender.
Missouri quarterback Chase Daniel
Of course, any team entertaining BCS dreams knows who could be standing across the field in the last game: The Men of Troy,
. And speaking of quarterbacks, USC's Mark Sanchez, another Heisman candidate, turned in a Montana-like gem in USC's workmanlike destruction of Ohio State last Saturday night.
The Buckeyes couldn't buy a break, and even if they could, quarterback Todd Boeckman couldn't get out of his own way -- and the Trojans' pass rush.
USC linebacker Rey Maualuga's return of an interception
for a touchdown was a fitting exclamation point to a dominant performance.
And The Corner would like to add a footnote to that game. Even though it was one-sided, the fact that it brought two traditional powers together early in the season was a huge treat for fans and hype-lovers everywhere.
Let it serve notice to all the other BCS schools that scheduling smaller opponents to get some wins before the conference season starts is an approach that can backfire in attendance or preparation for later in the season -- and in the rankings. It happened to pre-season No. 1 Georgia, which slipped a notch after an unimpressive win over Georgia Southern. Two schools that
aren't
worried about playing anybody -- Fresno State ("anybody, anytime, anywhere") and Buffalo, have reaped benefits in recognition and program growth.
Elsewhere, No. 11 BYU solidified itself as a legit BCS at-large team with a 59-0 trouncing of UCLA last weekend. And the now-No. 8 Wisconsin Badgers took a gritty road victory -- from Fresno State.
Let's take a look at some top clashes this week, starting with Thursday night.
No. 22 West Virginia at Colorado, Thursday, 8:30 p.m. EDT (ESPN)
: West Virginia of the Big East travels to Boulder to take on Colorado of the Big 12. The Mountaineers will try to bounce back after getting stymied by East Carolina two weeks ago, 24-3. Quarterback Pat White could muster only 72 yards passing, and the team was held without a touchdown in a game for the first time since 2001. While WVU still has a good rushing attack, it will have to face a Buffaloes squad that is allowing only 59 yards rushing a game. Colorado's offense is led by quarterback Cody Hawkins, who has thrown for four TDs this season, including three against Eastern Washington. In that game, Colorado came from behind late and won on an interception return for a touchdown.
-- by Edison Sanon
No. 4 Florida at Tennessee, 3:30 p.m. EDT (CBS)
: After BYU's 59-0 pasting of UCLA last Saturday, the Bruins' close win over Tennessee doesn't look so hot, does it? The Volunteers are still trying to get the taste of that opening-week defeat out of their mouths -- and an easy 35-3 win over UAB last Saturday probably did little to help. Speaking of bad after-tastes, Tennessee hopes to avenge last year's 59-20 defeat by the Gators in Gainesville, Fla. -- the Vols' worst loss in Coach Phil Fulmer's tenure and biggest in the series' 37 meetings. Fulmer is probably on the hottest seat in the SEC, and a win should give him a little breathing room. Florida comes into the contest after two weeks off and is clearly in the early-season "Who's Going to Play USC?" mix with Oklahoma, Missouri and Georgia. Florida has won three straight in this series, but 103,000 fans in Knoxville won't let the Gators take this one lightly.
No. 6 LSU at No. 9 Auburn, 7:45 p.m. EDT (ESPN)
: Fans at Auburn's Jordan-Hare Stadium have two wishes here: beat LSU to go 4-0, and sit through anything but a repeat of the team's 3-2 shootout last weekend over Mississippi State. Ironically, this early-season matchup could determine the SEC West championship -- the winner has the inside track to the conference title game in Atlanta. For Auburn, this is the weekend to begin reaping the rewards of an advantageous league schedule. The team gets both LSU and Georgia at home this season, while avoiding Florida. Auburn is in the second year of implementing a spread offense, but as seen last weekend, the yards and points have yet to pile up. LSU plays the first of three tough conference road games (trips to Florida and South Carolina to come), and has yet to be tested after games against Appalachian State and North Texas. The team also has yet to decide on a No. 1 quarterback, letting both redshirt freshman Jarrett Lee and junior Andrew Hatch take reps in the first two games.
No. 3 Georgia at No. 24 Arizona State, 8 p.m. EDT (ABC)
: Lost in the headlines of the high-profile losses that the Big 10 sustained last weekend (Ohio State, Purdue, Michigan) was the fact that four Pac-10 teams absorbed losses to the BCS-wannabe Mountain West Conference. Perhaps none was more surprising than Arizona State's 23-20 overtime loss to UNLV in Tempe, where the Sun Devils had gone 24-6 since 2004. While the loss sent Arizona State tumbling in the rankings, the oddsmakers have given the team a bit of a "looking-ahead" pass, as the visiting Bulldogs are only a touchdown favorite here. Arizona State is expected to flex one of the country's top offenses, but senior quarterback Rudy Carpenter was inconsistent in the loss last Saturday. Georgia's offense wasn't clicking too well either last week, as the Bulldogs escaped with a 14-7 victory at South Carolina that was won by the defense. But that game might have been the wake-up call Georgia needed as it takes its first nonconference road trip away from Atlanta since 1995 -- and its first journey west of the Mississippi in three decades.