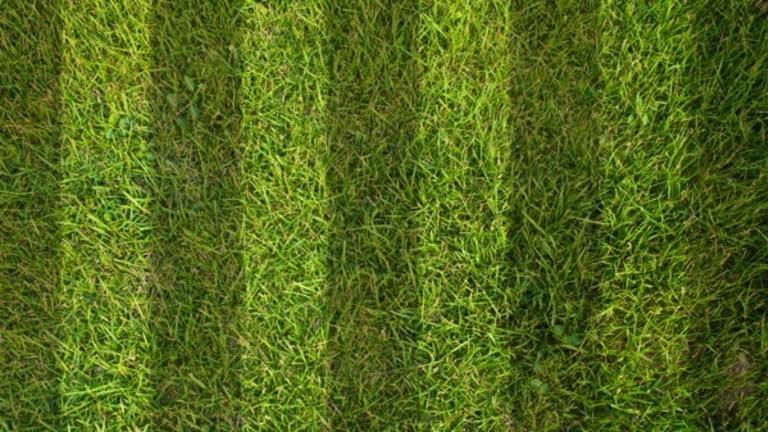 College Football Corner: Gators on the Bayou
It's SEC heaven this weekend as No. 1 Florida travels to Baton Rouge to play No. 4 LSU.
NEW YORK (TheStreet) -- A few interesting tidbits as we at The Corner contemplate this week's big game: No. 1 Florida at No. 4 LSU (8 p.m. EDT, CBS).
The winner of this game has gone on to take the last three BCS national titles (Florida, LSU, Florida).
LSU has not lost a night game at home in its last 32 attempts.
Tim Tebow has a concussion.
The greatest football player who ever lived (at least according to his Gatorland and media-land admirers) has not officially received the call to start Saturday in Baton Rouge. According to reports, Tebow, who endured his head-numbing hit two weeks ago against
Kentucky
, shared half the snaps in Tuesday's practice with his backup, John Brantley.
But whether Tebow starts or not, Brantley, a hotly recruited quarterback himself who has performed ably in mop-up duty this year (73% completion rate, four touchdown passes against zero interceptions), has the skills to pilot the Gators to a win in Death Valley.
True, he'll be facing one of the more talented defenses in the land (LSU ranks 16th in the nation in points allowed, giving up just 14.8 per game), but Urban Meyer's Gators have a tendency to gut Les Miles' defenses on the ground. In the last two meetings, Florida has averaged 5.8 yards per carry.
Yes, much of that territory was covered by the inimitable Tebow. But Florida's pair of quality tailbacks, Jeffrey Demps and Chris Rainey, are more than capable of carrying on the team's Tiger-bait tradition of beating LSU on the ground. (Demps this year is averaging an outlandish 10.9 yards per rushing attempt.)
Still, the Corner does have questions. For one thing, if Brantley starts, Meyer will need to retool his offense some to account for the drop-back style of his backup QB. More generally, Florida has enjoyed an incredibly weak schedule so far this year (aside from a home contest against a tougher-than-expected
Tennessee
squad), rendering it difficult to judge the big-game caliber of this Gator team. The computer polls seem to agree: the BCS version of Sagarin, for instance, puts Florida at No. 10 in its often tone-deaf rankings.
LSU, on the other hand, is coming off a quality win over No. 18
Georgia
in Athens, not to mention a season-opening victory over a scrappy
Washington
team in Seattle. (One does wonder, however, about LSU's squeaker against
Mississippi State
two weeks ago.)
Vegas favors Florida by 8, a figure into which Tebow's potential absence has probably been baked. LSU will not go down easily, but whether Brantley or the Great One lines up under center, the outcome will likely only be a matter of degree. (We expect Tebow to sit, by the way.)
Corner's choice: Florida 23, LSU 20
-- Scott Eden
It's a big weekend in the Big Ten as
Wisconsin
visits
Ohio State
and
Michigan
heads to
Iowa
.
The consensus seems to be that the Big Ten is "down" this year, but the much-maligned conference has some pretty good teams.
Ohio State, Iowa,
Penn State
and Wisconsin are all in the coaches' top 25. The Buckeyes probably have among the biggest and best offensive and defensive lines in the country, and the only blemish on their record is that home loss to
USC
, in a game they controlled until the last drive.
The Badgers are quietly undefeated and will provide a tough test in the Horseshoe in the 75th meeting between the teams.
Iowa has an outstanding defense, which the Wolverines will find out if they attempt to run the ball.
Penn State, who has
Illinois
this weekend, isn't probably isn't where it was last year, but when linebacker Sean Lee returns, the Lions will get a boost.
No. 25 Wisconsin at No. 8 Ohio State, 3:30 p.m. EDT, ABC
: The Badgers will look to contain Ohio State quarterback Terrelle Pryor with the help of hard-hitting cornerback Jay Valai, who knocked two Buckeyes out of last year's game with ferocious shots. Jalai, a 5-9, 200-pounder, told
ESPN
that he has "little-man syndrome," so he overcompensates with toughness. Another thing the Badgers will need to do in Columbus is establish some sort of running game. On offense, Wisconsin will look to 250-pound sophomore back John Clay, who thundered for 184 yards and three TDs in last week's win over
Minnesota
.
Clay was the Big Ten's offensive player of the week and his teammate, senior defensive end O'Brien Schofield, was the conference defensive player of the week. Ohio State running back Brandon Saine should help take some pressure off Pryor and is coming off his first 100-yard rushing game. Linebackers Brian Rolle and Ross Homan are the leading tacklers on a Buckeye team that is allowing only 83.5 yards rushing a game.
Ohio State 20, Wisconsin 14
-- William Hennelly
Michigan (4-1) at No. 14 Iowa (5-0), 8:05 p.m. EDT, ABC
: Michigan's biggest problem will likely be dealing with the Hawkeye front four of Broderick Binns, Karl Klug, Adrian Clayborn and Christian Ballard; Iowa is allowing a little over 13 points a game. The Wolverines made an outstanding comeback against Michigan State last week before falling in overtime.
It looks like it could be another case of Michigan freshman quarterback Tate Forcier scrambling to keep his team in the game. Iowa has won two games by three points or less, and three games by 10 points or more.
Ricky Stanzi, Iowa's quarterback
"There are no style points in football, so we don't have to worry about rankings and all that other stuff," Iowa Coach Kirk Ferentz said earlier this week in an Iowa newsletter. "We can just try to get to six now. It's a good feeling."
Corner's choice: Iowa 27, Michigan 21
-- William Hennelly
Iowa State (3-2) at No. 15 Kansas (4-0), 12:30 p.m. EDT
: The Kansas Jayhawks will again attempt to make more headlines about winning -- rather than, say, fighting with the basketball team -- as they face off with
Iowa State
in their homecoming game.
This is the first matchup of the season against a ranked team for the Cyclones. History doesn't exactly bode in their favor, considering they have not won a road game against a ranked team for almost 20 years, while the Jayhawks have won their last 20 home games against Big 12 North opponents.
To stay in the game, Iowa State will have to try to shut down senior quarterback Todd Reesing's passing lanes, while stymieing running backs Jake Sharp -- it is unclear if he will return for the match after an unspecified leg injury -- and Toben Opurum. The pair have combined for 560 yards and nine TDs so far this season.
Then the Cyclones and quarterback Austen Arnaud, who has thrown for 789 yards and seven TDs this season -- will need to capitalize on any defects in the Kansas defense, which did allow
Southern Miss'
Austin Davis to throw for 331 yards and three touchdowns last week.
Can it be done? The Jayhawks were trailing 20-0 at halftime at Ames, Iowa last year. But they then staged the third-largest comeback in KU history to beat the Cyclones 35-33.
Corner's choice: Kansas 35, Iowa State 17
-- Elizabeth Trotta
No. 23 Georgia Tech (4-1) at Florida State (2-3), 8 p.m. EDT, ESPN2
The tumult in Tallahassee. The breaking of Bowden.
To recap, in the wake of the Seminoles' second straight loss -- this time a 28-21 loss to Boston College on Saturday -- and an 0-2 start in conference play, the
Tallahassee Democrat
reported the words of Florida State Board of Trustees chairman Jim Smith. Unfolding like a soap opera, Smith unleashed the thoughts of many, calling for the end of head coach Bobby Bowden's reign.
"I think the record will show that the Seminole Nation has been more than patient," Smith said, according to the paper. "We have been in a decline not for a year or two or three, but I think we're coming up on seven or eight. I think enough is enough."
And with that, the college football masses began speculating on the ifs and whens of Bowden's impending departure and head coach-in-waiting Jimbo Fisher's contract (he's due $5 million if he's not named the head man by January 2011).
By Wednesday, Florida State president T.K. Wetherell, who's known Bowden since his own Seminole playing days, released a statement attempting to put the matter the rest. That is, until season's end. "FSU does not make coaching changes in the middle of the season," the statement read, in part.
There's something unseemly about watching an entire state force retirement on a near-octogenarian who has suffered just one losing season in his 34 years at the helm. But there's something equally stomach-churning about watching that same man appear all of his 79 years as the Floridas, Texases and USCs pass him by.
Though Florida State hasn't made a convincing national championship run since 2000, can you blame him for digging in? The similarly embattled Joe Paterno, now 82, went from several subpar
Penn State
seasons at the beginning of the decade to two Big Ten championships in the past five years.
Oh, but did you know there is a game on Saturday?
Georgia Tech, meanwhile, brings one of the country's best running games into Tallahassee. Running back Jonathan Dwyer has been off his ACC Player of the Year pace from a year-ago, though the triumvirate, including quarterback Josh Nesbitt and running back Anthony Allen, has ably given the ground game its edge. Still, the bread-and-butter rushing attack can be held in check, as proven in its only season loss to current No. 11
Miami
.
Seminole quarterback Christian Ponder will be productive, given his conference-leading total offense sums. But the X-factor of the match-up may be Tech wide receiver Demaryius Thomas. Somewhat lost in the shuffle of Tech's much heralded option rushing attack, Thomas is Nesbitt's truest receiving threat. Thomas, also known as "Bay-Bay," has made the most of his opportunities with a league-leading 107 receiving yards per game.
Swan song or not, Bowden is fielding the worst defense in the ACC, giving up 406 yards per mostly through the air.
Corner's choice: Georgia Tech 24, Florida State 14
-- Sung Moss
Corner kicks
: No. 22
Nebraska
came back in the rain on the road to douse No. 18
Missouri
in a Big 12 matchup Thursday night. The Huskers scored all of their points in the fourth quarter in the 27-12 victory, and 300-pound defensive lineman Ndamukong Suh was a key reason they stayed in the game. Some are considering Suh the best defensive lineman in the country, and he stifled the Tigers with six tackles, a sack, forced a fumble, knocked down a couple of passes and made the interception that set up Nebraska's go-ahead score.
-- William Hennelly
--
Written by Scott Eden, Elizabeth Trotta, Sung Moss and William Hennelly in New York
.
Get all your back issues of the Corner by clicking here
.
This article was written by a staff member of TheStreet.com.