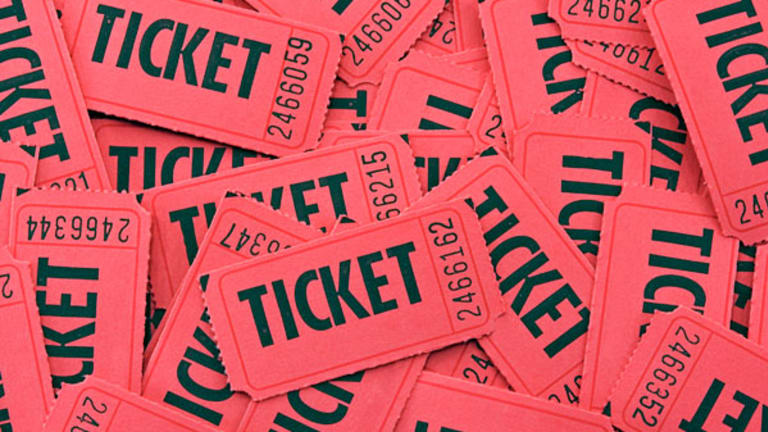 College Football Corner: East Carolina Finer
The Pirates are this season's 'told-you-so' favorite Top 25 newcomer.
Now look what you did, Ohio State, you let all the air out of the hype for our September Rose Bowl.
The oddsmakers wasted no time slapping the Buckeyes with a 10½-point dog spread for Saturday's big game with No. 1 USC in Los Angeles after their who-cares performance against in-state, uh, "rival" Ohio University last week. Ohio State also slipped to No. 5 in the polls.
So instead of a potential regular-season game of the century (8 p.m. EDT, ABC), we're stuck with more talk of an overrated Big Ten and Trojan greatness. But not so fast, the Buckeyes still have running back Chris "Beanie" Wells (although as of today Coach Jim Tressel said Wells probably won't play due to a foot inujry) and the world's greatest freshman, quarterback Terrelle Pryor. Oh, and did anybody notice that the Big 10 went 11-0 last week in interconference clashes?
And who would have thought that a subplot for the Michigan-Notre Dame game this weekend would be which coach's seat could get hotter only three weeks into the season? Coach Rich Rodriguez's Wolverines eked out his first victory at Michigan, over Miami of Ohio, while Charlie Weis' Fighting Irish fought off the San Diego State Aztecs in South Bend, Ind.
East Carolina quarterback Patrick Pinkney
Another big story that has burst onto the scene this season is that of undefeated East Carolina University. The Pirates, coached by Skip Holtz, son of ESPN commentator and former Notre Dame Coach Lou, are 2-0, having dispatched the best teams traditionally in the ACC -- Virginia Tech -- and in the Big East -- West Virginia -- in their first two games. The
university's police also are in the news for allegedly getting a little chippy
with some of the students who took to the field to celebrate. Anyway, we look at ECU as this season's South Florida, more on which below.
Thursday night on ESPN, the North Carolina Tar Heels pay a visit to Piscataway, N.J., where they'll face Rutgers. The Scarlet Knights are coming off a disappointing 24-7 loss in their opener to now-No. 21 Fresno State. The Tar Heels are looking to build on a victory over McNeese State, and the fans in Jersey are restless after the opening loss.
The approaching Hurricane Ike has caused the postponement of No. 8 Texas' home game with Arkansas until Sept. 23.
Here now are our feature games for the week, with the first tilt a Friday night showdown.
No. 11 Kansas at No. 18 South Florida, 8 p.m. EDT Friday (ESPN2)
: In a matchup of surprise teams from last season, Kansas returns to Florida, the site of its Orange Bowl victory in January. This time the Big 12 Jayhawks are off to Tampa, to take on the South Florida Bulls. A win would go a long way for either team going into their respective conference schedules. Junior quarterback Todd Reesing leads Kansas; he threw for a career-high 412 yards and three touchdowns in the Jayhawks' 29-0 victory over Louisiana Tech last week. South Florida will counter with quarterback Matt Grothe, who passed for 346 yards and three touchdowns in an overtime thriller over Central Florida, 37-31. The Bulls of the Big East have won six straight regular season nonconference games.
-- by Edison Sanon
No. 2 Georgia at South Carolina, 3:30 p.m. EDT (CBS)
: The possible Achilles heel for the Georgia Bulldogs' run at a national title is a tough road schedule: a trip west to play No. 13 Arizona State on Sept. 20, and road shows later in the season at LSU and Auburn, and the traditional cocktail-party (yes, we said it) matchup against Florida in Jacksonville. But their game Saturday in Columbia, S.C., could also be dangerous. Georgia has tuned up against two smaller schools, outscoring its opponents, 101-38, with Heisman hopeful tailback Knowshon Moreno already compiling 227 yards and six touchdowns. Despite having Arizona State on deck, Georgia has the added incentive of avenging last year's 16-12 loss at home to the Gamecocks. South Carolina was incredibly sloppy last week in losing to Vanderbilt. But Coach Steve Spurrier can rely on a tough defense that allowed only two drives over 65 yards in last week's loss.
No. 14 Oregon at Purdue, 3:30 p.m. EDT (ABC/ESPN)
: If Ohio State's running game flops against USC, consider this mini-September Rose Bowl game. It's hard to believe Oregon's offense has reloaded so quickly after the departure of quarterback Dennis Dixon and running back Jonathan Stewart, but the Ducks have lit up their first two opponents for a combined 110 points. Remember, too, that Oregon walked into Michigan's Big House last year, showed no fear and pasted the Wolverines, 38-7. Purdue gets its first test of the year after beating Northern Colorado in its home opener in West Lafayette, Ind. The Big Ten's best quarterback, Curtis Painter, threw for 286 yards in the Boilermakers' win, but this was a 14-0 game midway through the third quarter, and Purdue did surrender 22 first downs and 338 yards.
No. 3 Oklahoma at Washington, 7:45 p.m. EDT (ESPN)
: The Washington Huskies face their third ranked opponent in as many weeks. They lost a heartbreaker, 28-27, to No. 15 BYU last week, due in part to an excessive-celebration penalty on their outstanding quarterback Jake Locker, who threw the ball in the air after what was a touchdown that presumably would have led to a tie score. Washington had to kick the PAT from the 35-yard line -- and it was blocked. Big Red is coming off an impressive 52-26 win over Cincinnati, led by a 395-yard, five-touchdown passing performance by quarterback Sam Bradford. But the Boomer Sooners showed some vulnerability on defense, yielding 365 all-purpose yards just to Bearcat wide receiver Marshwan Gilyard.
No. 10 Wisconsin at No. 21 Fresno State, 10:30 p.m. EDT (ESPN2)
: Fresno Coach Pat Hill is well-known for his "anyone, anytime, anywhere" pledge when scheduling opponents, and Badger Coach Bret Bielema is the next to accept the rare challenge of a BCS team traveling out to the San Joaquin Valley, where the Bulldogs have lost only 12 times in Hill's 12 years. Bolstering the Bulldogs' confidence even more is their opening-week win at Rutgers, 24-7, which was much closer than the score but was sealed by two fourth-quarter drives that featured four plays over 20 yards. Wisconsin seems a little overrated this early at No. 10, but Bucky Badger looked very strong last weekend at home, scoring 51 unanswered points after spotting Marshall a two-touchdown lead. As always, the Badgers feature a top rushing attack, led by junior P.J. Hill and redshirt freshman John Clay. Bielema is now 16-0 at home as Wisconsin's coach, but he'll have to navigate this trip and a game at Ann Arbor, Mich., before the Badgers' red-letter matchup in Madison against Ohio State on Oct. 4.